Single-use appliances — they're either life savers or kitchen counter clutter. 
Like sure, having an entire device dedicated to slicing avocados is helpful when you have a perfectly shaped avocado, but at what point do these single-use gadgets actually just take up more space than they're worth?
Not these appliances and gadgets, though. No sir. 
Spending a bit of money on making your daily life just a little bit easier and more convenient can really pay off when your seemingly simple gadget really does make a noticeable difference. After all, sometimes it really is worth the counter space.
Check out our list of things we absolutely could not live without once we tried them, even though they're labeled as a single-use gadget.
Single-use appliances that are actually really useful
Rice cooker
If you type in "why is a rice cooker…" into the Google search bar, you'll get autofill results like "why is a rice cooker better," "why is a rice cooker better than a pot" or "why is a rice cooker so popular." Turns out that plenty of other people are thinking similar things, and it's because rice cookers are truly one of the most versatile countertop appliances out there. 
Gone are the days of burnt, dry rice. No longer do you have to monitor stovetops for starchy, bubbly mess or half-cooked grains. Rice cookers make cooking rice almost stupidly easy and can keep cooked grains warm for hours after they're done cooking.
Some rice cookers have delayed start times and different temperature settings for different types of rice. And many rice cookers can cook other foods like oatmeal, steamed vegetables, instant noodles, curry and even cake!
Air fryer
Air fryers arrived on the planet when angels accidentally dropped them out of the heavens. 
Well, not really, but they're just that good.
Air fryers are, essentially, convection ovens that use super-heated air to flash-fry food without using oil or grease. It works incredibly fast, too, so you can have anything from perfectly crisp potato wedges to crunch fried chicken in a matter of minutes. 
The many benefits of having an air fryer include the facts that the appliance uses less energy than an oven, it negates the need for oils and grease, it is vastly easier to cook with and it's incredibly easy to clean. Heat up leftover fries to perfect crispness, create the perfect fried tofu or make the gooiest cookies you'll ever lay eyes on— and so much more!
Salad dressing shaker
A salad dressing shaker is a fairly simple gadget. There's a small container (usually marked with measuring lines), a lid and a pouring spout— that's it! It may be small, but it sure is mighty!
Salad dressing is super easy to make at home and allows you to create mouth-watering dressings that you just can't find in the stores. And yeah, you could make dressing in a measuring cup just fine, but this salad dressing shaker keeps homemade dressings and sauces fresher for far, far longer. 
For a bit of inspiration on homemade salad dressings, check out this list of DIY salad dressings you can easily make at home!
Panini press
As a proud panini press owner of 5+ years, I can tell you that these things are miracle-workers. Not only can you make the world's best panini every single time (I'm not joking), but you can use it for a multitude of other foods and meals.  
Get a panini press/griddle that folds open and has reversible plates — like this one — and you can go from pressing the perfect grilled cheese to frying eggs, bacon, kebabs, vegetables, burgers and more. Cook a steak on the grill side and make pancakes on the smooth side, all at once and without using a single frying pan or stovetop griddle. 
It saves energy, cooks in half the time and, best of all, is super easy to clean. Once you go to a griddler, you'll never go back!
Milk frother
It says it all in the name, but having this easy-to-use and easy-to-clean gadget comes in handy even when you're not steaming milk for a latte. 
This tiny whisk works great for whisking hot chocolate, making whipped cream, mixing Turkish coffee grounds or blending electrolyte powder into water. It's not powerful enough to make smoothies, of course, but it's nice having a small whisk around when you need something stirred with a little more gusto.  
Spiralizer
Spiralizers have many uses, of which making veggie noodles is arguably the most popular. 
But spiralizers can do so much more than just create perfectly even zucchini noodles or a never-ending apple peel. Using different settings for width, thickness and length, you can create the basis for a wealth of plant-based foods and vegetarian dishes.
Toss some spiralized veggies into a food processor to make rice from sweet potato, beets, carrots or butternut. Bind some thin potato noodles with egg to make patties, buns or even pizza bases! Make pasta salad out of zucchini noodles, create crunchy salads out of cucumber rings and even layer some beets and potatoes for a veggie-loaded lasagna!
If you're looking for ways to introduce more veggies into your meals, then a spiralizer is a must-have for your kitchen. 
Food chopper
How much time have we collectively wasted slicing cucumbers, dicing tomatoes, cubing potatoes or mincing onions? Honestly, it's probably too much to feel good about. 
A food chopper isn't necessary by any means, but it will save so much time and effort and will produce perfectly-sized veggies each and every time. 
Sure, we can get by without any of these appliances or gadgets, but these ones have enough variety of use that you likely wouldn't regret buying them if you did. You might even come to use them far more than you thought! 
(Seriously, get a panini press.)
Enjoy!
Pin it!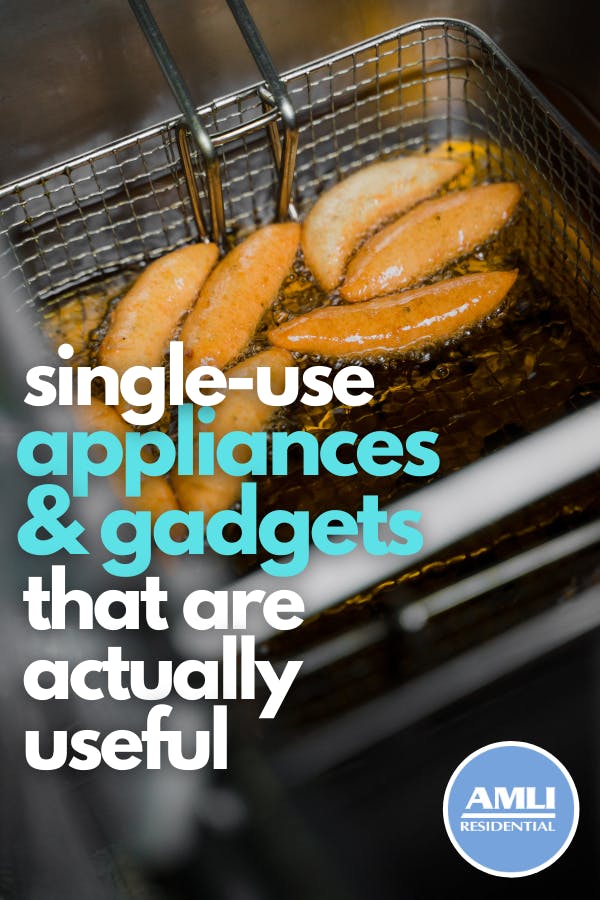 Featured photo courtesy Pixabay/RonPorter