For most people, keeping their apartment clean is a top priority. Not only does it create a better sense of organization for your space, but also assists in creating a healthier environment for your family and aids in fighting off bacteria. Unfortunately, nowadays—many of the cleaners that you find at the supermarket include hazardous ingredients and can be somewhat expensive. If you're looking for an alternative, consider making your own DIY cleaning products that work just as good as the name brands. Not only can you control what goes into these cleaners, but you'll be creating products that are safe for both your children and your pets.
All-purpose cleaner
No matter if you're cleaning a room or your windows, this all-purpose cleaner will create a fresh scent throughout your home and help in fighting away any stubborn stains or spots you might be dealing with.
Ingredients:
Lemon rind
Rosemary sprigs
One part water
One part vinegar
Simply combine all of the above ingredients into a spray bottle and give it a good shake. To allow the lemon and rosemary to work its magic, let the cleaner rest for four to five days before using. The acid in the lemon acts as a great antiseptic and antibacterial while adding a refreshing citrus scent to your apartment!
Glass cleaner
Ready to get those windows and mirrors sparkly clean? We've got you covered!
Ingredients:
2 cups of water
1/2 cup white or cider vinegar
1/4 cup rubbing alcohol
1 to 2 drops of essential oil of your choosing! (optional, but can add a nice aroma to your cleaner)
Creating this cleaner is simple and quick. Add all the ingredients to a spray bottle, give it a shake and get to cleaning! But beware, this cleaner might dry too quickly and streak if you're cleaning your windows and mirrors on a bright and sunny day. Our recommendation? Use a soft cloth to wipe the cleaner away before admiring the shining glass in front of you.
Carpet stain remover
Looking for an eco-friendly and cost-effective way to tackle those stubborn stains in your carpet? We've got the magic formula below!
Ingredients:
Baking soda
1 part white vinegar
1 part water
From here, your steps are simple. In a spray bottle, combine the white vinegar with the water and shake thoroughly. Next, cover the entire stain in baking soda. Once the stain has been covered, spray the area with the vinegar and water mixture as you watch the area become foamy. Don't worry—this means its working! From here, let the mixture sit. We recommend leaving the area untouched for at least two to three hours, before coming back with a sponge or brush and working the cleaning mixture into the stain. Afterward, let the mixture dry completely and then vacuum it up. And just like that, no more stain!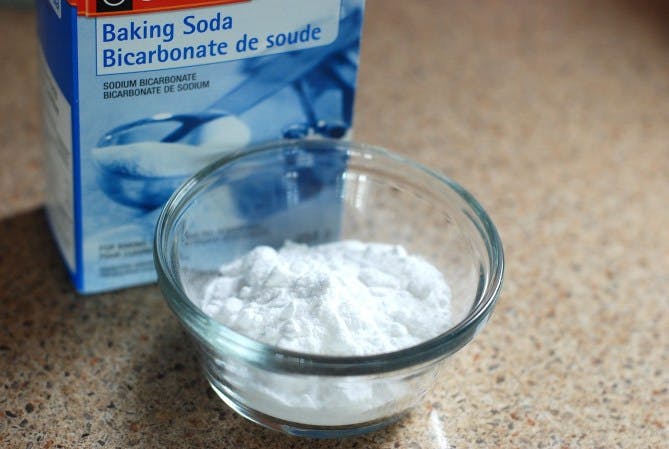 Fabric freshener
Normally, traditional fabric sprays include harsh chemicals and artificial ingredients that aren't eco-friendly. For a greener option, combining natural ingredients into your fragrance will not only create a fresher scent but will quickly become your go-to deodorizer!
Ingredients:
1/2 cup Water
1/4 cup Rubbing Alcohol
5 drops of Lemon Essential Oil
5 drops of Lavender Essential Oil
Grab a spray bottle, throw the ingredients in and mix! If you're interested in switching up the scents, feel free to play around with a variety of essential oils until you find your perfect match. In no time at all, your neighbors will be asking where you bought your freshener! Joke's on them, right?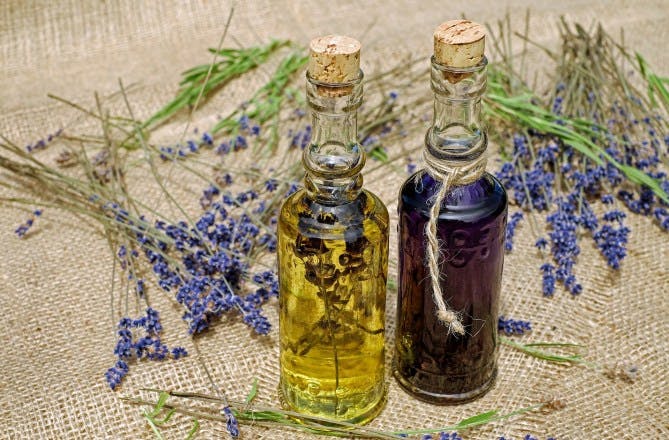 So, there you have it. Simple ingredients you can find in your pantry that will help with getting your apartment into tip-top shape. If you don't have the time or resources to make your own homemade cleaners, fear not—there are plenty of other options.
If you're still in the mood to shop around for your cleaning products, be sure to look for products with environmental third-party certifications. These certifications include an independent organization, which has chosen to review their manufacturing process to produce higher quality products while remaining eco-friendly and protecting your health. Simply put, these certifications ensure that you're using cleaners that are good for you, your apartment and the planet!
Certifications such as Green Seal and Safer Choice work diligently to protect both consumers and the environment, while another certification, ECOLOGO— provides products, services and packaging that reduces environmental impact and promotes social responsibility. These organizations all go through testing to prove its compliance with third-party standards and includes products such as floor care, laundry detergents, hands soaps and more. When you buy products with these certifications, you can be absolutely sure that the products you're using in your apartment are safe, green and healthy.
Interested in more blogs like this? Be sure to stay up to date with the AMLI blog!