If you live in our luxury Houston apartments, then you surely know that Houston is a city full of people from all around the world! 
Houston is a city of great industry and innovation, with major centers in the energy, aerospace, transportation and manufacturing sectors, just to name a few. These strong industries draw people from all over the world to Houston's sprawling metropolis, and the city is a global center for many international corporations. 
The world is getting more and more connected each day, so it's no wonder that there is an increased emphasis on global connections. In such an international city as Houston, it's even more important! Luckily, Houston has strong partnerships with cities all around the world in order to promote industry, cultural understanding and, above all, peace. 
Aberdeen
Scotland
1979
The Grampian Region is the third-largest region in Scotland, with Aberdeen serving as its capital. This old region has a rich history of settlement dating back at least 8,000 years. 
Abu Dhabi
United Arab Emirates
2001
This UAE capital is known for its significant oil and commerce industries, and it's considered to be one of the most preferred cities to work in the world!
Baku
Azerbaijan
1976
The relationship between Houston and Baku was formed to foster cultural appreciation and business partnerships between these two vibrant cities.
Basrah
Iraq
2015
Like Houston, Basrah is a major energy center and port city, and the oil industry is heavily present in the city, too. The partnership fosters stronger educational, trade and cultural ties. 
Chiba
Japan
1972
Chiba, the capital of the Chiba Prefecture in Japan, is a major port city with a strong industrial economy, just like Houston. Since the agreement, students from both cities have had opportunities to visit the other and learn about local culture. 
Guayaquil
Ecuador
1979
In addition to strengthening tourism, international relations and cultural exchange, the relationship between Guayaquil and Houston promotes education, healthcare and trade within both cities.
Huelva
Spain 
1969
The coastal city of Huelva has been an industrial and trade port city since the Phoenician times. Houston's maybe not quite as ancient, but the two cities' still share similar industries!
Istanbul
Turkey 
1988
The Istanbul-Houston relationship focuses on promoting Turkish culture and heritage within Houston and to establish trade and commerce opportunities between the two great cities.
Karachi
Pakistan 
2009
The prosperous relationship between Karachi and Houston seeks to promote peace through global education, mutual respect and understanding.
Leipzig
Germany
1993
The relationship between Houston and Leipzig started just after the Berlin Wall fell in 1989. The partnership has resulted in prosperous cultural exchange programs and educational opportunities for citizens of both cities!
Luanda
Angola
2003
The dedicated members of the Luanda-Houston organization strive to promote a higher quality of health, education and commerce through cultural exchanges, volunteer programs and community projects. 
Nice
France
1973
The citizens of Nice and Houston both strive to create healthy communities, both local and international, that promote advances in healthcare, cultural studies, conservation and international relations all over the world!
Perth
Australia
1983
The Houston-Perth relationship is strengthened by the Australian American Chamber of Commerce, which strives to promote cross-cultural understanding between the two countries and to support the American and Australian expatriates in both countries.
Shenzhen
China
1984
Shenzhen is a self-proclaimed industrial megacity with an astounding array of architecture, innovation and culture. The dazzling city partnered with Houston to promote cultural understanding and international relations.
Stavanger
Norway
1980
Both Houston and Stavanger share strong oil and shipping industries, and a strong sister city relationship was built upon these industries. Since then, Houston has hosted Norwegian festivals, cultural events and youth programs, and the two cities have shared educational delegations, cultural exchanges and more!
Taipei
Taiwan
1961
The Taipei-Houston partnership was the first sister city relationship for both cities, making it the oldest in both Houston and Taipei. The relationship has created opportunities for citizens of both cities to experience the art, culture, music, history and businesses of both countries.
Tampico
Mexico
2003
As Tampico's only sister city, Houston shares a strong oil export industry with Tampico. The city also has a strong mining industry and was the location for some of the earliest aviation advancements in Mexico. 
Tyumen
Russia
1995
A thriving relationship between Tyumen and Houston focuses on six major areas of development: education, entrepreneurship, infrastructure, regional tourism, oil and gas and healthcare. Members of the Houston-Tyumen Sister Cities Committee promote these common interests through cultural exchanges, foreign delegations, experience sharing and educational programs for citizens from both cities. 
Ulsan
South Korea
2021
As the most recent of Houston's sister city partnerships, Ulsan has a strong oil and automobile industry that is globally renowned. Located on the south east corner of the nation, Ulsan is a popular location for vacationers, especially because of the beautiful beaches, lush forests and extraordinary parks. 
Next time you're feeling down about all the trouble here is in the world, take a minute to remember that humanity is full of people who strive to create connections and understanding between us all. Even right here in Houston you can feel connected to amazing cities and people from around the globe!
Enjoy!
Pin it!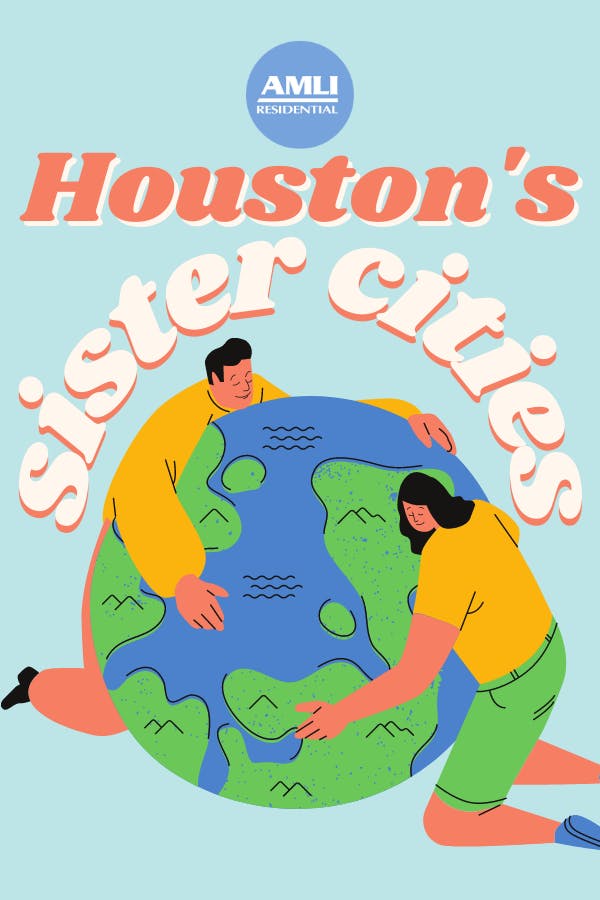 Featured photo courtesy Pixabay/Hugo_ob