There's nothing like a little greenery to brighten your home and your life. You don't need to live in a mountain cabin or tropical getaway to experience the calming nature of, well, nature; you can create your own little green space in your apartment with these helpful tips and creative ideas.
How to grow a garden in your apartment
Living on the second, third, fifth or twentieth floor shouldn't be a reason your green thumb falls into disuse. There are plenty of ways to look after plants indoors and in apartments, just like we've pointed out in these articles below.
Apartment living makes caring for plants a little trickier than if they were outdoors. Although an indoor environment can be temperature-controlled and free from nibbling deer and squirrels, it can be difficult to mimic the natural biome, which makes greenery thrive in the outdoors. That being said, humanity has suffered enough dead houseplants that we've finally figured out which types of plants can do well indoors and, most importantly, which ones don't.
Whether you're looking for big, leafy greens, dangling vines, kitchen herbs or colorful blooms, there's always going to be a way to tie in your own style and design in how you display your plants. Here are some fun ways to create stylish indoor gardens and plant displays in your apartment.
How to make an indoor succulent garden
Succulents are notoriously easy to look after, making them the perfect plants for a beginner or for someone who isn't home too often. They don't require a lot of water, they aren't too picky about light and they don't outgrow their containers. 
There are two directions you can go when choosing how to create your succulent garden:
An assortment of small pots with individual succulents in each 
One large pot with a variety of succulents inside
Smaller containers have the advantage of being easily-maneuverable. You can change up the decor or arrangement whenever you feel like it, and you can invest in a variety of little containers that fit your personal style. 
Larger pots make much more of a statement piece. They are less maneuverable (depending on the size of the pot), sure, but there's a lot more opportunity to create a garden scene when you have more space to work with. 
To make a succulent garden, you will need:
Large (or small) decorative container(s) with drainage holes
Succulents of your choice
Decorative rocks and/or statues
Drainage rocks (large ones for large pots, smaller ones for smaller pots)
Succulent soil
There are a million ways to assemble a succulent garden, but they all have pretty much the same components. The drainage holes and rocks allow the water to flow through the pot and get out of the soil quicker, as succulents tend to rot when too wet. Succulent soil is easy to find and provides the little plants with the nutrients they need to last long periods without water. The succulents themselves don't need to be too specific, as the choice ultimately comes down to your taste.
Place drainage rocks at the bottom of the pot.
Pour soil over the rocks, filling the pot almost to the brim.
Plant your succulents in the pot in any design you like.
Decorate the pot with pebbles, statues, beach glass or whatever fits your style
Voila! 
It's easy to create your very own miniature succulent garden! Don't be afraid to experiment with different containers and decorations, and remember that the sky's the limit when it comes to the style and decor of your apartment!
How to make an indoor herb garden
Herb gardens are more high-maintenance than succulent gardens, but they are certainly more useful. Finding the right type of herbs is important, as herbs are a lot more picky about their environments and not every herb will grow well indoors.
Here are some herbs that would do well as part of a sunny indoor garden. 
Chives
Mint
Basil
Oregano
Parsley
Thyme
Rosemary
Large (or small) decorative container(s) with drainage holes
Herbs of choice
Small drainage rocks 
Potting soil
Herbs can grow in any container they're put in, but they also can outgrow their pots very quickly. Keep an eye on how well they're growing and be prepared to move them to a new container so that they don't suffocate themselves and stall any new growth. Because different herbs tend to grow at different rates, it's easier to keep your plants in separate pots instead of in one large pot, but don't be afraid to try a large assortment, too!
Indoor garden inspiration
Taking care of plants is easy to do and has been done for millennia. Spruce up your home with clever takes on indoor herb and succulent gardens by following these tips.
Find plant pots that match your style. It doesn't have to be a conventional pot, either! Any container can be turned into a succulent garden or herb home, as long as there's proper draining.
Think outside the box. No shelf space? Hang plants from curtain rods or hooks to add extra dimension to your decor.
Here's some inspiration to get your creative juices flowing!
Making a little green space in your apartment can be much less daunting than you might think. There are so many ways you can incorporate a succulent or herb garden into your apartment's decor and design, and all you need is a positive mental attitude and a sense of adventure. 
Have fun, and don't forget to tag @amliapts in all your creations so we can give you all the props you deserve!
Enjoy!
Pin it!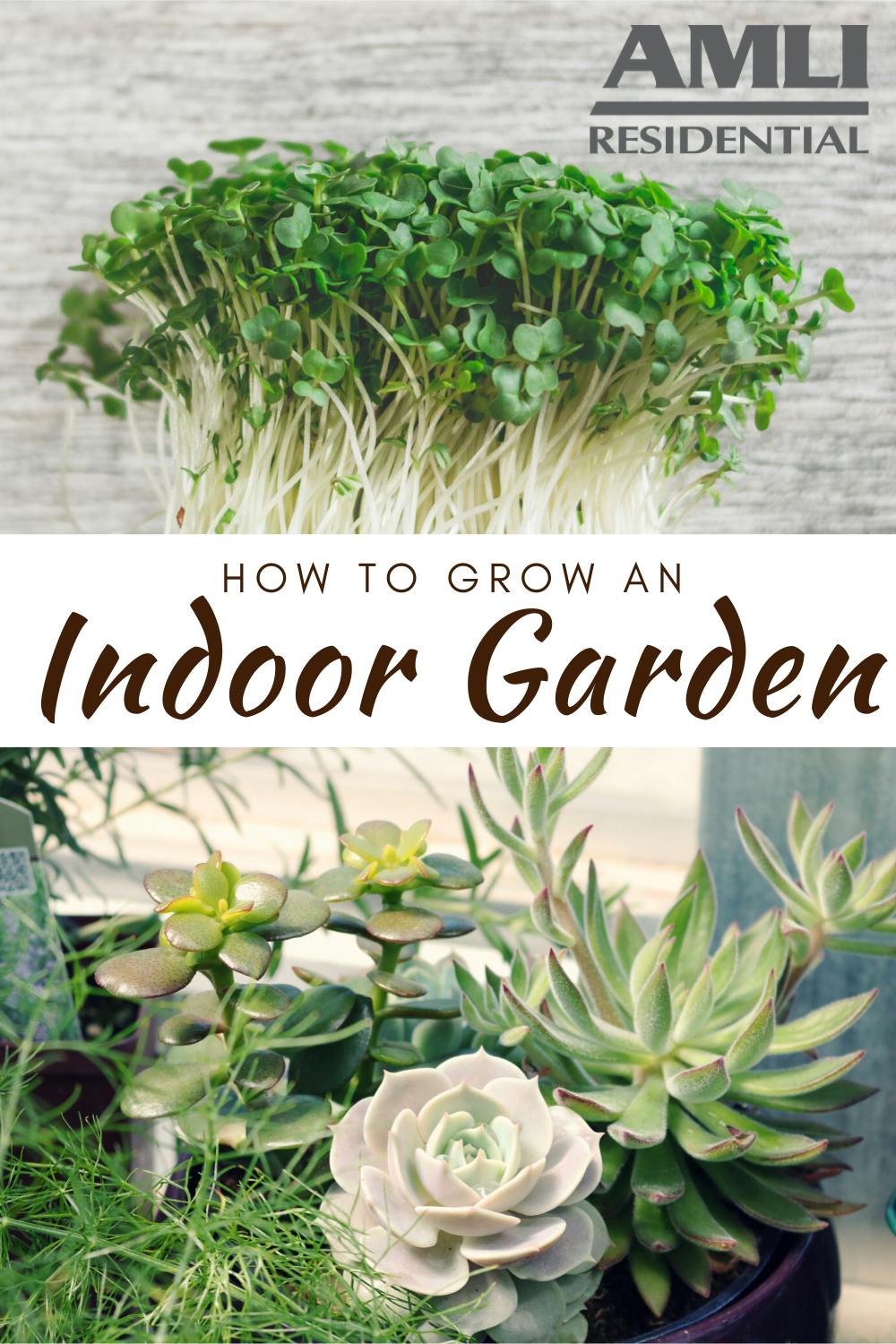 Featured photo courtesy Pixabay/Pexels