Your Austin apartment is perfect just as it is, but there's just something about having an indoor plant (or two... or three) that can really make a home pop with color and style. 
Taking care of plants is easier than you might think! The most important thing you really need to know is what your apartment's climate is like, and from there you can find the best plants that are suited for your home. For example, a very humid climate is great for ivy, ferns, orchids and lilies, but cactus and succulents may not thrive nearly as well as they would in drier climates. 
Even though your indoor plants aren't at the full mercy of your outdoor climate, the air outside can still affect the air inside your home. Luckily, Austin's climate is relatively moderate with a good balance of humid and dry air throughout the year, making it the perfect place to grow all sorts of plants both indoors and outdoors. 
Before you buy
Before you go out and purchase a jungle for your apartment, though, do a little research on what plants fit your level of expertise. If you have a green thumb, then you'll have no problem caring for bamboo or an orchid. If you are still new to the plant life, then maybe start out with pothos or a snake plant instead.
Another clever tip to keep in mind is the placement of your plants. If you're dying to fill your empty windowsill with some leafy greenery, make a note of how much sun that spot gets before you buy a plant. Some plants need more sun than others, so location is important to keep in mind when you are in the market for a plant.
Plants for different rooms
Believe it or not, some plants work better in specific rooms! Just think about it: a plant in the bathroom is guaranteed to get more humidity from the shower, while a plant in the living room is generally going to receive more light from all the windows. Herbs are more suited to kitchens because they are more useful, and cacti are the perfect plants for an office desk because they take up little space.
Plants for kitchens
Aloe vera: Aloe vera needs plenty of sunlight and only a little water, making it the perfect windowsill plant. Plus, aloe can be used for all sorts of health products, just check out this video!
White jasmine: This plant's fragrant white flowers make this little guy a great addition to your kitchen. 
Herbs: Herbs are the ultimate multi-purpose indoor plant. Take care of them properly, and you could end up with fresh herbs all year 'round without paying a cent. Try plants like rosemary, sage, mint, thyme and basil, as they are relatively easy to grow indoors.  For more tips, read this article on caring for herbs.
Heartleaf philodendron: Philodendrons are great as either a bushy centerpiece or a trailing vine. Trim the leaves often to make the plant smaller and bushier, or let the stalks trail out over the pot for as long as you want!
Plants for bathrooms
Air plants: Air plants need a brightly lit bathroom to stay alive, but they make for very easy plants because they don't require soil to grow! All you need to do is soak them in a bit of water for a few hours every two or three weeks, and that's all the care they need!
Dracaena: If you have a bathroom with only a little natural light, then this little guy is perfect for you! Dracaenas need to be watered consistently to keep the leaves from drying out, and a humid bathroom is perfect for keeping the greenery as moist as possible.
Lucky bamboo: Bamboo plants are simple but elegant, and are small and dainty enough to fit on any bathroom sink or shelf. They require a little more intensive care than other plants, but the stylish outcome is always worth it. 
Bromeliad: These plants are a striking combination of red and green leaves, and they make for a great pop of color and life in any room. Bromeliads don't require too much water or sunlight, so a bathroom is the perfect spot for this vibrant plant.
Plants for living rooms and bedrooms
Monstera: Monsteras are sure to provide a big statement piece for any indoor space. The deep-green coloring and holey leaves lend an elegant and stylish look to any moderately lit corner. Often called the "Swiss cheese" plant for its holey appearance, Monsteras can grow up to 60 feet high in perfect conditions, so it's the perfect plant for any size of greenery you want in your apartment.
Pilea: These funky plants grow very quickly, so caring for them requires a little extra attention to make sure they don't overcrowd each other. Find a sunny windowsill and allow this crazy little plant to bring some whimsical style to your apartment.
Snake plant: Funny fact, this pointy plant is sometimes known as the mother-in-law's tongue for its sharp pointed leaves! The snake plant is tall and stately, and can survive without too much attention.
Where to buy plants in Austin
Not only does this plant shop sell some exquisite plants and plant accessories, but you can take terrarium-building classes and book plant parties too! It's just a few blocks away from our Eastside apartments, so there's no reason to not stop by!
This quaint nursery offers loads of both outdoor and indoor plants, and it's less than a mile away from our Burnet Road apartments! 
This world-class nursery is known for its sustainable living and organic gardening work. There are free classes, plant experts and over eight acres of plant-lovers' heaven, so you're sure to find something that will suit your apartment. It's practically right next to our apartments in Southwest Austin.
Have fun decorating your apartments, Austinites!
Pin It!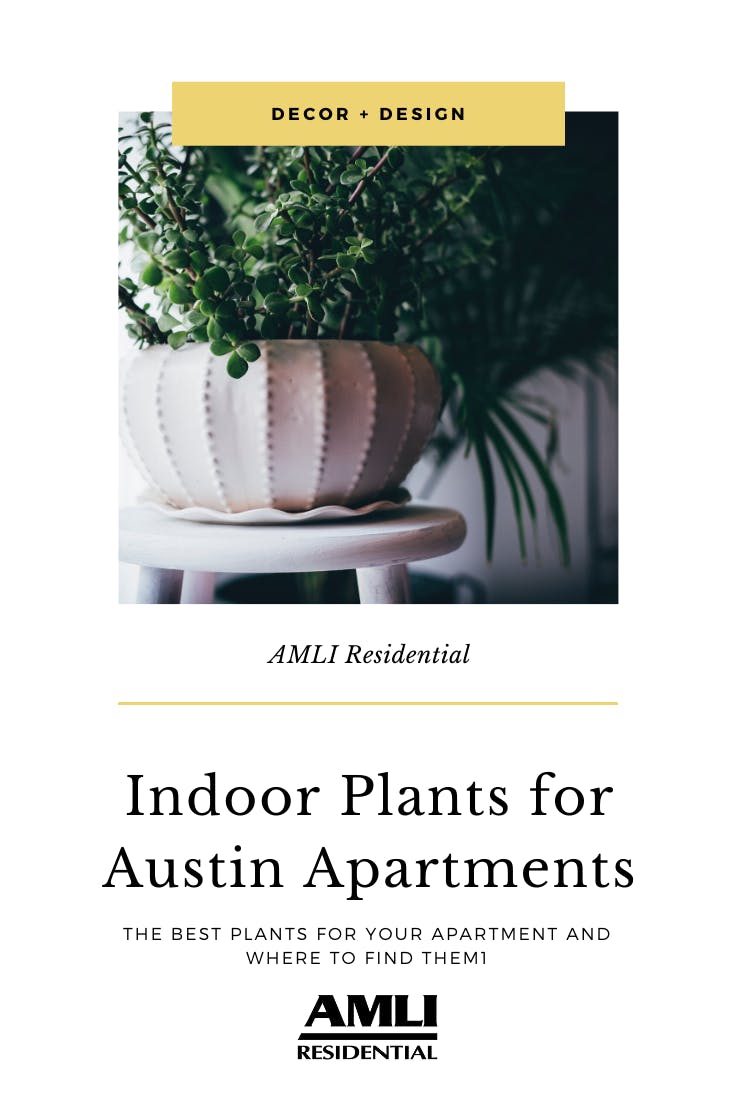 Featured photo courtesy Unsplash/Jordan Whitt