Summer is in full swing! What better way to enjoy it than to spend some quality time with your dog? From gardening to taking dip in the pool, there are plenty of activities that you can enjoy with your four-legged friend. Always remember to consider your dog's age and activity level before jumping into something new.
Fun summer activities to do with your dog
Gardening
Do you love to garden? If so, you are in luck because dogs love the garden, too! Well, mostly. Many dogs like to dig holes, but who doesn't love to play in the dirt? You and your dog can enjoy the fresh air, sun and some outdoor time to plant and harvest vegetables. There are quite a few veggies that are safe and healthy for your pup as well. Carrots, green beans, spinach, broccoli and cauliflower are fun to grow and share with your dog.
Hiking
Hiking is another great outdoor adventure that can be shared. Let's face it, we can all use a little more exercise, furry companions included! If you and your dog are new to hiking, begin by taking some less difficult trails to get started. Bring treats and water for your dog. If you will be hiking in a rocky area you may consider some dog shoes. Remember that it is also flea and tick season so be sure that your pooch is protected against these pests.
Picnic
Heading out to the park with a picnic basket is a treat for two. Grab a blanket, a thermos with your favorite drink and some snacks. Remember to bring along a leash, water and treats for your dog. Enjoy some quality time outdoors with your dog throwing a ball or a frisbee.
Road trip
Is there some place that you have been meaning to visit or an event happening near by that is dog friendly? Your dog will be ecstatic to jump in the car and go for a ride! What better way to travel than with the windows down, tongue out, ears flapping in the wind. For the dog, that is. Even if you just take a quick drive, your furry friend will delight in the sights and smells, and you will love the company!
Gimme some water
If you live near a beach or lake, consider taking your dog along for the day. It is a great way to get some fresh air and meet some new friends. Remember to pack a doggie bag that includes fresh water, dog treats, towels and an umbrella for shade. Take along some floating toys that you can toss into the water for your dog to retrieve. Just be sure to always supervise them.
If you don't live near water, you might consider purchasing a doggie pool or setting up the sprinkler. Dogs love variety so going for a swim or spending time playing in the sprinkler wards off boredom. Also, it is an excellent form of exercise.
Frozen treats
How about taking your dog out for some ice cream? Dog ice cream, that is. It's a great way to cool off this summer. Many ice cream shops offer frozen, dog friendly treats that are non-dairy and non-fat. Additionally, there are several varieties of frozen treats at your local grocery store made especially for dogs. One tried and true favorite is Frosty Paws. Or, maybe you would rather try making some tasty dog treats yourself. There are some great recipes for pupsicles online that are easy to make and less costly than going out.
Take me out to the dog park
Dog parks are popping up everywhere so it's not too hard to find one. Dogs love having time to play with other dogs. Most dog parks are separated by size, large dogs and smaller dogs. Be sure to take your dog into the appropriate area and watch the interactions of the dogs closely. Dog parks can be a lot of fun for your dog but it can be overwhelming too. Make sure that it is a positive experience for you and your dog.
Picasso pooch
Another fun activity is making paw print art. You can purchase dog paw print kits to make a cast of your dog's paw, or you can make your own dough with one cup of flour and one cup of salt. Knead the dough into a ball then flatten slightly. Cover the dough with wax paper and press your dog's paw into the mold. Bake at 200 degrees for two to three hours then let cool.
You can also make a copy of your dog's paw with paint and a sheet of white paper. First, select a paint that is child safe and non-toxic. It will be safe for your dog and easier to clean up. Make sure that your dog is comfortable, don't force them to participate, this will only stress them out. Keep some treats on hand to encourage them. Make sure that your dog's paw is clean then dip into a shallow dish of paint and gently press onto the paper. You will have instant dog art that can be framed and hung on the wall!
Have fun
No matter which activities you decide to try, your dog should always be supervised. Dogs, like people, can get overheated in the summer. Choose cooler days or early mornings/evenings to avoid too much sun. Provide lots of fresh water and opportunities for rest. Always be mindful of how your dog is reacting to the activities that you have chosen. And, most of all, enjoy spending some quality time with your furry friend this summer.
Pin it!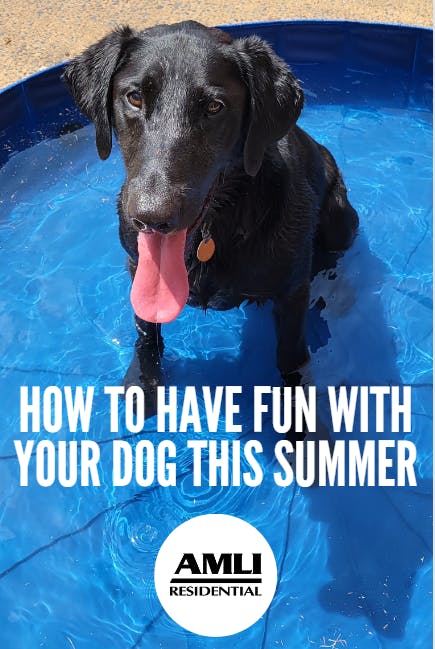 Photo courtesy Pixabay/eyeImage