Every occasion can be a charcuterie occasion if you want it to be! 
If you've ever seen the gorgeous pictures of expertly-arranged boards of cheeses and crackers and thought, "I wish I could make something like that," then this is for you! Charcuterie boards are much easier to assemble than you might think, and they don't have to be reserved for special occasions, either!
What is charcuterie?
The word "charcuterie" is a French word derived from the words for meat ("chair") and cooked ("cuit"). It's pronounced shaar-KOO-tr-ee (thanks, Google Translate!) and the word originally referred to dishes of cured meats. However, in more modern times, charcuterie also refers to platters of fruits, cheeses, dips and crackers along with a variety of meats. These platters are often paired with wine and are popular hits at parties and social gatherings.
Charcuterie, as the translation describes, is a branch of cooking that is dedicated to preserving different kinds of meats. Some methods of preservation include salting, drying, chilling, curing and smoking, and all of them are done without having to cook the meat at all.
It makes sense that in the days before refrigeration, preserving meats in these ways was the only way to store and transport meat. In fact, the very first record of preserved meats being transported was by a Greek historian in the first century A.D. who wrote about salted pork arriving from the Pyrenees Mountains. The high fat content in pigs made pork a popular meat for curing, and so most of the early charcutiers (charcuterie chefs) worked to create various versions of cured ham that would have longer shelf lives.
As time went on, curing became more and more popular and now extends to nearly every kind of meat out there: beef, ostrich, antelope, pork, buffalo — you name it! Although it started out as a way for the poor to hang on to their food for longer, cured meat is now considered an art and, at times, even a delicacy in the culinary world. 
What's on a charcuterie board?
There's no formula for making a "perfect" charcuterie board, as it all comes down to what you like to eat and what your style is. There are, however, a few common ingredients and items that are popular in most charcuterie boards. 
Charcuterie checklist:
A variety of cured meats
A variety of cheeses
Pickled vegetables (artichokes, olives etc.)
Dips or spreads
Fruits, both dried and fresh
Nuts
Crackers
Fresh herbs for decor
Cured meats for charcuterie boards
If you head to any grocery store's deli and bakery, you should find a wide variety of specialty cheeses and cured meats. They won't usually be found with your standard cheese and lunch meats, so you may have to hunt around a bit. 
There's no wrong way to choose meats for your charcuterie board. What you want to achieve is a smorgasbord of colors, textures and flavors, so go crazy with whatever looks good! 
Here are a few meats you can't go wrong with:
Salami
Prosciutto
Pepperoni
Soppressata
Calabrese
Cheeses for charcuterie boards
There are so many kinds of cheese that there's virtually no end to the amount of combinations you could use for your charcuterie board, but there are three main things to think about when choosing your cheeses: shape, texture and taste. 
Big shapes of cheese — long triangles, Pac-Man-shaped wheels, small logs or holey slices — can really give a charcuterie board a gorgeous and elegant look to it. 
Charcuterie boards should have a wide range of contrasting textures, and cheese is a great place to start. Use goat cheese for a soft texture, gouda cheese for smooth and cool textures, brie for a gooey texture or blue cheese for a crumbly texture.
Finally, taste. Go all out with your flavors, because why not add as much flavor and color to your fancy charcuterie presentation? Throw in a few tried-and-true cheeses, like smoked gouda, blueberry chèvre or freshly-sliced mozzarella, and boom! You've got yourself a cheese board!
Fruits and vegetables for charcuterie boards
Again, think about color, shapes, taste and texture. Grapes are always a great go-to, as they are colorful, well-shaped and give off a great Mediterranean vibe (keep them on the vine to be extra fancy)! Strawberries are colorful and don't need to be sliced if you don't want to. Berries of any kind, really, are a fresh and colorful ingredient to balance out the savory ingredients. Olives and artichokes offer a savory taste and are a great balance to the cheeses and cured meats.
To add a little extra texture and color, throw in some dried fruit, too! Dried apricots, bananas and apples will go a long way.
Nuts for charcuterie boards
Any nuts will do, but you can't go wrong with almonds, cashews, pistachios, walnuts and pine nuts!
Go for spreads that aren't just plain sweet like strawberry jam or blueberry jelly. Orange marmalade has a great flavor and texture. Hummus goes with pretty much everything. Red pepper jelly is a sweet-yet-savory addition. Pesto goes well with crackers and cheese. Mustard goes well with strong cheeses, and fig preserves go great atop a cracker with goat cheese. The sky's the limit! Use little jars or bowls for these.
Crackers for charcuterie boards
An assortment of different shapes, colors and flavors is a great place to start when choosing your crackers. You'll want to keep the crackers small enough that they don't take up all the space on your board, otherwise you'll have problems fitting all your other ingredients on. Go for savory crackers over sweet crackers, and try to find some different shapes, too! 
Assembling a charcuterie board
First, you'll need to find a nice-looking cutting board or serving platter to assemble your board; it's best if it's totally flat, but it's not a problem if it isn't. 
Start by placing your large cheeses and small bowls of spreads on the board. Space them a little apart so that you can balance the look of the board, as the rest of the ingredients will fit in-between. Each cheese should have its own little cheese knife, and each bowl or jar should have its own serving spoon.
Place your cured meats around the cheeses and bowls. Leave enough open space for the crackers, fruits, nuts and other ingredients you're using.
Fill the empty space with clusters of fruit, rows of crackers and piles of nuts! If you're having a party and don't have space to put all your ingredients on the platter, then you can always put just a little and refill it as the day goes by. 
Have fun! Use pictures for inspiration, if you want, or create your own layout! 
If you do decide to make a charcuterie board, tag us in your photos and show us how artsy you are! We'd love to see what you come up with!
Enjoy!
Pin it!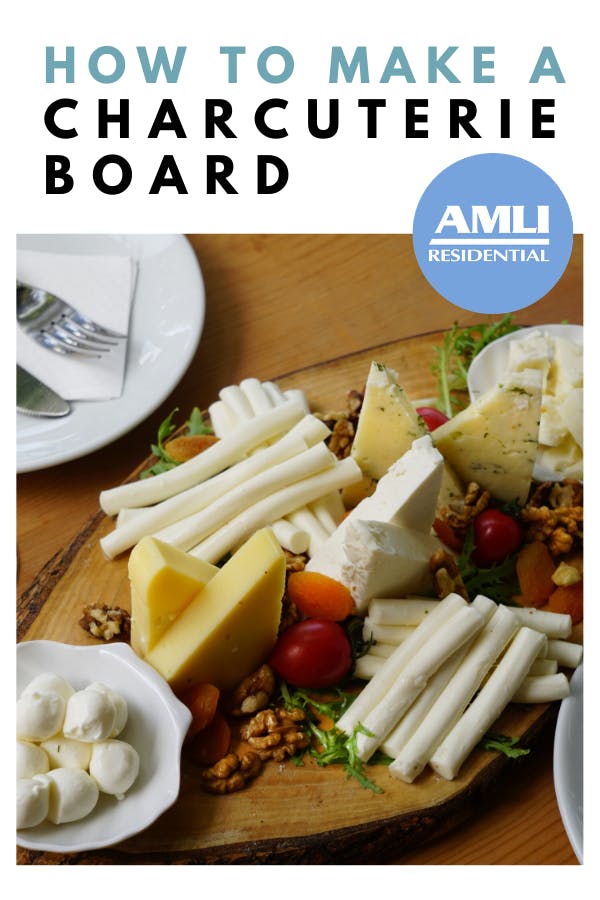 Featured photo courtesy Pixabay/pen_ash