If you're feeling the winter blues, brightening up your apartment is a guaranteed way to improve your mood, make you feel more alert and give you a bit more productivity in your day. Spring is quickly approaching, so get ahead of the game and use these tips to use light to your advantage and create a more inviting space.
Mirrors
When you get to the bottom of it, there's really nothing that mirrors can't fix. Not only can they be used to enlarge an area, but they're also a great tool to create more light in any room. Mirrors can greatly increase the amount of both natural and artificial light, simply by allowing the light to bounce off its reflective surface back into the room.
Curtains
A quick fix to brighten up any room is by swapping out any dark curtains for ones a few shades lighter. Take your pick from any white or neutral color, or opt for a translucent curtain to create an airy atmosphere. Or consider doing away with curtains all together. Using a system of attractive blinds or solar shades can open things up even more. This simple change can take a room from drab and dreary to bright and cheery!
Decorations
Not only are decorations a great way to personalize your apartment and bring your personality to life, but they're also a great way to add pops of color throughout your home for added brightness. Pictures, murals, art pieces and gold or silver accessories are only a few of the many options you have for decorations. Our tip? Use the ones with the lightest colors against any dark surfaces you may be working with, such as walls or darkly finished furniture.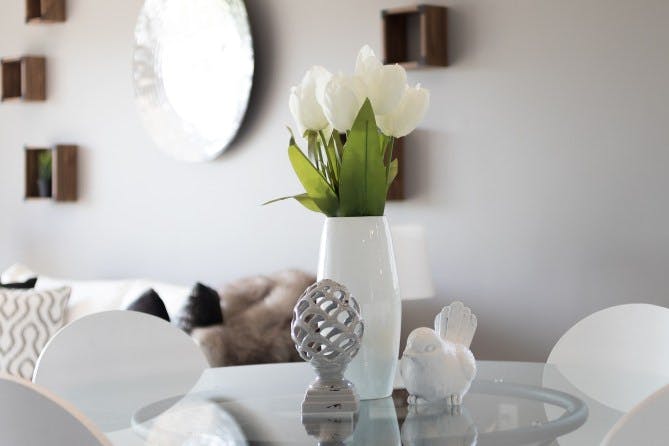 Clean
What your apartment might actually need more than anything, is a solid cleaning. Now, we don't mean a quick wipe down. We mean a deep clean. Shampoo your carpets, wipe down your windows and clear out any unnecessary clutter that could be getting in the way. Dust has a funny way of creeping into every crack and crevice, so be sure to clean every surface from top to bottom, and watch your apartment transform! Imagine how much brighter your place would look without a thin layer of dust covering it. So, suck it up and put in some elbow grease!
Light sources
Using various light sources and fixtures is a great way to amp up the lighting in any room. A mixture of table and floor lamps create light from various angles, while hanging lights can create a charming, bespoke effect you're sure to appreciate. Likewise, using more light in a room often times gives the illusion of a larger space. It's a no-brainer!
Glassy or light-colored furniture
Like mirrors, using furniture that incorporates glass is a great way to make it seem less obtrusive than it really is—and create a brighter environment. With a little bit of research and some shopping around, you will quickly find that many stores offer furniture with glass and mirrored surfaces, such as coffee tables, cabinets, chests and more. If you're not interested in something with a reflective element, search for white or light-colored furniture. Especially if you're apartment has dark flooring, this will create a nice contrast and do wonders for your living space. Just make sure you're careful with your coffee and red wine!
Interested in more blogs like this? Be sure to follow the AMLI blog!