As you walk through the grocery store aisles, it's easy to mindlessly grab items that may not have necessarily made your list, but caught your eye and became an impulse buy. We get it, we've all been there. However, once this happens—it's only a matter of time before you get home to your apartment and realize that figuring out how to organize your kitchen pantry has become a somewhat messy, unorganized and unmanageable task. Between the half-eaten bags of chips, the varying sizes of food containers and the food you forgot you even had, your pantry can become a disaster area if you don't stay on top of it. By properly organizing your kitchen pantry, specific items will be easier to find, all while giving yourself more room and less mess.
The weekly clean out
Although this may seem like a daunting task, we promise it's worth it! Set aside 10 minutes each week to sift through your kitchen pantry cabinet and throw out anything that's no longer of use to you. These items could include items that have either expired, or you don't plan on eating. You'd be surprised at just how much extra food you have and be amazed by what a little bit of clean-up can do.
Clear containers/label makers
Now comes the fun part. Once you've finished cleaning out your kitchen pantry, you can begin organizing it in a way that will make everything easier to find, and upgrade the aesthetic of your pantry in the process. Using clear plastic or glass containers will help you quickly find what you're looking for, especially once you've labeled it with a handy-dandy label maker! (If you don't have a label-maker, don't worry, stickers will work just as well). Make sure to use containers that are easily stackable, providing you with additional room for storage while keeping everything tidy and compact. Simply transfer your food from its original packaging to these containers. Or, better yet, purchase loose items like dried fruits, nuts, oatmeal and grains like rice from the bulk bins at your local store. You'll no longer be rummaging through endless boxes and bags to find what you're looking for.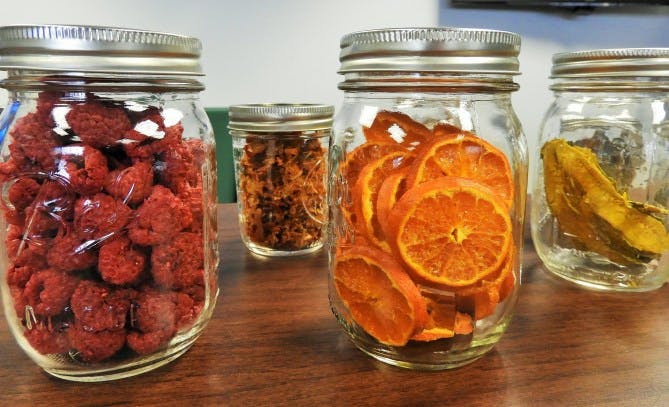 Group like items
To continue on the organizational streak we have going, it's important to group similar items together. This will not only make things easier to find, but it will also make all your food items more accessible so you aren't rummaging through your pantry to find the secret ingredient your homemade chocolate cookies need to have. Move spices and baking items you may use regularly toward the front of your kitchen pantry for easy access, followed by others. Snack items can go on another shelf, the same for canned goods you may have stocked up on—you get the gist.
Door storage
For those of you looking to create additional storage space within your kitchen pantry, adding door storage may be of use to you. Easy to install, this will aid in providing quick access to your most widely used items and ingredients. All you need is a rack with handles that can be placed over your door—and voila! You can even use a hanging shoe organizer for this if you already have one. Try looking at your retail store, or click here to shop for door storage online.
Pots and pans
There's no denying that storing your pots and pans can pose the most difficulty and the largest hassle when organizing your pantry. It's already a challenge making room for all of your pots, never mind making room for all of its corresponding lids! And although many may think it's important to keep sets together, it takes up more space and is less organizationally-savvy for those looking for a greater uniform. Instead, we recommend separating your lids from your pots/pans and hanging them (with the help of your handy-dandy door storage) to make them more accessible and easier to find.
And there you have it folks, follow these few easy steps and you'll soon have the kitchen pantry of your dreams! That wasn't too hard, right?
For more articles like this, be sure to keep up with the AMLI blog!