So, you want to relocate to Houston. Awesome! We're happy to have you!
Though it may seem like a daunting process, relocating to a new city doesn't have to be hard. With a bit of guidance and plenty of resources, you can find yourself in a new Houston apartment in no time!
Thankfully, we got you! Save this guide and use it as a basis for your moving process, and you'll be here before you know it!
How to relocate to Houston
Learn about Houston
Houston is a massive city that's growing more and more each year, covering over 669 square miles with over 2.4 million residents from all over the nation and the world. 
That said, it's important to remember that Houston is a city of many different neighborhoods, cultures, heritages and characteristics. No two neighborhoods are the same, so before you move to Houston, take some time to learn about the city and what area you'd like to settle down in.
Here are a few things to look for as you consider relocating to Houston:
Neighborhoods
Schools
Commute
Cost of living 
Entertainment
Houston neighborhoods
Houston is divided into six main neighborhood areas, which are then broken down into many communities within. 
Downtown Houston is the neighborhood immediately encompassing the downtown district and contained by Interstate 45, U.S. Highway 59 and Buffalo Bayou. Around 66,000 people live here in Downtown Houston, which is also where many Houston art museums are located.
The Inner Loop is the ring of land between Downtown Houston and Houston's Inner Loop (a.k.a. Loop 610). Here, you will find a wide range of communities ranging in price point, aesthetic and entertainment, though all of them have easy and quick access to both the inner and outer areas of Houston. 
North Houston has more of a small-town and suburban feel, as it has the larger plots, tree-lined streets and tight-knit communities that distinguish it from the hustle and bustle of the city. 
South Houston is home to a variety of educational institutions, sports clubs and near-rural living, all within a few minutes of Downtown. 
East Houston is for the water-lovers of the world, as it borders Galveston Bay and has quick access to the Gulf of Mexico. From here, you can access the Texas barrier islands and any water recreational activities your heart desires!
West Houston is a commuter's paradise, with a large selection of schools, easy access to the city and a wide variety of suburbs to choose from.
Schools in Houston
If you have kids or are planning on having kids, then finding a great school district is going to be a large factor in your decision to move to Houston. Luckily, though, the City of Houston has a handy guide to all of their school districts, making it easy to narrow down your search!
Commuting in Houston
Houston is a massive city, but the carefully designed infrastructure makes it easy to navigate the web of highways and public transit crisscrossing the city. 
Here's a guide to all the transit options available throughout Houston, including both the METRO light rail and bus system, the BCycle bike-sharing system or the intricate Houston Highway System. 
Cost of living
Different areas of Houston will have different costs of living, so it will take a little digging to find out what that is for specific areas. Here's the most recent cost of living analysis in Houston overall, though, which might help you visualize what to expect.
Entertainment
Reading about a neighborhood is one thing, but it's not until you've had a chance to visit the place in-person that you can really get a feel for the atmosphere. Once you've narrowed down a few neighborhoods you're interested in, make a point to drive through the streets, visit some local restaurants, stay the night in a historic hotel or attend a concert.
Is this a place you can see yourself living? Can you enjoy your life outside the walls of your home? Are there dog-friendly parks to enjoy, community-driven programs to learn from and opportunities to nurture your hobbies?
It's important to learn as much about the lifestyle you can cultivate within the community. After all, it's the people that make a regular neighborhood great, not the other way around. 
Find an apartment
Now that you've identified a neighborhood (or two, or three) that you like, it's time to go apartment hunting! Check out these websites for up-to-date recommendations for apartments in Houston:
Once you've found an apartment, it's important to ensure that you're moving into a safe and functional place. And if that seems like an intimidating process, then don't fret! What you need is a well thought out checklist to bring with you as you complete your apartment inspection tour. 
Make sure (like, really make sure) that you complete an apartment inspection before signing anything! 
Here's a complete guide to what you need to look for during an apartment inspection! If you need to, print it out and bring it on a clipboard so that you can make the most of the experience. 
If the inspection goes well and you're happy with the apartment, then it's time to sign on the dotted line and officially receive the keys to your new place!
Moving in
Moving is a long and arduous process, but the many storage and moving services available around Houston can make it easy-breezy! 
A good rule of thumb when browsing through local storage and moving companies is to read customer reviews. The more recent and plentiful the reviews, the better idea you will have of the true experiences you can expect from them.
Explore the city!
Congratulations! You're all moved in and settled down, and you're officially a Houston resident! The hard work has paid off, which means it's finally time to soak in the atmosphere of your new community! Get out, enjoy the area and start a new chapter of your life in Houston, Texas. 
Enjoy!
Pin it!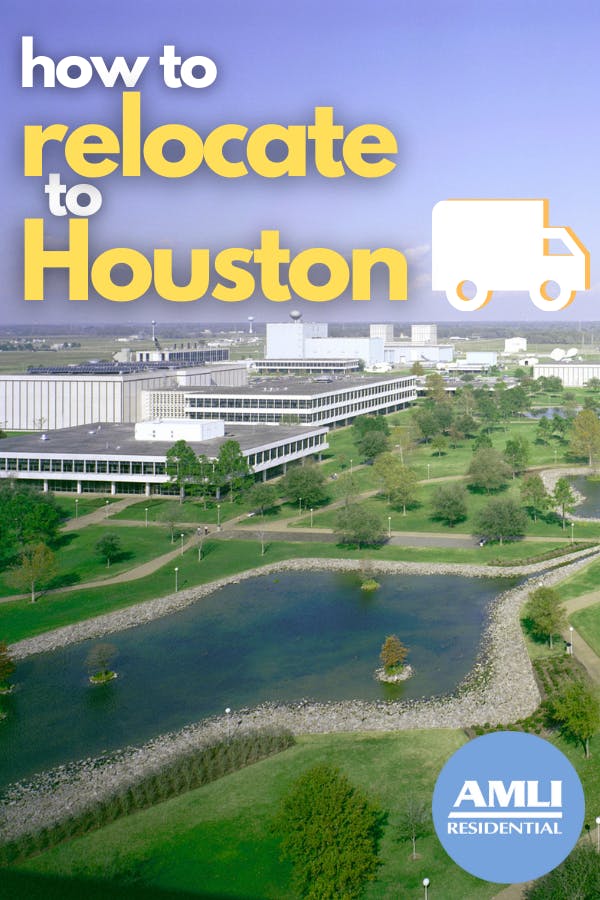 Featured photo courtesy Pixabay/Falkenpost