If you've spent any time at all in Houston, you'll know that the city is known for its art and culture.
In fact, Houston has the second-largest concentration of theatre seats in the nation, just after New York City! Houston is also one of only five cities in the U.S. that has permanent companies in all disciplines of the major performing arts: opera, ballet, theater and music.
When it comes to art and art museums, Houston is unparalleled. The museum district attracts over 7 million visitors annually, and travelling exhibitions from all over the world call Houston their home as they make their ways across the planet. 
Here are a few of the art museums that draw millions of tourists to Houston's arts and culture scene! Make sure to stop by sometime and take a look!
Art Museums in Houston
Museum of Fine Arts, Houston
With a collection totaling over 70,000 individual pieces and spanning more than 6,000 years, the Museum of Fine Arts Houston (MFAH) stands as one of the largest art museums in the nation, and certainly the oldest in Texas.
The thousands of artworks from all over the globe feature everything from ancient Mediterranean sculpture to Islamic art to Renaissance portraits to modern and abstract expressionism, plus everything in-between!
Bayou Bend Collection and Gardens
Once owned by 20th century socialite Ima Hogg, the Bayou Bend Collection and Gardens is housed in a historic mansion surrounded by pristine gardens and natural foliage. 
Hogg, a prominent philanthropist, socialite and patron of the arts, had the River Oaks mansion and grounds built as her own private residence where she housed her extensive art collections and entertained guests in any one of her eight formal gardens. 
Today, Bayou Bend Collection and Gardens is open to the public to view and enjoy the beautiful property and all its artworks.
Menil Collection
The Menil Campus features an impressive collection of galleries, parks, installations and even a chapel!
Built to house the once-private collection of its founders, John and Dominique de Menil, the main building displays selections of the 17,000-piece permanent collection, including books, paintings, sculptures, photographs and more. 
Cy Twombly Gallery
Also on the Menil campus is the Cy Twombly Gallery, a pavilion dedicated to housing the works of American sculptor, painter and photographer Cy Twombly. The airy, well-lit gallery displays the artist's works in nine separate galleries to both showcase Twombly's variety while also maintaining a continuity of his artistic vision. 
Art Car Museum
Our vehicles are so much more than just a tool to get us from point A to point B: they are snapshots of our personal lives, our tastes and our habits, which is exactly what founder Ann Harithas believed when she opened the Art Car Museum in 1998.
The Art Car Museum is part of a much larger art car movement in which an artist alters their car in such a way that they are able to express their personal style and aesthetic. The intent is for the individual to fully claim their personal vehicle as their own, especially in a world where vehicle models tend to lack the individuality of decades past.
Lillie and Hugh Roy Cullen Sculpture Garden
Operated under the umbrella of the MFAH, the Lillie and Hugh Roy Cullen Sculpture Garden displays 25 sculptures by famed artists, the likes of which include Henri Matisse, Louise Bourgeois, David Smith and Frank Stella. 
The gardens themselves were designed by globally renowned landscape architect and artist Isamu Noguchi, known for his work in sculpture, architecture and gardens all over the world. 
Rothko Chapel
Built in 1971 and housed under the umbrella of the Menil Collection, the Rothko Chapel near Montrose combines art, architecture and religion in a serene and contemplative space. 
The chapel is a popular tourist destination in Houston with over 60,000 visitors each year from all over the world. Inside are fourteen of Mark Rothko's canvases, each carefully placed in the chapel that was designed to house them. 
The Rothko Chapel is open to everyone from all walks of life and all journeys of faith, and the space is designed around just that. Meditation cushions, prayer mats, benches and pews sit quietly under the sky-lit light, and religious texts are available for use to anyone. 
These art museums in Houston are wonderful representations of the city's vibrant art culture and its many art-loving residents. If you live in our luxury Houston apartments, stop by sometime and check out the sculptures, paintings, sketches and more that make these museums so beloved.
Enjoy!
Pin it!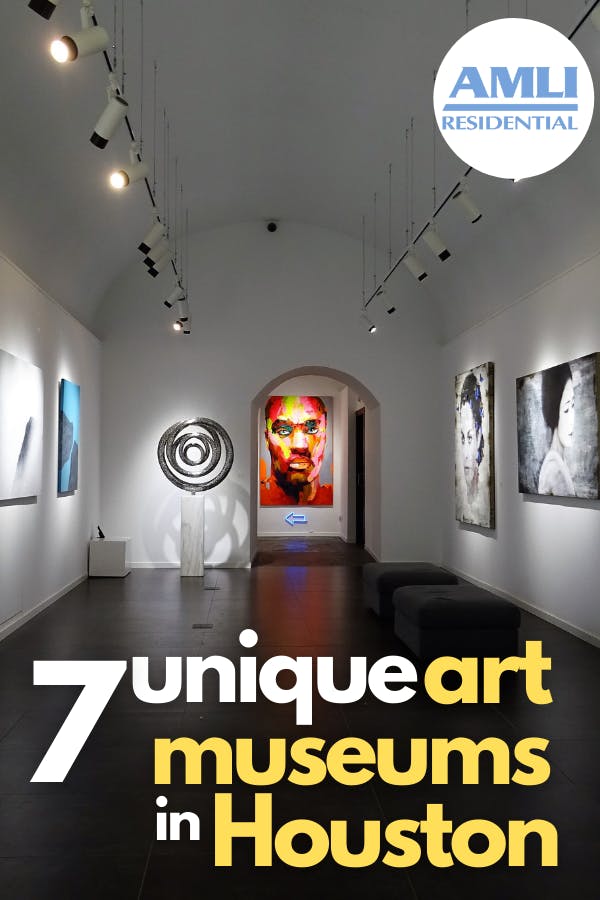 Featured photo courtesy Pixabay/chummels