Having a smelly home is no fun, especially when it gets in the way of you enjoying your own space or having company over. And when it's a pet odor that's stinking up the place, it can seem impossible to get rid of the smell.
Luckily, though, we are veteran pet owner here at AMLI Residential, and we have a pretty decent portfolio of tips and tricks to getting rid of foul pet odors in an apartment. Check it out!
Eliminating pet odors from your home
Let it air out
A good first step to getting rid of lingering smells is to open the windows and let some fresh air into your apartment. Granted, this won't get rid of the odor's source, as pet odors usually come from problem areas that require a little more care to remove. In a pinch, though, an afternoon's worth of fresh air circulating through your home will do wonders in the moment. 
Sweep & vacuum
Whatever kind of pet you own, they have more than likely been shedding on your carpets, floors and furniture since they arrived. Hair, fur and fuzz blows around easily in an air-conditioned apartment, so there's a pretty decent chance that you have piles of pet dandruff and fuzz collecting in areas you would never have thought of before. 
Sweep and vacuum all your floors as thoroughly as you can. It's a pain to rearrange furniture to clean under them, I know, but it's worth doing every so often in order to get those hard-to-reach areas. You never know what dust bunnies have been collecting under your dresser or sofa, especially if you have an actual bunny in your apartment. 
Wash & dry furniture items
Pet odors travel along with your pet to every surface they touch or use. That means blankets, beds, pillows, sofas, cushion covers, sheets, rugs, linens and more!
It's a good practice to wash these items regularly as it stands (humans are pretty dirty creatures, too!), but owning a pet means you could probably afford to wash them a little more often. Especially if your pet is prone to accidents or is not yet house trained. 
Clean pet items
Run a bath strengthened with an eco-friendly cleaning solution (or just use a washing machine) and spend some time cleaning all of your pet's accessories and toys. Leashes and collars can hold onto bacteria extremely well, as can pet toys, food bowls and other pet items. It's likely that if you took a good sniff of these, you'd find a decent source of odor emanating from them.
Give your pet a bath
The source of your pet's odor is the culprit itself — your pet!
Bathing and grooming your pet will look different depending on what kind of pet you have. Cats are less receptive to baths than dogs are, and ferrets might only need a bath every few months or so. If your pet does require a bath, make sure to follow safe bathing tips to ensure your pet doesn't get matted fur, dislocated joints or shampoo in the eye! And remember, a good brushing is always the first step before bathing your pet.
Use eco-friendly cleaning supplies
After you're done sweeping, dusting, vacuuming and washing your surfaces and floors, use an eco-friendly cleaner to help neutralize any lingering smells. You can even make your own eco-friendly cleaning supplies, like we have listed below!
Vinegar: dilute vinegar with water in a spray bottle and spray lightly over floors and carpets to eliminate odors and bacteria.
Baking soda: sprinkle a bit of baking soda on carpets, floors, fabric furniture and pet beds and allow it to sit for a few minutes before vacuuming. 
Lemon: mix a bit of lemon juice into a spray bottle with water and a splash of white vinegar. Use this to gently clean toys and other wipe-able surfaces in your home, and it should leave a slight citrus scent in its wake.
Buy an air filter
Air circulation can make or break an apartment's smell factor. Great circulation means less lingering odors and cleaner air, while a poor air filter can aggravate allergies, prevent circulation and lead to stuffy rooms.
Be sure to check your apartment's air filter regularly as a rule of thumb, but if your pet odor is aggravating your home and your senses, then investing in a HEPA-grade air purifier will do wonders. The fine mesh filter will trap and collect the tiny particles of dandruff, dust, hair and more that carry foul odors, and it will release clean air that is free of any lingering smells and dust. This leads to healthier air and reduced allergies, for those of us who struggle with pet fur sensitivity!
Wash carpets
If you have exclusively hardwood or vinyl floors, this won't apply to you at all, but for those of us who own rugs or carpets, there's a good chance they've needed a good, solid cleaning for a while now!
Carpets carry dust, dirt, hair and fur like nobody's business, and despite vigorous vacuuming there is no way to truly clean these floors without using a carpet cleaner. Luckily, though, these machines are easy to use and available for rent, so you can plan a good wash around your own schedule. 
You'll be astounded at the difference a properly cleaned carpet makes to the overall cleanliness of your apartment, and it will significantly reduce pet odors on a long-term basis if you keep up the practice.
So, there you have it! These are some sure-fire ways to reduce pet odors in your apartment without having to tear up the carpets and rip out ventilation (still, don't do either of those). 
Good luck!
Pin it!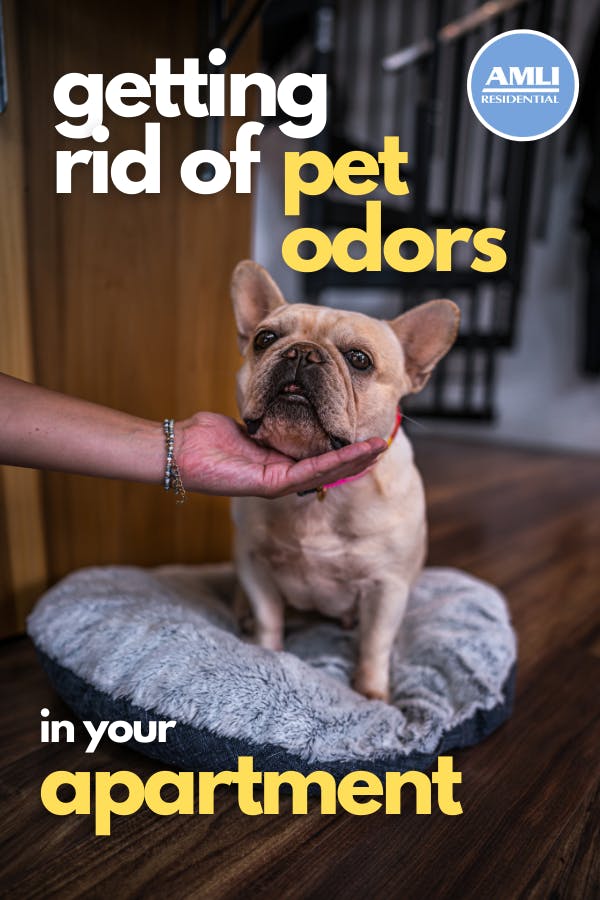 Featured photo courtesy Pixabay/StockSnap