Got the travel bug? We got you!
Whether you like chillaxing on the beach, climbing a mountain peak or sprinting through museums and historical landmarks, there are plenty of ways to tick off all the items on your bucket list while also keeping sustainability at the forefront of your travels. 
Here's how you can incorporate sustainability into your next trip, no matter where you go.
6 tips for sustainable trips
Skip the tourist traps
Places with heavy tourist traffic don't always have the infrastructure to deal with the heavy crowds, leading to over-littered destinations, over-abused facilities, pollution and fragile ecosystems. 
This doesn't mean you have to avoid your bucket list of destinations, though, since there are always ways you can travel off the beaten path and still see what you want. 
This could look like taking a smaller cruise ship along the Alaskan coast instead of the megaship monstrosities that destroy kelp forests and dump tons of waste into the water. It could look like visiting the Taj Mahal during the off-season. It could look like taking a train to a smaller town that's not so heavily burdened by tourist traffic. It could look like buying a meal from a hole-in-the-wall deli rather than the popular McDonalds down the street. 
Choose your own adventure! 
Try ecotourism
Ecotourism is a trendy thing right now, but in all honesty people have been doing it for years already!
At its most basic definition, ecotourism is all about planning your trip around visiting natural areas. Ecotours can include educational portions, cultural immersions, conservational efforts or any other activity that focuses on the environment. 
There's no one right way to do this, of course, so it's really up to you as to how you want to pursue this venture. You could focus on local wildlife conservation and visit rehabilitation centers; you could spend some time at a local botanical garden and learn about native and threatened species vital to local communities; you could volunteer at a beach cleanup at your bucket-list beach; you could take a gardening class from a local gardener and learn about native plants and how they're cooked — the sky's the limit!
Go on a regenerative travel trip
Regenerative travel is all about leaving a place in a better condition than it was when you arrived — which is what we should be doing anywhere we go, anyways!
Many fragile ecosystems and communities are so heavily influenced by tourism that they can simultaneously benefit and suffer greatly from the heavy traffic of tourists and visitors. By planning your trip around giving back to those communities, everyone benefits!
Regenerative tourism can look like a lot of things. It can look like planting trees in a lush valley in Hawaii, removing fishing nets while scuba diving in the Florida Keys, sponsoring a local anti-poaching unit while on a safari in South Africa — you name it! Not only do you get a cool experience (which typical tourists might never get) but you're directly benefiting the people in those local communities and leaving a positive impact on them rather than exploiting them!
Focus on community based tourism
Community based tourism is another important part of sustainable travel that focuses more directly on the people in a community. 
For example, say you skipped the Marriott Inn and instead went to a local bed and breakfast in a village outside of town. There, you meet the owners who cleaned your room and made your bed, you eat a meal cooked at a local restaurant, you go on a guided hike with a guy who knows the area like the back of his hand and you buy a souvenir made by a talented artist next door. Everything you do directly benefits the community in that area, and the money you spend goes straight back into the community. 
Take the small community of Rewa Village in Guyana, for example. Poaching used to run rampant in the area until the community collectively decided to focus on ecotourism and conservation, creating an inviting and educational eco-lodge that attracts visitors from all over the world. Tourism supports the community, and the community protects and sustains over 130 square miles of lush rainforest! 
What a great way to travel!
Be water and energy conscious
Clean, fresh water is a luxury, and there are many places in the world (as well as right here in the United States) that suffer from a lack of clean water. 
In places that heavily rely on tourism to support the local economy, tourists sometimes get priority when it comes to running water and electricity. It's important to be mindful of our water and electricity usage wherever we go, but be extra aware of it when you're somewhere that struggles with it. 
Here are a few ways you can cut down on unnecessary resource usage:
Put a "do not disturb" sign on your hotel room door to opt out of laundry service that you don't need
Turn off all lights and appliances when you're not using them and when you leave
Find accommodation that implements sustainable practices
Hang up your clothes to dry
Be nice
Honestly, if you approach travel with the mindset of "I want to respect the people and the land of this place I'm passing through," then you're on the right track! 
Whether you like museums, hiking, cooking, surfing or relaxing, you can find a way to get exactly what you want out of your trip while also treating your environment with kindness and respect. Tourism can do great things for a community and it can wreck it in the same way, so if enough tourists choose to leave a place better than they found it, then the world will be a happier and healthier place for future generations who wish to enjoy it, too!
Bon voyage!
Pin it!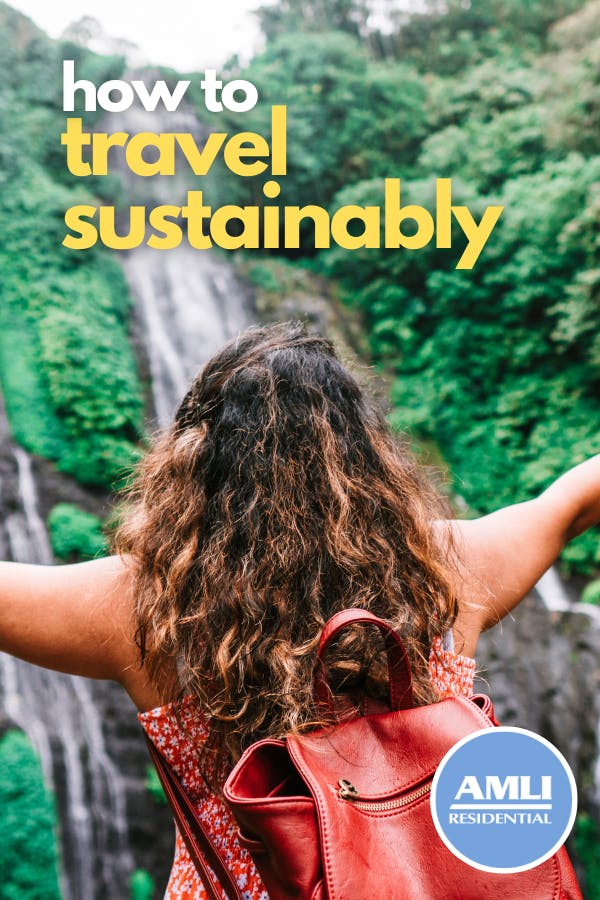 Featured photo courtesy Pixabay/StockSnap