Spring is a season of renewal. It is the perfect time to shake off the winter blues and get outside to enjoy the fresh air and sunshine. With temperatures finally warming up and longer days, there are plenty of fun activities to boost your happiness this season. Keep reading for some inspiring things to do this spring!
Inspiring Things to Do this Spring
Picnic time
One of the best things about spring is that it's the perfect time for a picnic in the park. Pack a basket with your favorite snacks and drinks, grab a blanket, and head to your favorite local park. Whether you're on your own, with a group of friends, or with family, a picnic in the park is a great way to enjoy the outdoors and soak up some sunshine.
Dig in the dirt
Spring is the perfect time to dig in the dirt and start planting your garden. Whether you have a big backyard or a small balcony, there are plenty of ways to create a beautiful garden space. You can plant flowers, herbs or vegetables, and watch them grow over the course of the season. Gardening is not only a fun and relaxing activity, but it's also a great way to connect with nature and get some exercise.
Farmer's market fun
If gardening isn't your thing, why not visit a local farmer's market? You can find fresh, seasonal produce, and support local farmers and businesses at the same time. Many farmer's markets also have live music and other entertainment, so it's a fun way to spend a Saturday morning and never even have to get your hands dirty.
Take a hike
Spring is a great time to hit the trails and go for a hike. With the weather starting to warm up, you can explore local parks and nature reserves, and take in the beauty of the changing landscape. You don't need to be an experienced hiker to enjoy the outdoors. Check out the AllTrails website to easily find trails near you. You can search for trails by city, length, elevation gain and type of route. There are plenty of trails to choose from along with trail reviews and photos. Of course, there's also an AllTrails app that makes exploring the outdoors a breeze. So take a hike and enjoy the fresh air and scenery this spring.
Let's ride
Bicycling is a great activity for spring.  Whether you're an avid cyclist or just looking for a leisurely ride, there are plenty of bike paths and trails to explore. AllTrails comes into play again as it is super easy to find bicycling trails by location and skill level. Bicycling is a great way to enjoy the scenery and get some exercise at the same time. It is also a wonderful way to spend time with friends or family.
Road trip
With spring in the air, why not hit the road and explore some new places? There are plenty of destinations to choose from for a weekend trip or even a longer vacation. You can visit national parks, historic sites, or just drive along scenic routes and take in the beauty of the season.
Get in the game
Spring is a time for change. Try a new outdoor sport or activity. Whether you're interested in rock climbing, kayaking, or stand-up paddle boarding, there are plenty of opportunities to get outside and try something new. Many local recreation centers or outdoor retailers offer classes or rentals, so you can try out a new activity without investing in expensive gear.
Root for the home team
Maybe you're more of a spectator when it comes to sports. If that's the case, why not attend a baseball game this spring? It's the perfect season to catch a game. And while there are plenty of major league ball games going on you could always check out a minor league game too. These games are typically less expensive and offer a more up close and personal experience. The atmosphere is charged with energy and, who knows, you might even snag an autograph from one of the players!
Festival fun
Spring is also a season of festivals and events. You can attend a local art festival, a food and wine festival or a cultural celebration. With so many festivals and events to choose from, you can find a little something for everyone. Many events offer live music or entertainment as well as food, crafts and competitions. Check out Eventbrite for happenings near you.
Let's eat outside
While many local restaurants offer outside dining, you don't need to go out and spend a lot of money on dinner. Dust off the patio table, grab a tablecloth and enjoy dining al fresco! Add some fresh flowers or candle to the table and be sure to bring some tunes along as well. Since spring weather is generally cooler that also means that outdoor pests should be less active. Your friends or family will enjoy the change of pace and the opportunity to be outdoors.
Inspire me
Spring inspiration is easy to find if you're willing to look for it. Whether you spend time at a local park, take up gardening or head out for a hike or bike ride, be sure to get something on your calendar in the upcoming months. Spring is all about new beginnings and starting fresh. What better way to start anew than to get outside and enjoy the season with family and friends.
Pin it!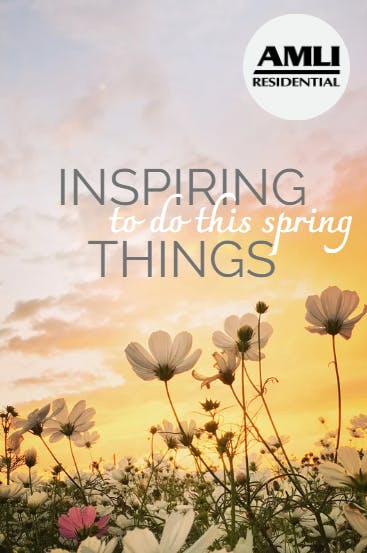 Photo courtesy Pixabay/JIllWellington