Apartment residents who keep a good rapport with their apartment managers tend to find life in their maintenance-free homes as easy as can be.  In addition to keeping noise levels down and treating apartment facilities with care, one of the best ways for a luxury apartment dweller to do this is to keep the home from becoming a hotbed for filth and foul smells.  Maintaining a tidy and fresh-smelling apartment home does not require much effort, and it only serves to make apartment living more pleasant and comfortable for you and your neighbors.  If you aspire to keep a clean home and wouldn't mind the added benefits of being a good neighbor and tenant, follow these simple steps.
1. Take Out the Trash
If there is one cleaning task that should not be neglected for long in your apartment home, it is taking out the trash.  If you let food scraps rot and interact in your trash can for more than a week, your apartment will start to smell like garbage.  Let it sit unemptied for much longer, and the smell of rotten produce and poultry will creep into the hallway and negatively impact the quality of life of your neighbors.  Home living experts recommend taking the trash out at least once every three days, and immediately after the preparation of meat, fish, or any other foods that could attract fly larvae or cause sanitary concerns.  If you find that you have trouble filling your trash and are worried about environmental waste, try using smaller trash bags.
2. Establish Cleaning Routines
Some people prefer to clean just a little bit at a time, whereas others prefer to do it all at once.  If you fall under the first category, set aside 10 minutes a day to carry out one or two cleaning tasks that are vital to the overall cleanliness of your home.  If 10 minutes doesn't prove to be enough time to make a dent in your cleaning duties, allot 15 or 20 minutes of designated cleaning time into your schedule.  Vacuum one day, dust another.  Clean your bathrooms another day, and take care of your sleeping and living areas another.  If you would prefer to do all of your household cleaning at once, set aside an hour or an hour and a half during which you can tackle all of these tasks.  To make cleaning more enjoyable, get your favorite Spotify playlist going or listen to a book on tape or podcast while you clean.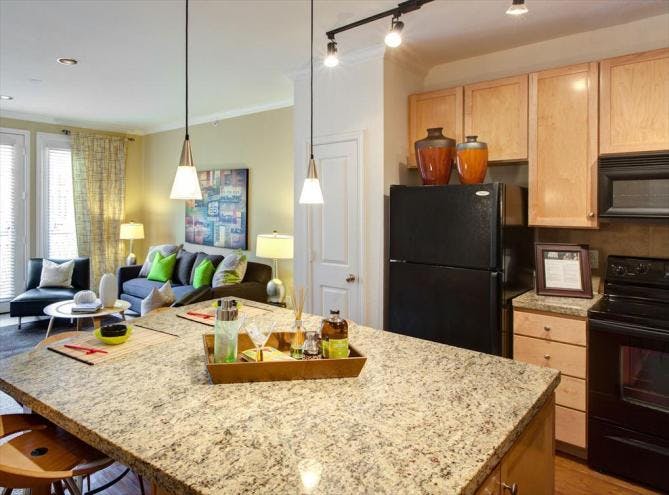 3. Clean While You Chat
Are you setting aside time to clean and still not feeling like your apartment home is as tidy as it should be?  If this is the case, do some cleaning while you are on the phone.  You may not be able to vacuum, dust, or mop with a phone to your ear, but you should be able to organize bookshelves or cabinets without feeling distracted from the conversation or creating and disturbances for your phone partner.
4. Don't Let Things Pile Up
Perhaps the best strategy for keeping your apartment home clean without feeling like you spend way too much time cleaning is to clean up as soon as messes develop.   We're not just talking about attending to spills as soon as they occur.  Do your dishes after every meal, or even while you are cooking.  And if you try on three or four outfits before you decide what you are going to wear and you do not need to run out right away to make an appointment on time, refold and hang those clothes before you leave home.  Take a few minutes to get organized as soon as you notice that a specific space in your home is not as tidy as it could be, and you can prevent a great deal of clutter in your life.
5. Divvy Up Tasks
If others contribute to the mess in your home, there is no reason for you to clean up everything on your own.  Have a chat with your partner or roommates, and figure out what cleaning tasks each person in your household prefers.  If one person finds laundry less toiling than dishwashing and vice versa, then the division of most cleaning duties in your apartment home may come easy.  Have children or teenagers living with you?  Assigning chores early on will not only prepare them for life in a clean home of their own one day, but can also help instill in them a stronger work ethic.
6. Groom Your Pets
Many AMLI luxury apartment homes are pet-friendly, and a lot of our residents love us for it.  Pets make great apartment home companions, but they can also contribute to a state of uncleanliness in the home.  Regular grooming and attention to the oral health of a pet can make your apartment smell nicer.  It can also keep shed hair from accumulating quickly and pests that love greasy pet fur from hitching a ride into your home via your pet.  Several of AMLI's upscale apartment communities have an on-site pet spa, making grooming accessible and convenient for the busy and lazy among us.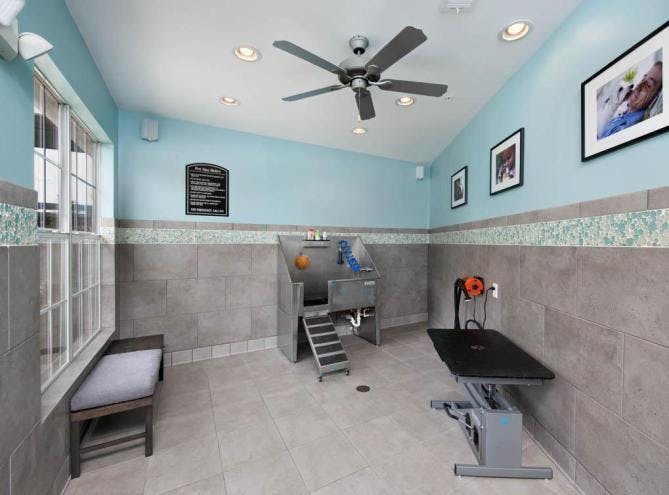 If you follow the advice offered in this article, you should be able to keep your apartment home sparkling clean without having to dedicate an excessive percentage of your time to home cleaning tasks.  This will please your apartment manager and neighbors.  It will make your home a cleaner, healthier place.  And it will allow you to Live Life + Love Life without clutter and the stress that comes with living in a messy apartment home.