If you live in an apartment rental, you probably can't make structural changes to your bathroom without violating your lease agreement. But just because you can't renovate your bathroom doesn't mean you can't make it more luxurious. Here are several easy, affordable upgrades to make your apartment bathroom look and feel nicer.
High-end towels
If your bathroom towels have seen better days, or they look like they have, it's time to bid them goodbye. Invest in softer, more luxurious towels that will improve your post-shower experience and freshen up your bathroom's look. For an especially refined look, roll and stack your new towels like luxurious hotels and spas.
Towel hooks
If you share a bathroom with others, that towel rack may not provide ample space for used towels to dry. An elegant solution is to mount stone or antique hooks on the bathroom wall or the back of the bathroom door.
Better bath mat
Along a similar vein, forego your uninspiring bath mat for something a bit more regal. If you don't need the soft touch fresh out of the shower, consider a bamboo, teakwood, or stone bath mat. Look to this DIY ocean stone bath mat tutorial for inspiration. These work well with most color and design schemes, and are effortless to keep clean. Another luxury-adding option is to swap out your bath mat with a real rug.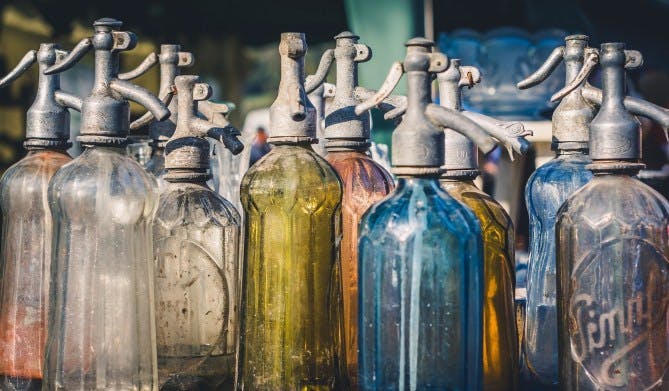 Glass pump bottles
Another way to up your bathroom's luxe factor is to transfer shampoo, body wash, and other liquid bath products from their original containers to glass pump bottles. Clear glass bottles are eminently elegant, but glass pump bottles are available in a range of colors. It shouldn't be hard to find something that work's with your bathroom's design.
Coordinated accessories
If you decide to go with glass pump bottles, match them to other bathroom accessories. If not, coordinate your hand soap container, toothbrush holder, and other visible bathroom accessories for a uniform look.
Plant life
Bring some life into your apartment bathroom with the addition of a houseplant or fresh flowers. Aloe vera, bamboo, and snake plants are three houseplants that require relatively little sunlight and thrive in humid environments. Where flowers are concerned, orchids and lilies can add a nice aesthetic touch to any bathroom. For a temporary upgrade, fresh floral arrangements also work.
Shower speaker
Do you listen to the radio or music while showering? If you don't already have a shower speaker, do yourself a favor and get yourself one. Quality options are available for just 0. The clear audio you'll get without risking damage to your smartphone or traditional speaker can transform the experience of getting ready for work or a night out on the town.
Freestanding furniture
If you have the room, add a piece of furniture to your apartment bathroom. For more storage space, consider a chest of drawers or storage bench. Otherwise, a nice ottoman or vintage armchair can help you up the elegance ante.
Like what you just read? Why not subscribe to the AMLI Blog so you don't miss another post?