There's not much better than walking into a tidy and organized apartment at the end of a long day. Whether you had a to-do list that was a mile long at work or ran around town all day completing errands, entering into a well-kept home will allow you to kick your feet up and unwind. Living in an uncluttered space has been shown to not only create more organization in your life, but it's also been revealed to reduce your stress and increase your productivity levels. And while keeping your apartment clean may require daily effort, you can simplify the process by implementing a minimalist lifestyle into your routine. What does this mean? It means downgrading on materialistic items and focusing on the basics. Not only can this create more stability in your life, but it will also create a sleek and sophisticated style for your apartment. If you're interested in simplifying your apartment, we've curated some minimalist ideas that you can use to aid in the process. And as the saying goes—less really is more.
Rid yourself of clutter
As you begin the long-awaited process of tidying your apartment, the first and most important thing to take note of is the clutter. When you look around, what do you see? Maybe it's piles of mail you've yet to sort through or dishes that you swear you'll get to as soon as you have a free moment. Whatever it may be, it's important to organize according to priority. First things first, get rid of anything you don't need. Our trick? Develop the mindset of Marie Kondo. For those of you who don't know who Marie Kondo is, she's a tidying expert who has helped countless people transform their homes into places of calmness and composure. When it comes to organizing your space, she created 6 simple rules to follow:
Commit yourself to tidying up.
Imagine your ideal lifestyle.
Finish discarding first.
Tidy by category, not location.
Follow the right order.
Ask yourself if it sparks joy.
If you commit yourself to the process and eliminate the things you don't have a use for, you'll quickly find yourself living in a more simplified and organized space. Get rid of the anything you don't need, store away items you don't currently need and give everything you're keeping a secure spot in your apartment. To learn more about Marie Kondo and her KonMari method, be sure to check out her website for tips and tricks on creating the minimalist space you've always envisioned. Or you could always watch her show, Tidying Up with Marie Kondo on Netflix.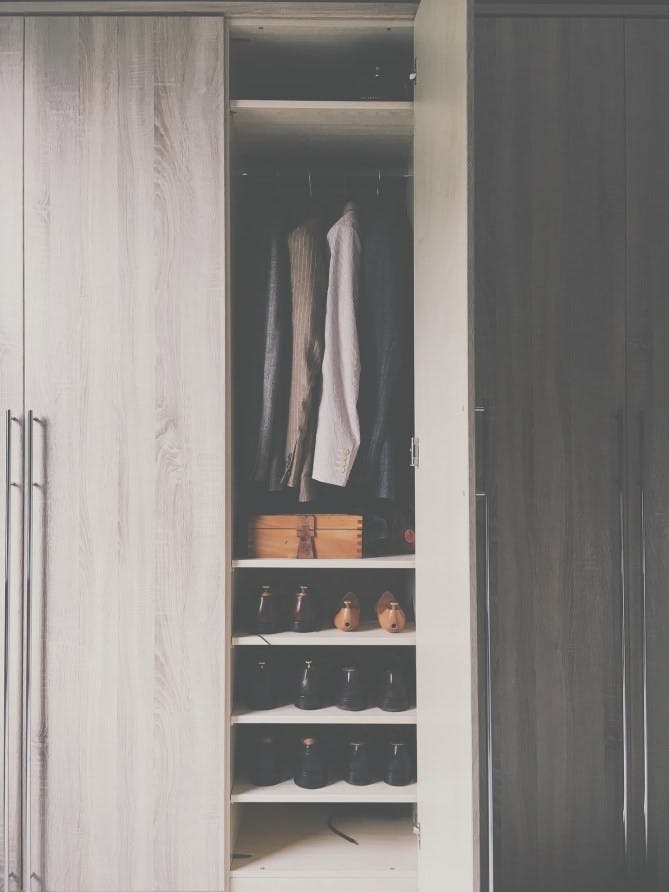 Creating neutrality
To further push a minimalist design concept, it's important to create neutrality and fluidity within your space. Using subdued hues generates a fresh and simple look that builds composure and balance. Using colors such as white, ivory and tan create a refined look that's easy on the eyes. For those who are still interested in having color within their space, we recommend introducing pops of blues, greens and yellows. Just remember, with minimalism—quality over quantity. Make sure you're decorating with pieces that will stand out, yet not overpower your space. In the end, you'll have a room that is both well thought-out and poised.
One in, one out
This rule is simple—every time you bring home something new, something else must go. It's almost mind-boggling how quickly clutter and stuff can begin to stack up and, before you know it, your space is overcrowded. The one in, one out philosophy can adhere to almost anything. Your decor, closet space or kitchen cabinets. Admit it, how many times have you attempted to clean out your closet only to have the little voice in your head stop you, because you might need this someday! Whether it's those pants that will fit once you reach your goal weight or the pair of shoes you've never worn but would be perfect for some made up event in the future, we've all been there. So follow the rule: if you want to buy something, you must first get rid of something. Not only with this keep the amount of stuff in your apartment at a consistent size, but it will give you more opportunity to play around with your sense of style and keep up with constantly changing trends.
All in all, implementing a minimalist design will convey simplicity and organization. Minimalism will create more space, as well as allow more natural light to flow into your home. And for those of you not ready to go full Marie Kondo mode, executing even a few of these steps are sure to bring more organization and contentment to your space.
"Simplicity, clarity, singleness: These are the attributes that give our lives power and vividness and joy as they are also the marks of great art." —Richard Holloway
Interested in more articles like this? Be sure to keep up with the AMLI blog!