Atlanta has a rich history of art, industry and community that's made it a cultural hub in the Southeastern United States. And of course, with culture comes some pretty interesting monikers that Atlanta's inhabitants have bestowed upon the city.
Here are some of the nicknames Atlanta has held over the years!
Popular Nicknames for Atlanta
Hot 'Lanta
So, we might as well start with this nickname that we Atlanteans either love or hate. We just gotta talk about it, ya know? 
Hot 'Lanta, or Hotlanta as some write it, was popularized in the Allman Brothers Band's "Hot Lanta" track on their 1971 album At Fillmore East. But etymologists recognize that the word was in use as far back as the late 1950s, back when the word appeared in a column in the Tennessean newspaper. 
There's nothing wrong with the moniker, per se, but it's just not something an Atlantean would say. It's like if someone from New York City consistently referred to their city as "The Big Apple," or if someone from Chicago always called their city "the Windy City." It's not incorrect, but it's just not what locals do. 
Good talk.
Chicago of the South 
Speaking of the windy city and Atlanta, the late 1800s and early 1900s saw a period of great industrial growth in Georgia, with the success being likened to that of the wildy prosperous Chicago further north. Thus, the nickname stuck.
New York of the South
Between the 1870s and the 1890s Atlanta was booming as more and more people migrated to the city, thanks to the Port Royal Railroad that passed through Atlanta in 1873. According to historical records, the city streets were so packed with new arrivals that it resembled the hustle and bustle of New York City.
The ATL
Thank goodness for cool airport codes that can double as great nicknames!
The A / da A
Singers and rappers of the likes of Ludacris, Lil Scrappy, T.I. and Lloyd have all referenced Atlanta as "The A" or "Da A" in songs, as have local media like Straight from the A and The Indispensable A. What can we take away from this? Obviously, it's that Atlanta is too cool for full words, and that we hardly need more than one letter to be instantly recognizable. 
Top that, everywhere else. 
Hollywood of the South
Atlanta has become an increasingly popular film site for anything from Marvel blockbusters to AMC's The Walking Dead to Tyler Perry's expansive portfolio of work and more! 
Atlanta can offer both the bustling cityscape and rural landscapes that appeal to film directors looking for a more convenient filming process. Many scenes from Marvel's Spider-Man: No Way Home film were filmed right here in Downtown Atlanta, as it's easier to replicate New York City's urban feel here than it is to try to block off streets and blocks in the actual Big Apple. 
Wakanda
Major portions of Marvel's wildly popular Black Panther film were filmed in Atlanta, where over 3,100 local artisans, carpenters, actors, stage designers and other staff were hired to make the movie magic come to life. The Georgia Economic Development reported that nearly $27 million was contributed to wages during the film's production.
Silicon Peach
The Atlanta Business Chronicle reported in 2017 that Atlanta played a large role in fueling a surge of startups in the decade after the recession. It ranked fifth in the nation's top five cities for startups, first in the biggest rise in rankings and sixth and "most improved city" in the U.S. Chamber of Commerce's list of tech startup cities. What better name, then, than the Silicone Peach for the East Coast's next favorite technology hub?
The City Too Busy to Hate
This nickname dates back to the Jim Crow and Civil Rights era of the 1960s, where Atlanta was a city deeply linked to the Civil Rights Movement. Though the city was a rapidly growing metropolitan hub and had equally deep ties to the Confederacy and the Old South, Atlanta proved itself to be a symbol of the New South and a reformed culture of people who, through their tireless work toward progress, were too busy to hate but never too busy to care. 
If you live in our luxury Atlanta apartments, then you may have already heard of or used some of these nicknames. Let us know what your favorite one is!
Pin it!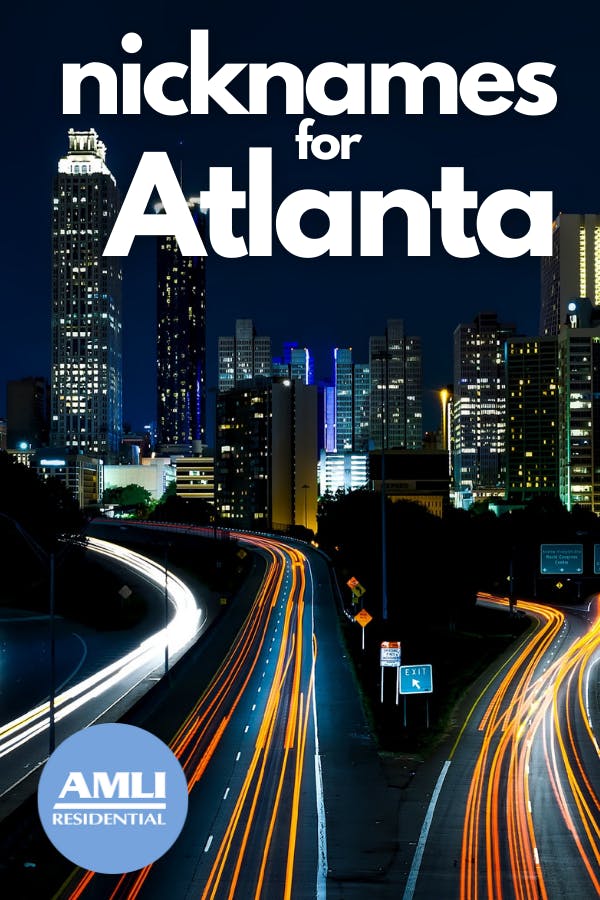 Featured photo courtesy Pixabay/AsiaEmerlle