As morning rolls around and you hit the snooze button on your alarm clock for the third time, there's no denying the chance that you could potentially be getting a late start to your day. And once you do finally make your way out of bed, there's nothing worse than not being able to find that one certain shirt you wanted to wear.
Having a messy closet is a guaranteed way to slow you down and start your day off with disorganization, meaning it's important to stay on top of its cleanliness. And with living in an apartment, there's only so much room to work with before things begin to pile up on one another. Luckily, we've got a few tricks up our sleeves to help organize your closet and make your morning routine run flawlessly.
Declutter
This is probably the most time-consuming step. In order to create a neat closet, you need to get rid of all that extra stuff you've had lying around and piling up for years. Between shirts, shoes and accessories—you may be overwhelmed with everything you have! The best way to sort out the things that you do and do not need is by asking yourself, do I still wear this item? Do I love it? If there's any hesitation in either of these answers, it's time to toss it. Once you've got a pile of items you no longer need, you can choose to recycle, sell or donate to free up some much-needed closet space.
Categorize
For your next step, it's important to categorize all of your clothes. Place all your pants together, as well as your shirts, dresses, work attire and shoes. Not only will this make it easier to find exactly what you're looking for, but will keep a mess from taking place in the future! If you give each clothing category a specific spot in your closet, your space will appear tidier and more organized.
Hanging your items
Unless you have a giant walk-in closet, chances are—you won't have the room or space to hang all of your clothes. Because of this, you want to be sure that you're only hanging items that are either delicate or sturdy and could potentially be ruined if you were to fold them. This could include items such as dresses, blazers or coats. Our tip? Make sure to hang everything the same direction!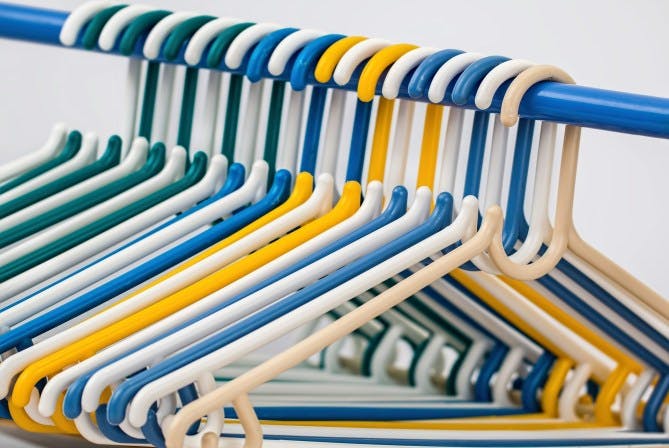 The roll n' tuck
A personal favorite, the roll n' tuck is especially useful if your closet is overflowing with T-shirts and other thin items. If you're limited on how much drawer and shelving space you have, try rolling thinner items to save space and fit more clothes into otherwise narrow areas. Wondering how to do this? Simply fold your items in half, and get to rolling! You'll be shocked at how much room this saves. An extra hint? The roll n' tuck method is a great packing tip! You'll be able to fit much more into your suitcase—a helpful hint for all you overpackers.
Stacking your sweaters
To save yourself hanging space, you can stack items such as sweaters and denim into piles to create more storage room for yourself. Since these items generally contain a thicker material, you won't have to worry about them becoming wrinkled or damaged. Likewise, stacking vertically creates more room to put surrounding items!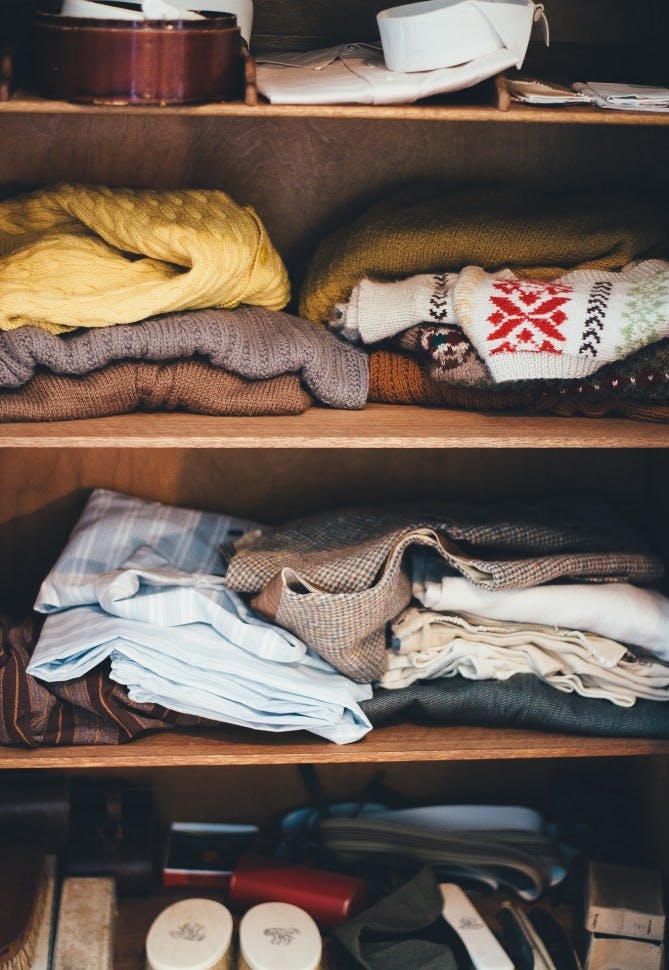 Color code
If you're ready to kick things up a notch, it's time for your color coding to begin. Once you've separated your clothes into individual categories, you can organize everything by color to make things easier to find. Not only will it be a simple task to navigate your closet with ease, but it will also help in simplifying the process of picking out your wardrobe. Not to mention, it will help in making your closet much more visually appealing!
Well, there ya have it. The simple ways to tidy up your closet and use your space more efficiently. Although organizing your closet can take some time, once it's done, you are guaranteed to feel like a brand new person. We promise! So set aside a few hours, and get goin'.
Interested in more articles like this? Stay up to date with the AMLI blog!