American artist Robert Henri once said that "the artist should be intoxicated with the idea of the thing he wants to express." That doesn't mean, however, that the artist can't have a little wine to help the creative process.
Paint and sip studios have blown up around the country, offering an artsy haven for the not-so-tortured artists in the world to enjoy a fun night out. Houston is no different, and the sparkling city offers many opportunities to paint a masterpiece with a pinot noir in hand.
Not only can you go out to bond with friends over wine and paint, but it's also incredibly easy to host a party yourself! Don't be intimidated, though, as you need absolutely zero artistic talent to craft the perfect party. Houston can be an incredible artsy place to be, and so can your apartment with these party-hosting tips and tricks.
What is paint and sip?
It's all in the name, really.
Remember those studios where you could pick a piece of pottery and paint it however you wanted? Well, paint and sip studios are the adult version of those. Each night is booked as an event and is hosted by an artist who guides the class through completing a painting. Each night has a different painting, and customers can book based on what type of painting they want to paint.
What sets these studios apart, however, is usually the wide choice of alcoholic beverages available for purchase. Some studios offer wine, some offer beer and some offer cocktails. Whatever your preference of drink, paint and sip studios strive to provide a memorable evening.
Check out these awesome Houston paint and sip studios where you and your friends can enjoy this fun experience. These studios are all within 10 miles of AMLI apartments in Houston.
Houston Paint and Sip Studios
Whether you're aiming to create Van Gogh's "Starry Night" or an abstract fall pumpkin, these Houston paint and sip studios are perfect for every level of experience.
2406 Taft St.
12343 Kingsride Lane
This paint and sip chain doesn't sell food or alcohol, but it does allow customers to BYOB (bring your own beer) and bring snacks!
2204 Summer St., #104
This trendy paint and sip studio also provides home and office parties!
7620 Katy Freeway, #205
If you're looking for more than a canvas painting, give this studio a try! Art Class & Wine Glass offers sessions working with canvas, wood signs, wine glasses and pottery. There is no set theme to follow, but there are many themes available to choose from if you are experiencing some artist's block!
1111 Holman St.
10001 Westheimer Road, Suite 1110.
This paint and sip studio chain offers kid-friendly painting sessions in addition to their regular adult sessions! There are nine locations within the Sam Houston Tollway loop, and three within the Highway 610 loop.
Host your own paint and sip party
Don't be intimidated by party-hosting. People always have fun, no matter how many things didn't turn out how you initially expected. Hosting a paint and sip party allows your guests to be as creative as they want to be, so all you have to do is provide the materials.
There are three main things to think about: workstations, drinks and theme.
For the workstations, you will need:
16x20 painting canvases
Small tabletop easels
Paint brushes
Tubes of paint
Mixing trays
Water cup
Paper towels or cloth rags
Pencils
Pattern or painting to copy
Instructions or video (optional)
This is just a general list for what each workstation will need. Encourage your guests to bring an old T-shirt or apron to use so that you aren't responsible for ruining Sandra's new leather jacket with ultramarine acrylics. Cover your surfaces with newspaper, plastic tablecloths or rolls of brown paper, and maybe add some to the floor, too.
Now, when it comes to drinks, every party is different. A bottle of wine for every guest is a good rule of thumb to follow, but if your guests are big wine drinkers, then encourage them to bring a bottle to share in addition to what you provide. If you decide to go the cocktail route, ask your guests what they like before splurging on a billion ingredients. Your guests will not be offended if you ask them to bring an appetizer or drink to share with the group.
If you decide to follow a particular painting or pattern at your party, make sure that you either have a video or printed instructions to follow so your guests don't get lost. After all, paint and sip parties are meant to boost everyone's confidence in their abilities, no matter the skill level.
Fun Tip: Bob Ross painting parties are an extra challenge, but totally worth it. I mean, come on. Who doesn't love Bob Ross?
If you need an extra hand in planning your very own paint and sip party, check out these great resources that will guide you through the entire process step-by-step.
To sum it up
Houston is an artsy place, and there's no reason why you shouldn't indulge your artsy side, too. You don't need to be an artistic genius to attend or host a painting party. All you need is a positive attitude and a sense of adventure!
This new trend of sipping wine while painting with friends is the perfect way to spend an evening out and about, especially in Houston. Whether you're going out or staying in, remember to have fun and enjoy the process!
Happy painting!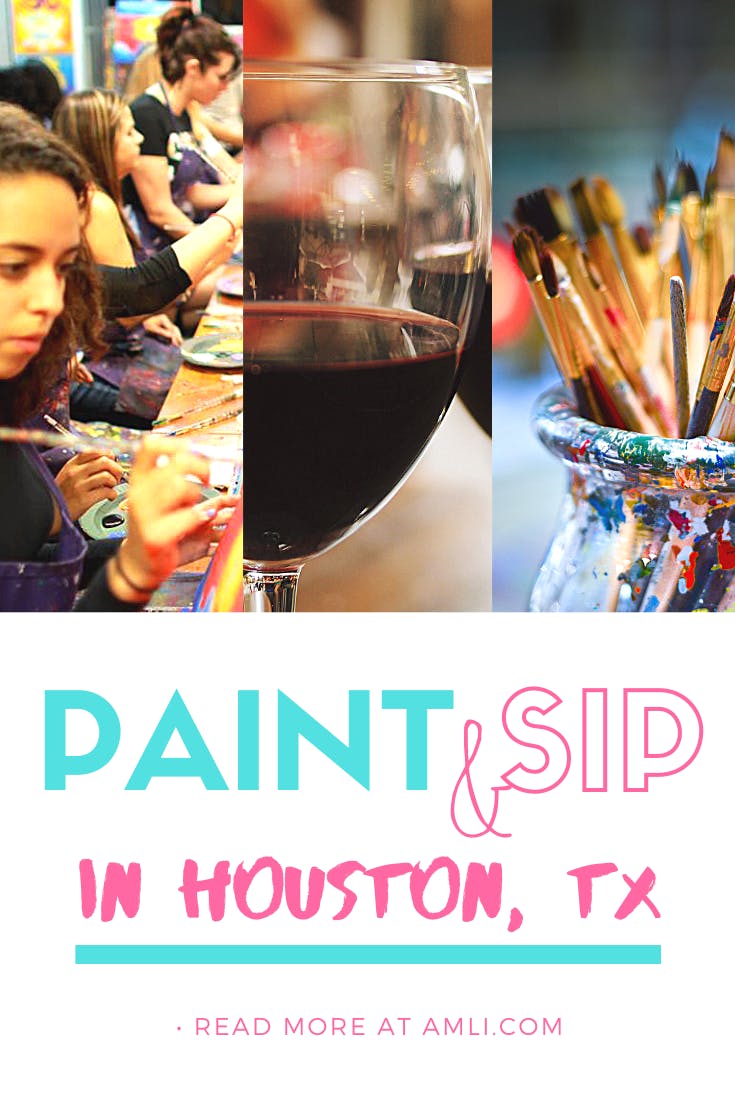 Feature photo courtesy Wikimedia Commons/A Painting Fiesta studio