Samantha Jacobson is an Austin-based artist who works with a variety of mediums to create bright, colorful paintings. She studied theater arts and costume design at Marymount Manhattan College in New York City before moving to Austin where she creates colorful murals around town.
Sam has painted four murals at AMLI South Shore, so we decided to get to know her a little better and introduce the artist behind the painting!
You have a really cool backstory on your website about a childhood with a lot of creativity and playfulness. What initially drew you to painting as your preferred medium of art?
People were always buying me art supplies because I was so into it, so I don't really remember when I started. I remember I did my first oil painting when I was eleven, and I still have it. It's pretty doofy, but that's the first time I remember doing a painting and being like, "Wow this is… this is cool!" But yeah, my whole family is creative, basically, so I can't put my finger on what it was. It's in my blood!
You also spent eight years in New York as a freelance designer before moving to Austin. What prompted your move?
I moved there for college when I was 18, which was crazy because I didn't realize what I was getting into. I was getting a general arts degree and a B.A. in costume design. So, I went to this really cool theater school and because I was in New York, I started working professionally when I was a sophomore. I was doing costume and wardrobe for, like, six years.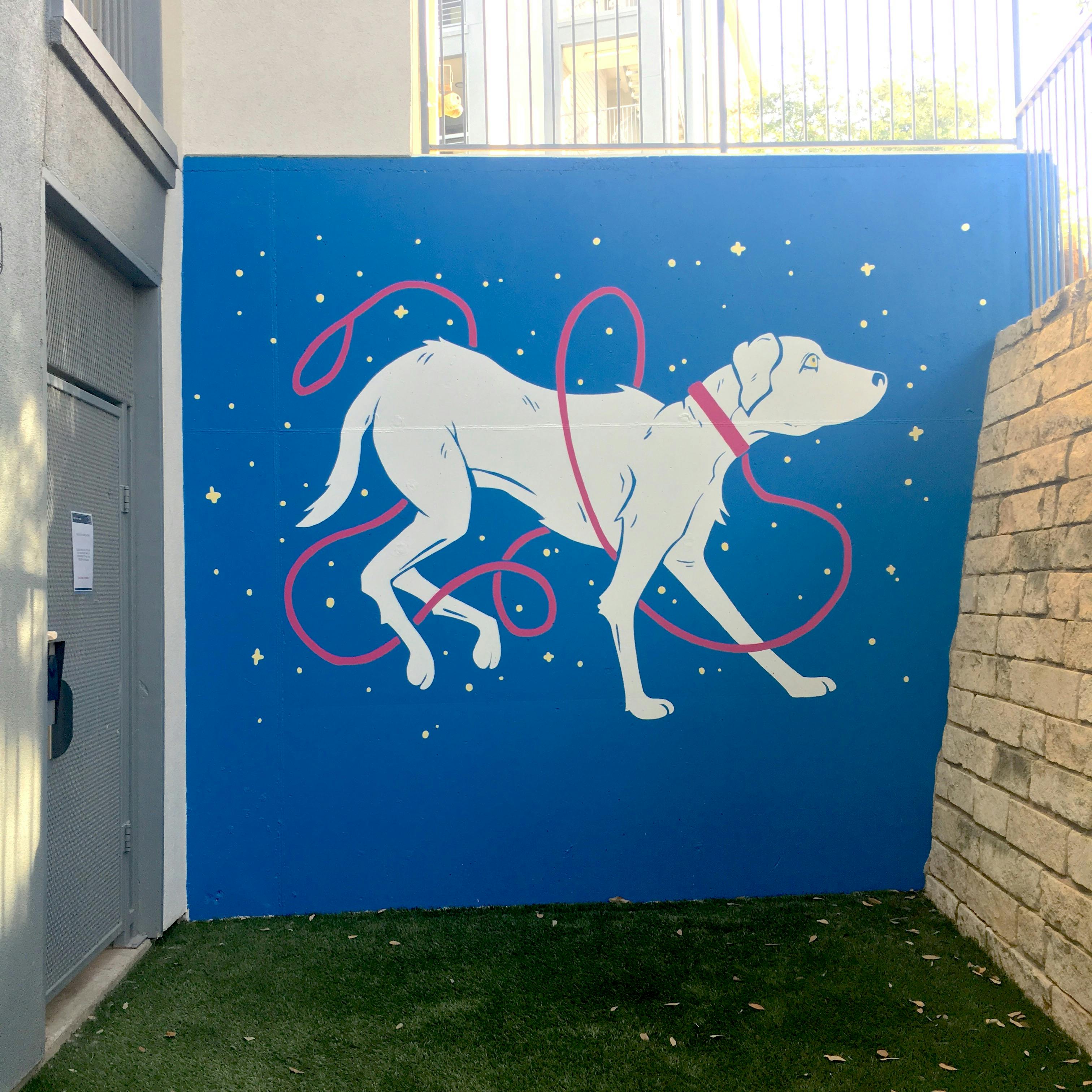 What made you decide to leave New York and move to Austin?
I was working consistently and I had gotten to do some Broadway shows. I worked on TV, and I had hit a lot of my goals and dream jobs, but I still wasn't really happy. On top of that, New York is a really hard place to make it as an emerging artist now. It's not like what it used to be like in the 70s and 80s when you could just go to New York and reinvent yourself. So, I was like "If I don't do this, what am I going to do here?"
When I met my boyfriend (and we've now been together for five years), I said on our first date, "I gotta know: Are you a New Yorker who loves New York and is gonna stay here forever, or do you need to leave? Because I have to get out of here." He said, "Oh, actually, I've been going to Austin, Texas for work and you should come see it with me!" We met in November [2014], I went to Austin next March, and by the next year, I was moving out of New York to live in Austin.
I grew up in suburban to rural Pennsylvania, so I missed having outdoor life. In New York, you can barely even see the sky. So I loved that about Austin. It was urban but there was a lot of paddle boarding and hiking here. It's a nice blend.
What inspired you as you came up with the ideas for the murals at AMLI South Shore?
The first two that I painted I didn't design. My friend Matt Magill did. He was part of the team that did all the way-finding signs. His style is a lot more graphic than mine is, so it was kind of cool because that was my first experience there. I got to understand what AMLI's taste was and what they wanted. The first one is on one of the dog runs, and the other is the bottom half of the paddle boarder that's down the pathway to get to the river. They're pieces that are on topic with this space and are universally enjoyed by all kinds of people. 
When AMLI asked me back to do the bike room and the walkway, I went in knowing that they wanted the space to be fun but also to make it a cohesive part of the room. 
The bike room was tricky because the room is only about maybe 10 feet wide and 30 feet long, so I thought, "Well, I can't do anything that big because you're only ever going to be standing really really close to it." That's why I ended up going with the sunset ombre to brighten up the room, since it's so small, and the little bike people because I was assuming that the community included young adults who have growing families. I just pictured little kids going in there and being excited to be in a room with a painting on a wall at eye-level. I also did two old men on a tandem bike together, so I was just trying to represent everyone who would be using the space.
A lot of my theater background is helpful in these instances because theater is very experiential. You have to think a lot about communicating with your audience. It translates really well to murals and public art.
Do you have any projects that you're currently working on?
I'm currently working on a lot of stuff because the West Austin Studio Tour is coming up. It's like an art crawl, kind of. Everyone submits their studio space to the tour, and you get a brochure with everyone in the neighborhood. I have a home studio, so people can come into my house and check it out.
You've got a lot of murals around Austin as well. How many do you have around town?
I have four locations, but some of the locations have multiple murals, like AMLI South Shore and the CrossFit gym where I worked on indoor and outdoor murals. Plus, I have a mural that I painted myself on three panels that are 8 by 12 feet, which is basically a giant painting that can be moved around. That's currently in storage. It's slightly political, so it takes a certain person to want to show it. 
Do you have any specific pieces of art that you've done that represent a big moment in your career?
Yeah, actually. The mural I was just talking about — it's called "Migrantes." When I moved to Austin, I quit theater completely, and I was like, "Well, I guess I'm just going to have to get any job." I had a handful of creative jobs and then landed as an apprentice to a silversmith, so I was silversmithing for about two and a half years, and that was kind of taking up my creative energy. But I had started doing murals and wanted to get back into it, but I didn't know what I wanted to do. So I built a panel with my boyfriend — they're three 4-by-8-foot panels, and I built them with a frame in my garage. I had them in my living room for months, and my whole bedroom was just turned into an art studio. I had ladders and clip lights hung up for working at night. I had a goal in mind of showing it at the East Austin Studio Tour (which is the same concept as the West Austin Studio Tour but on the east side). The organizers extended the event so more artists could participate. So, I was like "girl, this is your moment!" and put a fire under myself. That's when my professional career as a painter started. From then on, I've been doing shows.
"Migrantes" was my response to the immigration crisis. I wanted it to be happy and hopeful, because so much of what the news was showing was horrible photos of people, and everyone is just trying to live a better life.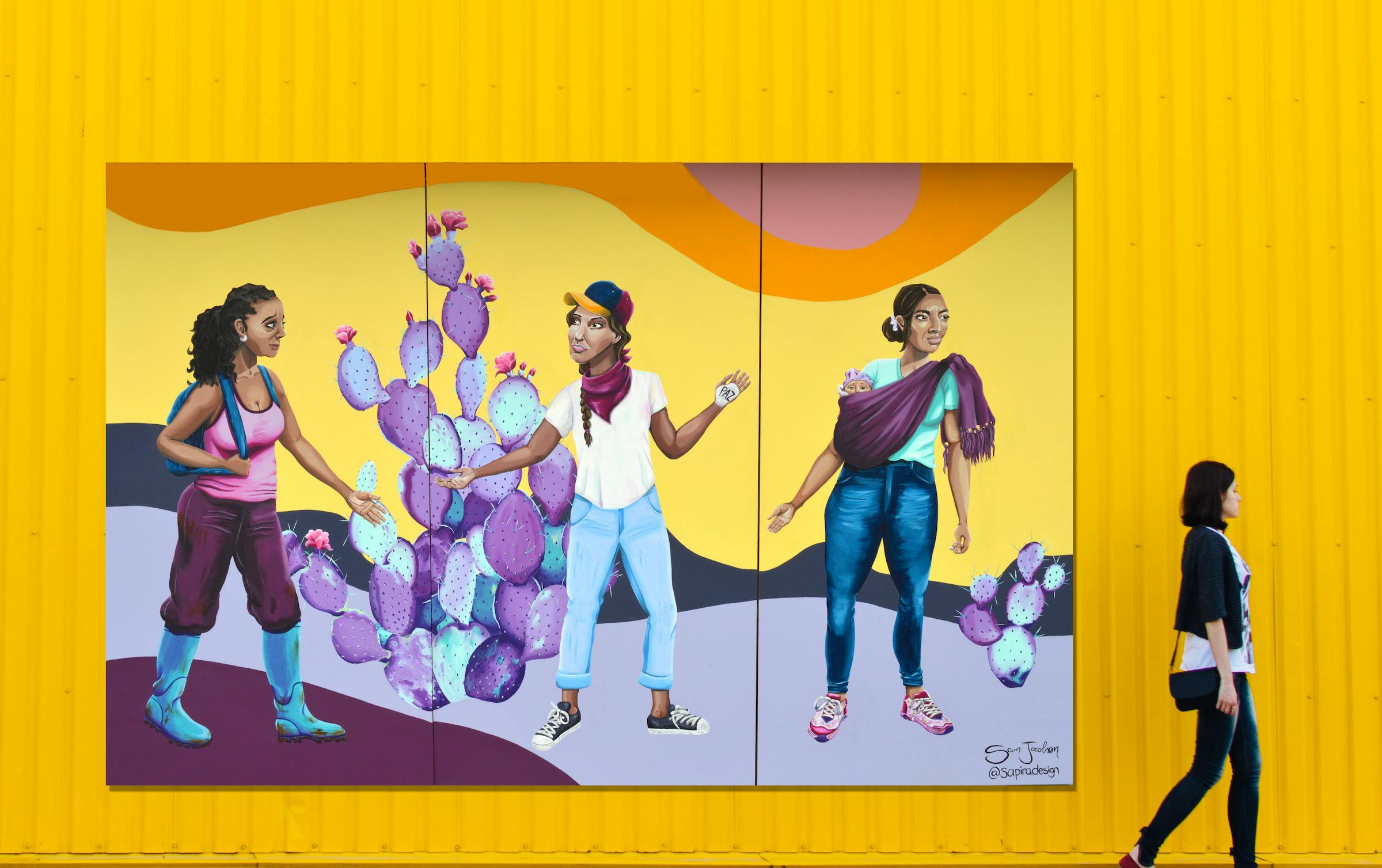 What is your creative process like?
It depends on the project. If I'm doing it for someone else, like with AMLI, the space is very important because that dictates a lot of the guidelines. Like the covered path: when I was asked to paint that, I was so excited! It's so cool with the beams over it because it carves out a natural, unique feel that's kind of old-fashioned. You don't see those big beams around much.
A lot of time, I start researching imagery. I have a lot of art books and fashion books, and I try to get my first visual inspiration somewhere besides the internet. I'm still very analog. I like being able to touch the pages and do things by hand.
Since AMLI was so flexible, I just brought them my final decision, but sometimes people want a couple options. Usually, I'll bring a couple thumbnails, they'll choose them, then I'll go back and put the color in. 
The design process is, luckily for me, fairly easy. I think it's because I went to theater school where you have to design so many different things because plays are in all different centuries and all different sets. 
For the installation, I have a digital projector. I take a photo of the sketch and project it up on the wall, trace it out, then start painting!
What made you decide to go with a repeating pattern in-between the beams under the walkway?
One of my favorite design periods is Art Nouveau, from the beginning of the 1900s. If you go to a French Art Nouveau style restaurant they'll have repeating panels across the wall with something like mirrors in between, so when I saw that shape and the repetition, that was the first thing that popped into my head. From a design standpoint, it simplifies things because I could do one drawing and then replicate it. The furthest panel from the right was slightly different, so I just added a little cactus out there.
What do you like to do in your free time?
Good question! I like to play with my dog. Austin has such a good dog culture. I like to go to the park and go walking on the trail nearby. I do CrossFit, and that's actually how I started muraling because they said "there's this ugly door here, can you paint it?" That was my first mural! I don't have much free time these days. There's so much going on in Austin, too.
Check out Sam Jacobson's art on her website sapiradesign.com, at AMLI South Shore and at the West Austin Studio Tour on May 9-10 and May 16-17. Purchase prints, stickers and more at Sam's online shop, here!
Pin it!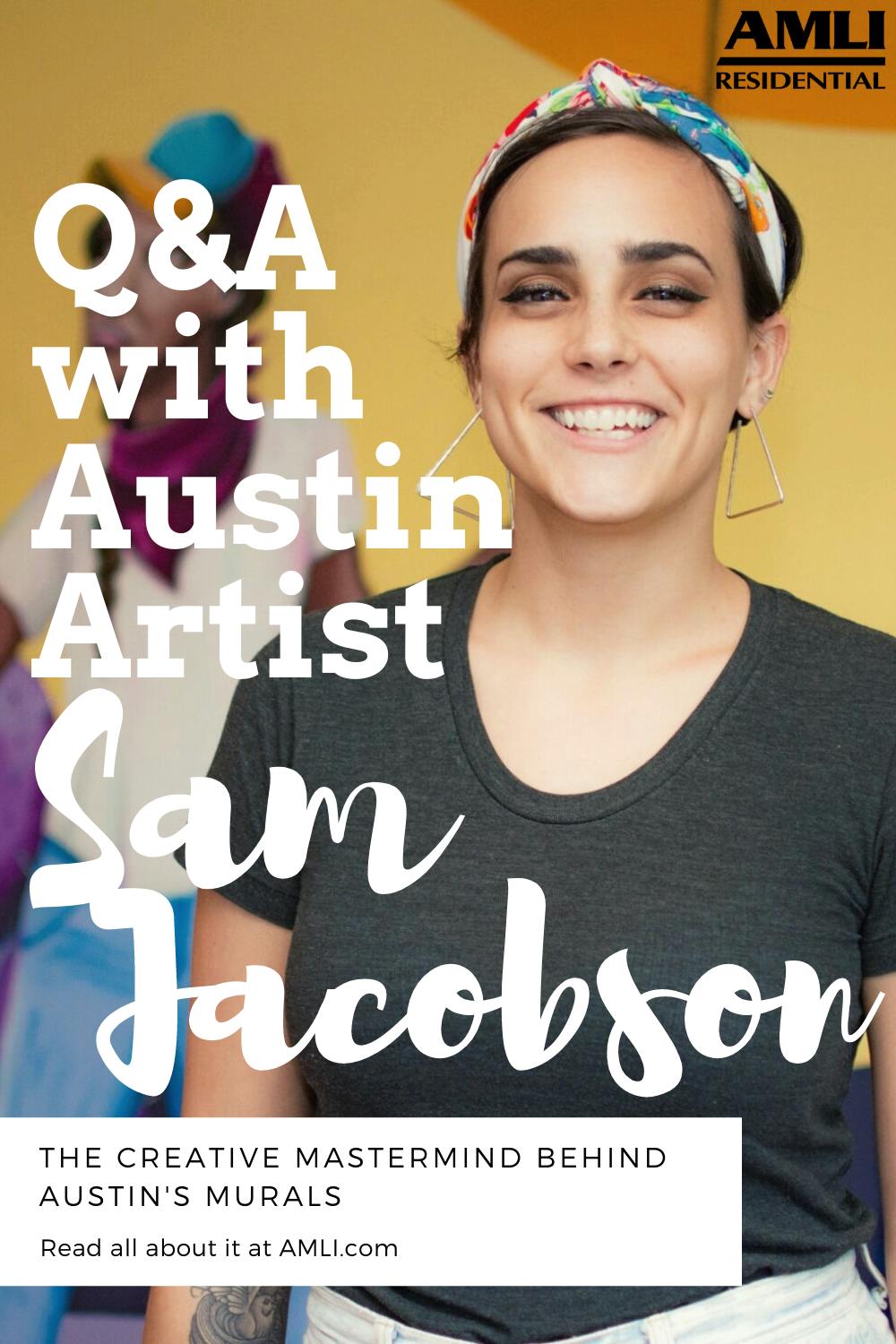 All photos courtesy Sam Jacobson