One of the quickest and most convenient ingredients in our kitchen pantries is, undoubtedly, the classic box of pasta. It's quick to cook, easy to prepare, lasts long in storage and can be made in a wide variety of ways.
With one bag of pasta you can make a salad, a casserole, a pot of noodles or a plethora of cultural dishes from all over the world. The only limit to what you can make with a bag of pasta is your imagination. That, and maybe running out of recipes on the internet, but we all know that's impossible anyways. 
Here are some great pasta recipes that are quick and easy to make, but can pack a punch of flavor!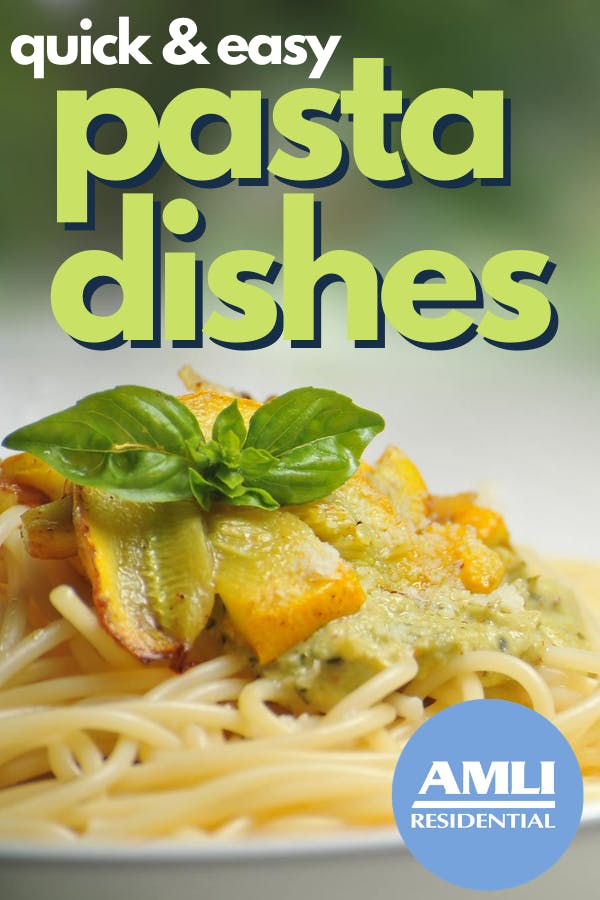 Pro tips for cooking pasta 
Whatever pasta dish you decide to cook, there are a few ways you can give your pasta added boosts of flavor and texture when you first cook it.
Vary cooking times based on the type of pasta
Most pasta noodles can be cooked for about the same amount of time before they reach that perfect al dente point. However, make sure to check on the box or package to find out the correct cooking time for the pasta's specific brand or form. Smaller, denser pasta like acini di pepe takes far longer to cook than longer angel hair pastas, and even the quality of the ingredients can change the cooking time.
Season the pasta water!
This step is crucial to infusing the pasta itself with a rich flavor. 
One little-known fact about cooking pasta is that pasta itself will not draw any flavor from the sauce it's added to. Adding salt to the water in which you boil the pasta is the only way to add any flavor or seasoning to the pasta. Feel free to make the water a little saltier than you might think, using at least 1 tablespoon of salt to every three liters of water.  
Use chicken or beef bouillon (make sure it's in the powdered or cube form!) instead of plain salt to add a little extra flavor. There's plenty of salt in there, too, so no need to add salt on top of that.  
Make the pasta last
Pasta cooks quickly and is best served right after cooking. If you leave the pasta too long in the water, then it becomes soggy. If you leave it out too long after draining it, it can become sticky and dry. Have your sauce and other meal items already prepared so that you can eat that beautifully-seasoned pasta at its peak of flavor and texture!
Boil the water first, then add the pasta
The high starch content in pasta means that it absorbs water very, very quickly. That's why overcooking it or leaving it in the water can turn pasta soggy and slimy fast. By getting your pasta water to a boil before you add your pasta, you can cook your noodles in a shorter time and prevent them from getting too soft. 
Easy pasta recipes to try
Pasta salads
Pasta salads are a great way to combine your favorite veggies and greens with pasta for a fresh and filling meal. Plus, pasta salads can be made ahead of time and kept in the fridge, making these perfect for meal prep and packed lunches. 
With roasted butternut, fresh parsley and dried cranberries, this simple salad packs quite the flavor.
Can pizza be a salad? Sure it can!
With tiny pepperoni slices, sliced olives, cherry tomatoes and fresh mozzarella cheese, this pasta salad is perfect for bringing the flavors of pizza to the salad bowl. Add some chopped baby spinach or kale to the bowl for a bit of added greens, and feel free to throw in your favorite toppings as desired!
Spaghetti salads are delicious and offer plenty of texture and flavor, especially this Thai spaghetti salad. The homemade spicy peanut dressing perfectly accentuates the tangy freshness of the salad ingredients, which includes fresh basil, cilantro, red cabbage and shredded carrots.
Pasta casseroles
Casseroles are great for making ahead of time or delivering a meal to someone special. Most of the time, you can just take a regular pot of prepared pasta and sauce and bake it for ten minutes or so for an added crispiness. You can't go wrong with a pasta casserole! 
The ingredients are pretty self-explanatory, but feel free to add other veggies and cheeses to this creamy, tasty bake.
This dish is absolutely packed with tasty veggies and greens. It's great for large groups and can easily be made ahead if necessary.
If you ever had an eggplant parmesan sandwich and thought "man, I wish this was pasta", then you're in luck! This easy recipe certainly has enough fresh ingredients to compete with any eggplant parm out there. 
Pasta and sauce
With the holy trifecta of Italian ingredients, tomato, basil and mozzarella, this simple but flavorful linguine recipe is a hit for anything from casual dining to anniversary dinners.
For those looking for a light dish with a strong flavor, then this mushroom pasta recipe is the one to go for. It's easy, simple and super tasty, and mushroom lovers are sure to love it!
This classic pasta dish is elevated with the simple addition of walnuts, sage, red wine and fresh rosemary. The recipe is vegetarian, but feel free to add some ground beef or other plant-based meat substitute for extra flavor and texture.
Next time you're in the mood for some pasta but want to keep the complexity to a minimum, try out these quick and easy pasta recipes! You're sure to find something you like!
Enjoy!
Pin it!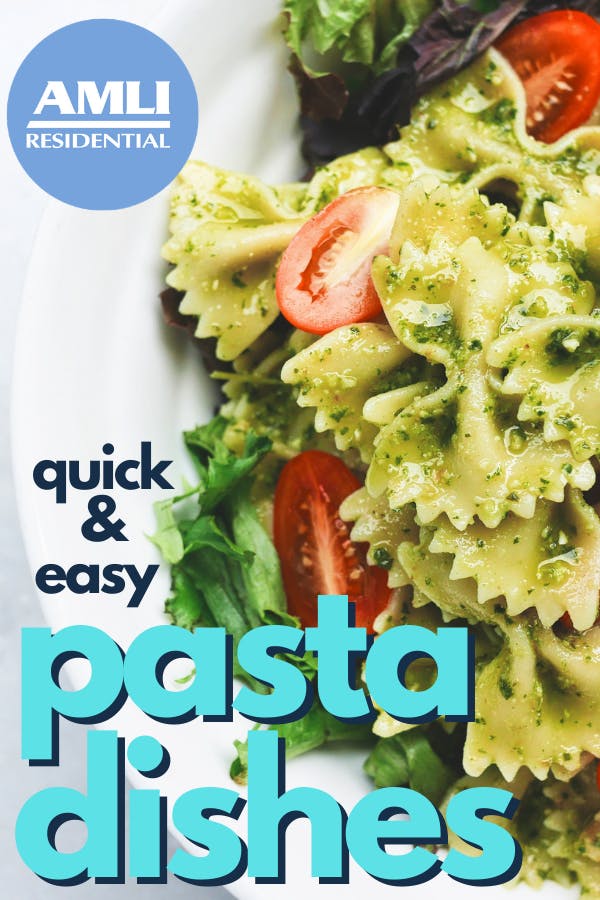 Featured photo courtesy Pixabay/Pexels