It's easy to over commit ourselves in the hustle and bustle world that we live in. However, we only have so much time to complete the tasks that are on our "to-do" lists. And, when we continually say "yes" to the requests of others, especially to our own detriment, it's time to put some limitations on our commitments and set some boundaries.
How Saying No Can Improve Your Life
There are varied reasons why we don't say "no" when we probably should. Avoiding conflict, fear of rejection or worrying that we might hurt someone's feelings are just a few reasons we over commit. We also might be people pleasers and may have a hard time declining even the smallest of requests. No matter what the reason, it is essential that we learn to say "no" to protect our time and energy.
Here are just a few ways that saying "no" can help improve our lives:
Set boundaries and create space
When we say "yes" to everything, we can become overwhelmed and overextended. It's important to establish boundaries and communicate them clearly to others. Saying "no" is a way to set those boundaries and protect your time and energy. When you decline to participate in something that doesn't align with your priorities or values, you are setting a boundary and asserting your right to choose what you do with your time.
When we do this, we create space for the things that are important to us. When we pass on a social event that doesn't interest us, for example, we can create space for a hobby or activity that we enjoy. By prioritizing our own needs, we can create a life that is more fulfilling and meaningful.
Reduce stress
Over committing ourselves can lead to stress and burnout. When we take on too much, we can become anxious, exhausted and resentful. By not agreeing to every request that comes our way, we can reduce stress in our lives.
Before accepting any additional tasks, consider the amount of time it will take to complete it. Remember to think about all aspects of the task at hand such as travel time or others who are involved and may run late. We often underestimate the amount of time it will take to finish something. By being realistic about our time commitments, we can reduce the number of tasks we accept and reduce stress at the same time.
Strengthen relationships
Whoever said "honesty is the best policy" was right. Healthy relationships are founded on clear and direct communication. If we are saying "yes" to our friends and family when we really mean "no" we can become resentful and angry. This can lead to conflict and ultimately damage our relationships. In the long run, it is better to communicate our true thoughts and feelings, even if it means refraining from a request. We strengthen our relationships when we are honest with ourselves and others.
Prioritize your goals
When we say "no" to something, we are essentially saying "yes" to something else. It is important to be intentional about what we agree to do so that we can make better decisions about how we spend our time and energy. When we prioritize our own needs and goals, we can make choices that align with our values. This leads to greater fulfillment.
When considering taking on a new task, ask yourself if it will move you further away or closer toward your goals? Is it aligned with your values and beliefs? By answering these types of questions first, it will help you determine whether you should commit your time to the next new venture.
Prioritizing our own needs and goals can help us avoid taking on too much and feeling overwhelmed. Ultimately, this can help us feel more balanced, fulfilled and content.
Practice saying no
Remember that it may take time to get comfortable saying "no" to someone but the more you identify what is important to you, the easier it will be. Get very clear on where you want to spend your time and you will have more confidence to decline requests that don't align with your goals. Remind yourself that you are saying "no" to the request and not the person. Let people know why you are declining their request. Be nice but firm.
Learning to say "no" can be empowering. It can help us set boundaries and reduce stress. It can help us take control of our lives and make choices that align with our values and priorities. By saying "no" when necessary, we can more clearly communicate our needs and thereby increase our self-confidence and self-esteem.
Pin it!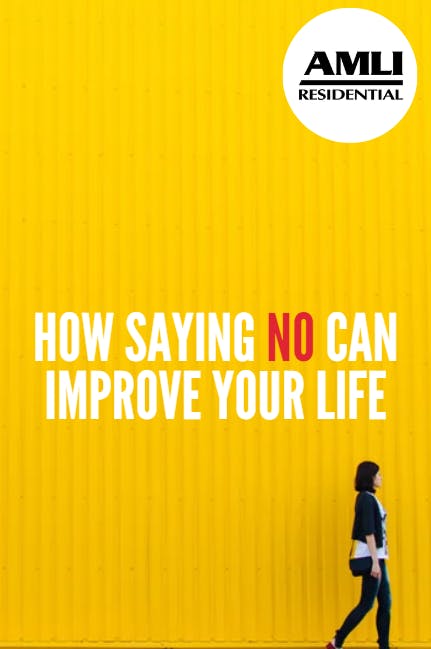 Featured photo courtesy Pixabay/quanghieu_st1