With the warmer weather on its way and sunny days already here, many of you may be itching to get outdoors. And while there are mountains to climb and lakes to relax at, there's more to do than meets the eye in Seattle. Wondering what we're talking about?
Head underground! Under the radar and away from the hustle and bustle of busy Seattle streets, Seattle Underground includes more than 30 blocks of history for you to explore. This network of underground passageways, corridors and basements were at one point in time, ground level. After the reconstruction of the city took place, these passageways fell into disuse.
However, the remains of the old and abandoned city have since become a local attraction that both locals and tourists have grown to love. While exploring, visitors will have the chance to see houses, shops and hotels that are still standing after all this time. Even better? The Underground is only five minutes from AMLI's downtown Seattle apartments!
It all started back in 1889 with a gas fire gone wrong. Erupting through the city, flames destroyed shops and buildings that left 31 blocks and Pioneer Square torched to the ground. As local business owners began rebuilding, Seattle made the decision to raise the city and start fresh.
New streets were created, buildings were restored with brick and stone and pavement lights were installed over gaps between the raised streets and buildings. For residents and business owners who still had storefronts on the lower levels of Seattle, ladders were often used to get from point A to point B. The city began building retaining walls, filling in the spaces between these walls and paving over the fill to raise the streets.
Slowly but surely, new sidewalks were created that bridged any remaining gaps and created the hollow tunnels that now make up the Seattle Underground.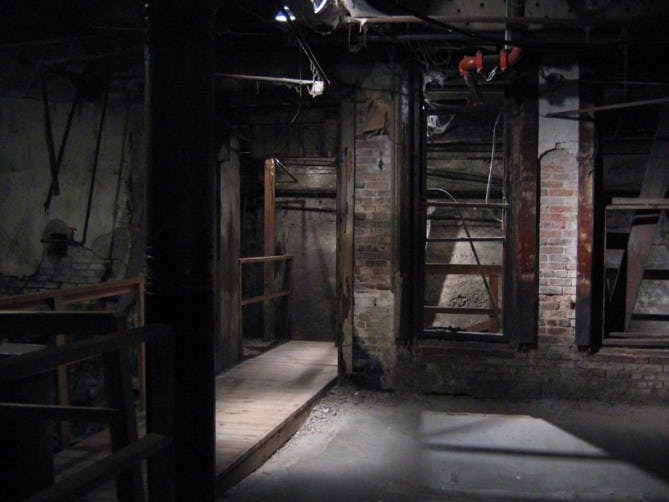 Then, in the 1950s, something happened. A publicist by the name of Bill Speidel recognized how neglected Pioneer Square had become over the years and wanted to do something to restore it. With people beginning to forget that Pioneer Square was, in fact, at the forefront of Seattle's founding, he began speaking to newspapers about the passageways, storefronts and remnants that were located right beneath our feet. In no time at all, there was an overwhelming response from the residents of Seattle wanting to learn more.
In no time at all, Speidel began giving tours to residents who were eager to explore the Underground. After years of neglect and deterioration, Pioneer Square was finally getting the attention it deserved. By the time 1970 rolled around, the Seattle City Council named Pioneer Square as a historic district.
Today, Pioneer Square is one of Seattle's most well known downtown neighborhoods, with locals and tourists alike excited to learn more about the Seattle Underground. With daily tours still taking place, visitors begin beneath Doc Maynard's Public House before taking you into the heart of Pioneer Square. Here, you'll learn about the founding of the city, how the Underground came to be and even talks of paranormal activity. Ticket prices into this forgotten world range, so be sure to check out their website to learn more.
Interested in more blogs like this? Be sure to keep up with the AMLI blog!