Over time, our kitchens get, well, cluttered. Our quirky mug collection starts to become a little inconvenient. Our spice cabinet gets grimy and dusty. The drawers constantly get stuck on spatulas, and wine-openers and the small saucepans at the back of the cupboard become forgotten and neglected.
It can sometimes seem that our cluttered kitchens are too far gone to be organized. After all, you may end up using that thrift-store pasta maker at some point, right? And those mugs are just far too sentimental. And those saucepans, well, those were a wedding gift and you can't possibly give them away. 
We've all been there. And it's frustrating to say the least. 
Don't lose hope though! You can absolutely find a way to declutter and organize your kitchens in a way that works with your lifestyle and your needs. You don't have to go totally minimalist to have a little extra counter space, trust us. 
We've already talked plenty about organization in apartment homes. We've covered topics like organizing your fridge, organizing your bookshelves, decluttering your drawers and even organizing the jungle of cleaning supplies buried under your kitchen sink. Apartments are the name, organization is the game. Or… something like that. 
With Marie Kondo's principles of tidying up sweeping through homes across the globe, there are endless resources, tips and tricks to organizing your space in a way that keeps it organized. True organization isn't just putting things back in closets or packing them away, organization is about setting up your space in a way that keeps everything clean, tidy and decluttered for the long haul. It's a lifestyle change, and it's a change that can make your home a place that gives you peace, not stress.
So, let's dive right into what you can do to make your kitchen more organized!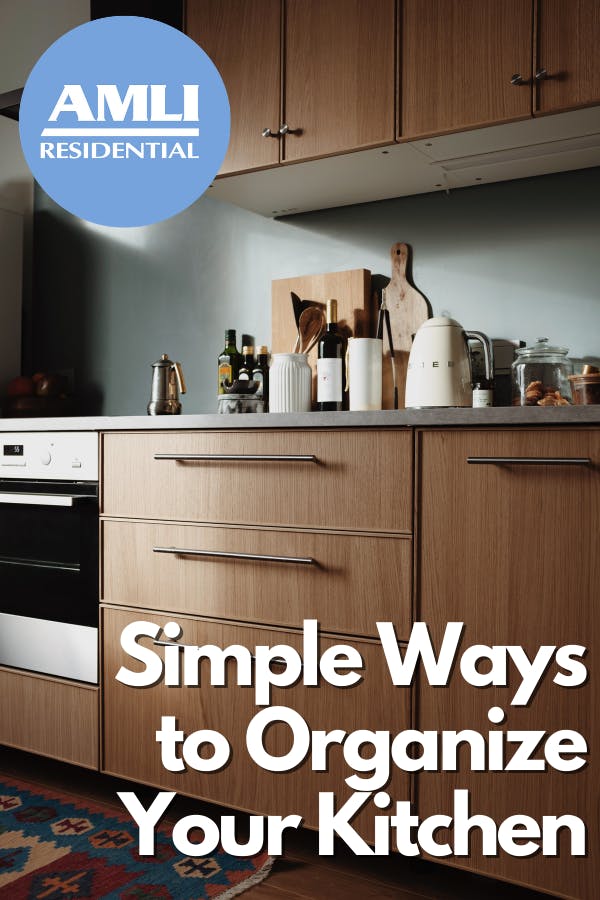 Simple ways to organize your kitchen
Grab a donation box
This is the trickiest part of the organizational process, but it will make your life drastically easier. Go through one drawer or cupboard at a time, and pull out the items that you haven't used in a while or that are just taking up space. For example, if you have five wooden spoons but only really use one, toss the others in the donation box. This works the same for extra pots, pans, cutlery, crockery and pretty much anything you can think of. You'll be surprised to find that you don't miss these items as much as you might think. 
If you have a sentimental collection, like mugs or glasses, consider tossing out the non-sentimental versions of those. If you only need five mugs, don't have five sentimental mugs AND five "normal" mugs. This allows you to keep the things that mean the most to you while also decreasing clutter. 
When it comes to small appliances, consider if you really need all of the machines you own. If you have a multi-functional appliance like a KitchenAid mixer, then there's no real reason to hang onto a separate hand-blender, electric whisk or zoodle machine. 
Accessibility, accessibility, accessibility
Once you've gotten rid of all your unwanted items, you may find that you have an opportunity to re-organize and relocate. What items do you use most often, and where are they located in relation to your workspace?
The most efficient way to re-organize is to take everything out of your drawers and cabinets. That way, you have a completely blank canvas to work with. Relocate items that you use regularly (i.e. spatulas, plates, spoons etc.) in more accessible locations that are easier to get to when you need them. 
This may seem a little useless, but when it's easier and quicker to put away the items that you use the most, then there's less of a chance that they'll be left lying on a counter. Find the shortcuts that will make your life easier!
Counter space
Your counter space is what makes your kitchen either look messy or look clean. 
Keep only the appliances that you use daily on the counter, like your tea kettle, coffee maker or toaster. The rest can go in easily-accessible cabinets or drawers where they're still easy to get to but are not creating clutter.
If you store food items like coffee, tea, sugar or flour on your countertop, use storage containers that all match each other and match your style. Plastic containers can sometimes look messy and cluttered, but some ceramic jars and elegant containers can make those necessary storage items function like decorative pieces. 
Use shelving gadgets
Stacking mugs and rummaging through a sea of spice containers is no-one's idea of a good time. However, when you use function and efficient storage solutions, you can make much better use of your space AND make your life a million times easier. 
Use a cabinet shelf to make use of the extra vertical space in your cabinets so that you don't have to balance your items on top of one another. Find a pull-out organizer to easily access your pots, pans, lids and other large items without ever having to crouch down and rummage through those pesky lower cabinets. 
There are plenty of spice shelf organizers that will fit in practically any type of cabinet. There are spice racks that hang on the door, there are Lazy-Susans that you can rotate and even a variety of tiered shelves. These storage solutions not only help you access the spices you use most regularly, but they also allow access to spices that you may have forgotten about completely!
When it comes to organizing kitchens, there's no one way to do it. Everyone's kitchen is a little different, but these principles of efficient shelving, clutter-free drawers and a more minimalist outlook on possessions will certainly help anyone looking for a more organized kitchen space. 
If you use these tips, or have other tips that you swear by, let us know! We're all about making apartment life the best it can be. 
Good luck!
Pin it!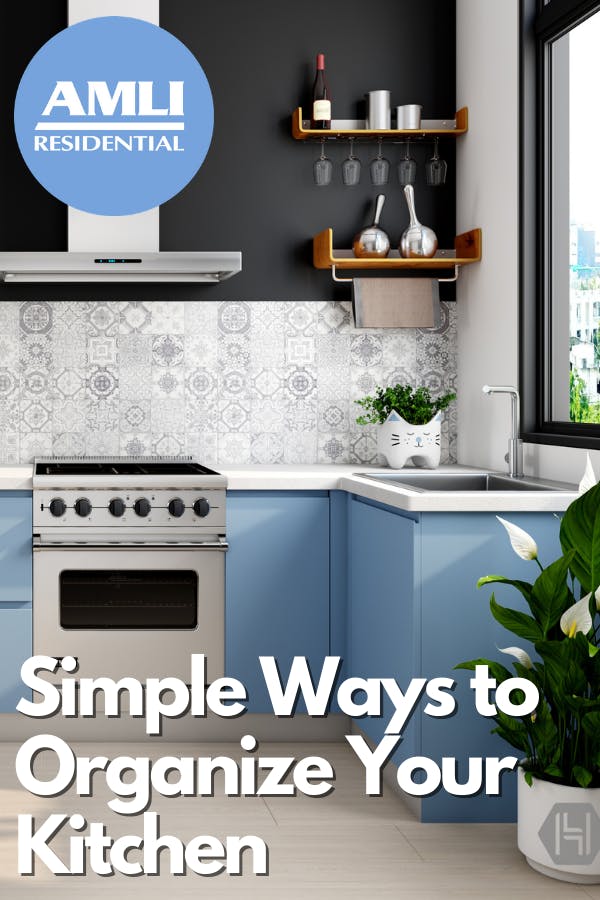 Featured photo courtesy Pixabay/TheVirtualDenise