Some people seem to think that renting an apartment will refrain them from making the changes they want to create their dream-worthy home. And while renting may prohibit you from making certain permanent changes, there's no reason it should stop you from having that beautiful kitchen you've always envisioned. When it comes to transforming your kitchen, there are plenty of quick fixes you can make to spruce things up and give your cooking space a brand new look.
Add or change the lighting
Not only is this an inexpensive change, but it's also a fairly easy one to make! No matter if you choose to change out the bulbs for something brighter or swap out your ceiling lights for something more dramatic and colorful, playing around with the lighting in your kitchen can do wonders in transforming your space. Likewise, creating additional brightness in a working space is known to increase productivity and focus. Now, there's a recipe you can master!
Replace your shelf liners
As the infamous saying goes, out with the old and in with the new! When it comes to sprucing up your kitchen, most seem to forget that the smallest changes can make the biggest impact. By simply swapping out your shelving liners for something new, you'll create an updated and refreshed feel for your cabinet space. At the same time, you'll be giving yourself the opportunity to reorganize your shelves and drawers in a more accessible way, which we all know, probably needed to be done at some point anyway.
Counters
Although you can't make any permanent changes to your counters, there are ways to add decor and enhance the appearance of your kitchen. Simply adding a colorful bowl of fruit or stylish cutting boards will add pizzazz to your kitchen, while DIY ideas, such as creating a mini library of your favorite recipes and cookbooks, will add character to your space.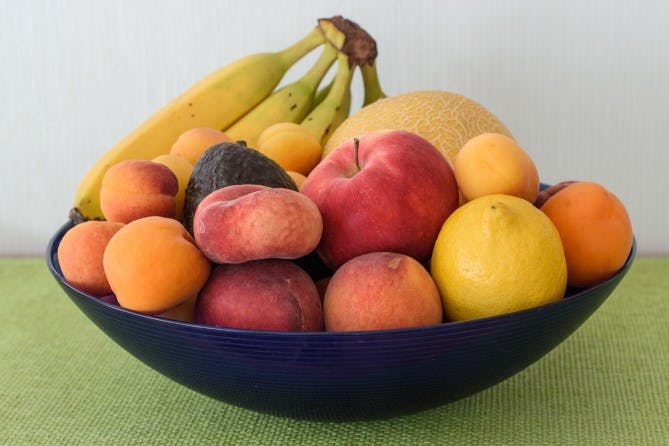 Add storage space
When it comes to adding storage  to your kitchen, we don't mean breaking out all of your tools and drilling holes into your wall. Instead, we suggest practical and temporary ways to increase the space in your kitchen, without all of the added hassles. And to do this, you've got to get creative. Ideas such as including shelf risers into your cabinets or onto your counter is an effortless way to double your storage space, providing you with extra room for all your plates, bowls, glasses, pots and pans. For those looking for more stylish ways to spruce up your kitchen, simply flipping over a wine crate or rolling a utility cart into the corner of your kitchen will transform your area into something sleek and sophisticated.
Updating your dishes
Depending on how much you're looking to spend, replacing your old dishes with something vibrant is an effortless way to add color, dimension and contrast to your kitchen. If everything in your kitchen is a neutral color, we recommend adding bright pops of color into your plates and dishes. Not only will this make your kitchen more appealing, but it will also make all of your meals look more festive!
Plants
Like any other room in your apartment, adding plants to your kitchen space will add elements of color, freshness and life. As you may already know, plants create better air quality and can improve your mood, which will help in keeping your stress levels intact while you prepare for all of those dinner parties! Additionally, placing herbs on your windowsill or along your counters will not only serve as a decoration but will allow you to add flavor and zest into a variety of meals. Our recommendations? Basil, thyme and mint, just to name a few!
Backsplash
Adding backsplash into your apartment space isn't something most renters think they can do, but we promise, you can! Having a backsplash is a great way to bring personality to your kitchen and acts as a focal point to your kitchen, creating balance to your space that is both alluring and chic. Even better? There are plenty of temporary backsplash options to choose from, meaning you can easily revamp your space without creating any damage in the process. Pick from tile stickers, peel and stick vinyl wallpaper and more!
Long story short, your dream kitchen doesn't have to be out of reach. With a wide variety of ways to enhance your kitchen space, sprucing things up has never been so easy.
Interested in more articles like this? Be sure to keep up with the AMLI Blog!