As foam rollers grow in popularity, so does awareness surrounding their utility. Still, relatively few people understand just how versatile they are. Did you know, for example, that a foam roller can work and massage almost every muscle in your body? It can also aid workout recovery, prevent injury, and improve flexibility. There's even evidence that using a foam roller can help improve sleep. Here are six ways you can use a simple foam roller to stretch and repair your body from the comfort of your apartment.
Improve your balance
Standing on a foam roller is an excellent way to develop your balance. You can step on the roller with both feet or place just one foot on the roller and balance your weight on that foot with your other foot in the air.
Strengthen your core
Foam rollers are great for use in several core-strengthening exercises. These include bridge, plank, push-ups, hip raises, and heel taps. The more frequently you engage in these core-strengthening exercises, the easier they'll become and the stronger your core will be.
Assist your yoga practice
A foam roller is a sterling yoga prop that can be used for almost all floor and balance postures. If you practice yoga in your apartment, try this 38-minute yoga sequence. It was designed for use with a foam roller by yogi and yoga instructor Rebecca Pacheco.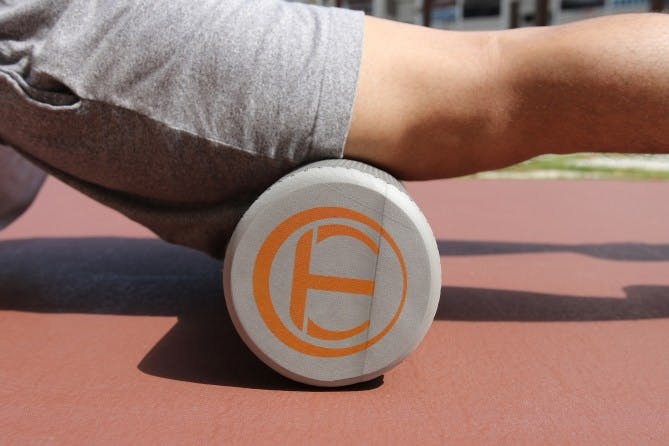 Massage your muscles
Slowly rolling your outer thigh, quadriceps, IT band, and upper back over a foam roller can loosen tightness, break up scar tissue, and speed up the healing and recovery process. The effects strongly resemble those of a deep tissue massage. You can also use a roller to give yourself a foot massage.
Crack your back
It's relatively easy to crack your back with a foam roller under your upper spine. Should you attempt to use a roller for this purpose, keep your knees bent at all times and exercise care.
Perform Self-Acupressure
It's relatively easy to identify trigger points with a foam roller. Slowly roll the roller under your body until you find a point on your body where the pressure hurts. Rest your body on this point for 15 or 20 seconds. It should feel better. If it feels worse, stop using the roller and see a medical professional. Similarly, if you feel excruciating pain when using a foam roller, stop using it. Albeit wonderful aids, foam rollers are not substitutes for professional medical care.
Like what you just read? Why not subscribe to the AMLI Blog so you don't miss another post?