It's summertime in Texas! It's the time of year when the ice cream flows freely and the sunshine burns brightly, and all is right in the world. 
One of the great things about living in Dallas is that the city has some great urban green spaces where you can go and enjoy the outdoors without leaving the comfort of your own neighborhood. There are parks, golf courses, running trails and riverside walkways all over the place, and you're likely to find at least one of each just minutes from your doorstep.
If you live in our Dallas Apartments, you're sure to be want to spend some quality time outdoors in the warm Texas sunshine! Lucky for you, there are some great trails nearby that you can hop on and meander to your heart's content.
Campion Trail in Irving is a great example of a master-planned trail that runs over 20 miles through the west Dallas suburb. If you live in our apartments near Las Colinas then you're right near the mid-way point of the trail, and if you're in our apartments near Lake Carolyn you're right at the southern end. 
Campion Trail is full of things to see and do along the way, so here are a few ways you can enjoy spending time outdoors in Dallas this summer (or any time of the year!).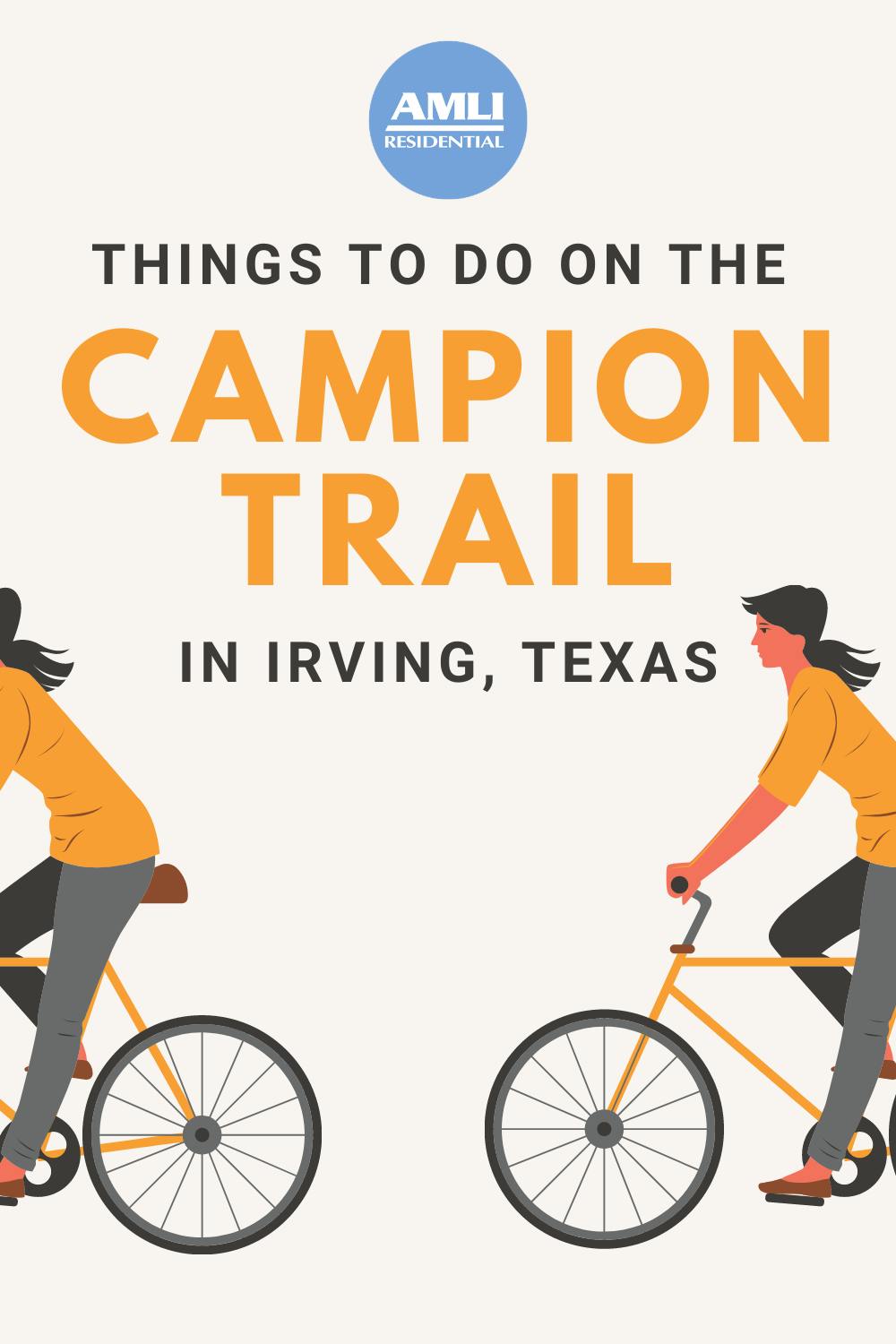 Things to do on Campion Trail
Southern section
California Crossing Park to Spring Trail Park
California Crossing Park
The southern trailhead of Campion Trail is right by Lake Carolyn and our luxury apartments in Las Colinas. If you're looking for an address or a place to park on the street nearby, it's at 5198 Riverside Drive in Irving, Texas.
This trailhead actually starts in a little park called California Crossing Park, which is nestled right on the west bank of the Elm Fork Trinity River.
This sunny park covers over 34 acres of grassy ground along the Elm Fork Trinity River, and Campion Trail runs right through the entirety of it. 
Lake Carolyn Promenade
If you're on the trail and are wanting a bite to eat, then you can always head over to the Lake Carolyn Promenade which circles Lake Carolyn. There are restaurants and cafes all along the promenade, such as Pacific Table, Creamistry, and The Ginger Man. 
Bird's Fort is not a housing settlement for pigeons, unfortunately. It's actually an old fort that was built by Major Jonathan Bird, and it was the first settlement in Tarrant County. Major Bird blazed a trail to the old Fort Inglish in present-day Bonham. This wagon trail became known as Bird's Fort Trail and this riverside park commemorates this trail.
The park stretches for 1 ½ miles along the Elm Fork Trinity River, covering nearly 58 acres of green space. It's perfect for picnics, outdoor games and birdwatching!
Middle section
Spring Trail Park to Sam Houston Trail Park
This section of the trail runs along the eastern end of Las Colinas, just a few minutes from our apartments near Valley Ranch. Most of the area to the west of the trail is residential, but you can spend a little extra time admiring the Elm Fork Trinity River here. The river branches out to form the Farmer's Branch, so for a few hundred yards the river is as wide as a small lake. It's a great place to rest for awhile, watch the ducks swim by and enjoy some peace and quiet.
Northern Section
Sam Houston Trail Park to The Hollows Pond
This northern section of the trail runs up along the Sam Houston Trail Park before cutting through the Valley Ranch neighborhood and ending at The Hollows Pond.
Running, biking, walking and picnicking, you name it! Sam Houston Trail Park is a great spot for spending the day outside and in nature, as it's just minutes from Valley Ranch, Las Colinas and Hackberry Creek. There are ponds, creeks and rivers all throughout the park, and there's plenty of space for fun activities. 
Valley Ranch Canal Trails 
Once Campion Trail reaches the end of Sam Houston Trail Park, it takes a sharp left turn into Valley Ranch. From there to the end of the trail at The Hollows Pond, the trail follows canals through Valley Ranch. The Valley Ranch Canal Trails sprout off Campion Trail halfway through the neighborhood, offering a few extra miles of peaceful waterway walking!
Places to eat in Valley Ranch
Campion Trail weaves through mostly residential areas in Valley Ranch, but there's a section by North MacArthur Boulevard where pedestrians can exit the trail and find some places to eat, like Bruno's Ristorante, Peacock Indian Cuisine, i Fratelli Pizza and Rajwadi. 
Finally, at the most northern end of Campion Trail, The Hollows Pond marks the end (or beginning?) of the 22-mile paved trail. This little pond is a good spot to bring your bait and tackle, as it's apparently a good spot to catch some fish. 
So, if you're in any of our luxury apartments in Las Colinas, why not hop onto Campion Trail for a day of sunshine and fresh air? It's a great trail with plenty to do and see and, if anything, you'll not even have to drive there because you're so close. 
Enjoy!
Pin it!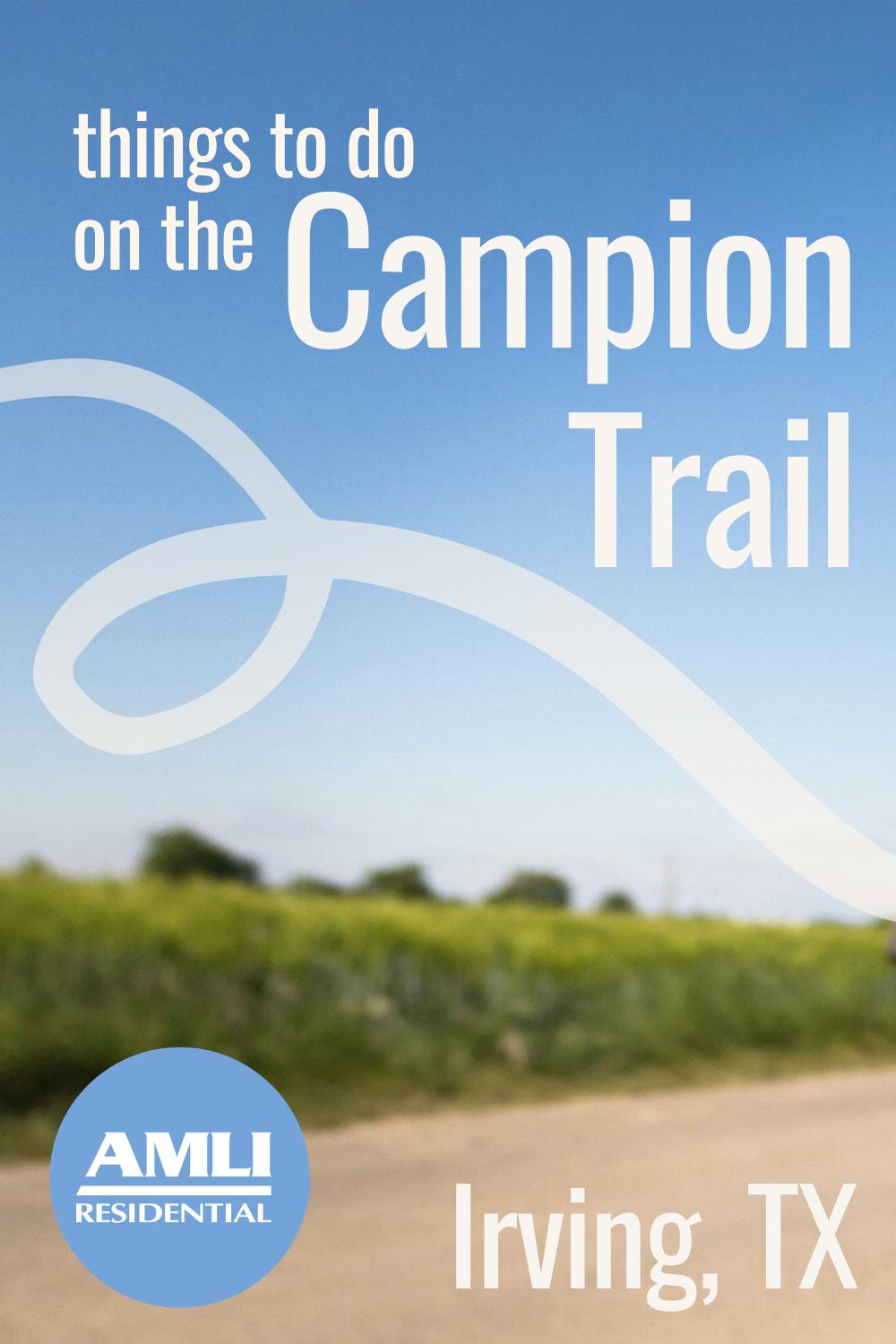 Featured photo courtesy Pixabay/Didgeman