Winter up here in Washington is long, dark, cold and wet. The sun shines weakly through the thick cloud cover for a few hours each day, and before you know it, it feels like 9pm at 5 o'clock in the evening. Ew.
So yeah, there are a few of us who aren't too fond of winter (can you tell?), and that can make it hard to stay productive and, most importantly, happy during the season. 
Luckily though, there are some tried-and-true strategies for boosting mood, energy, motivation and productivity when we just aren't feeling ourselves. Give these a go and see how you feel!
Tips for staying productive if you hate winter
Move your body
There is no one-size-fits-all exercise regimen that works for everyone, and there doesn't need to be! Exercise of any sort, whether that be a nice stroll around the building, a hardcore HIIT session or a soothing yoga flow, is proven to release serotonin, dopamine and endorphins that lead to reduced stress and anxiety.
What are some easy ways you can incorporate a little extra movement into your schedule?
A happier body leads to a happier mind, and that positivity will reflect in your daily life in big ways. 
Go outside
Though it may be gray, dreary, cold, miserable, wet, slushy (etc., etc., etc.) outside, getting some fresh air and sunshine (what little there is) will do wonders. Being indoors all day, every day can get old, and we often don't realize how stuffy we feel until we can get some cool, fresh air on our skin. 
Just try it! Next time you're feeling down and cooped up in your luxury Seattle apartment, just head outside for a bit and see if you feel any better. 
Sleep well & wake early
There's only so much daylight in the day, so take advantage of whatever you can get!
In Seattle, for example, the shortest day of the year is on December 21, with approximately 8.25 hours of daylight. That's not a whole lot, especially when compared to those glorious near-16 hours of sunshine in the summer (plus two-ish hours of twilight in the morning and night). 
Winter, then, might be the perfect time to get onto an early-bird schedule where you rise with the sun, or just before. If you're not a morning person, then don't fret too much, as sunrise is only at 7:00 at its earliest. This way, your body will get to exist in the daylight for as long as possible, which can vastly improve your mood and energy during these cold, dreary winter months.  
This, plus a good night's rest, ought to make a world of difference in your overall mood. 
Set goals to look forward to
If the darkness has got you feeling down and the end of winter seems just too far away to be bearable, then take some time to set up some goals that you can look forward to in the intermediary. These short-term goals can not only help keep you moving with purpose to achieve the goal, but it breaks down the monotony of the sleep-eat-sadness-repeat cycle that winter weather so often forces us into. 
This is different from just a list of things to do that just need to be done; this should be something you actually like to do and, more importantly, want to do. 
Some ideas:
A coffee date with a friend once a week
Monthly movie nights
Weekly date nights
Attending sports games
Buying tickets for cooking classes
Planning a trip
Hosting a party
Training for a race
Joining a fantasy football team
Joining a club
Again, literally anything you like is a great idea!
Looking forward to something exciting will make the normal days seem a little less dreary, especially if you have a hard time feeling motivated in the winter.
Nourish your body
An unhappy body can lead to an unhappy mind, and if you're already prone to the winter blues, then you'll want to do everything you can to boost your energy, appetite and mood. 
Of course, this can look different for everyone, but you can't go wrong with a nice variety of veggies, proteins and fruits that are chock-full of vitamins and minerals. Soups are great for incorporating plenty of hearty vegetables into your diet, and there are practically endless variations and recipes that suit a wide range of tastes, textures and flavors. 
Nourishing your body also means drinking plenty of water! Proper hydration will also keep your skin, nose and throat from drying out too much in the cold, dry air, which in turn can keep you feeling more physically, mentally and emotionally regulated. Drinking herbal teas are great ways to stay hydrated while also keeping warm and cozy, so it's a win-win!
Stay warm
If your office, living room or car is cold, then your body and mind are going to be prioritizing getting warm above everything else. This could lead to lower productivity and mood, which can lead to feeling stressed or unhappy. If you like being warm and cozy, then there is literally nothing stopping you from donning those fuzzy socks, cozy sweaters and warm beanies that make you happy. 
Again, you do you. Stay cozy, folks, that's what I always say. 
Socialize
You're not the only one who has a hard time in the winter, I promise you, and life doesn't stop in the winter, either. You still have your friends and family, you still have your work colleagues, and contrary to what we may feel, we can still do fun, normal things in the winter! 
Think about ways to include your friends in activities you enjoy, whether that be outdoor winter sports or cozy game nights indoors. Good company can help pass the time and give you plenty of happy memories during these cold, dark months. Happy times make for elevated moods, and those are much better than the alternative. 
Winter in Seattle can be dark, gray and wet, and if you're prone to seasonal affective disorder or have a hard time feeling motivated without at least 15 hours of sunshine, then keeping up with a busy lifestyle can be hard. With these tips and tricks, though, you'll have some scientific-based tools to help you cope with those pesky winter blues. 
Good luck!
Pin it!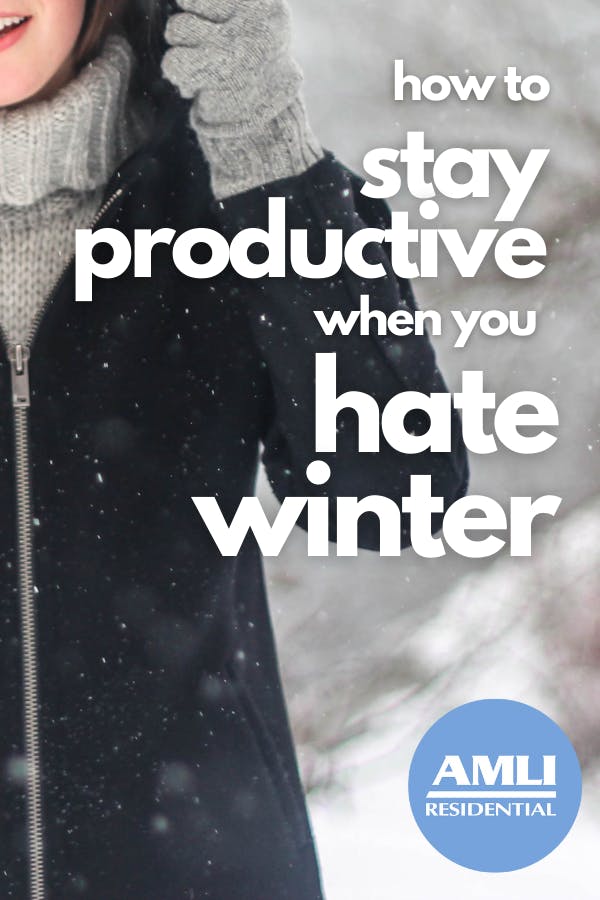 Featured photo courtesy Pixabay/kaboompics