Eggnog season has come and gone, but chilly temperatures will linger for a while yet across much of the country. Thankfully, dozens of inventive winter cocktails can prove particularly satisfying on cold days. The next time you host a dinner party on a chilly night or wish to wind down with a warming adult beverage, try one of these winter cocktails.
Hot toddy
If you like whiskey, this classic warming cocktail is unlikely to get old even as winter drags on. If you prefer brandy, rum, or gin, warm up with a twist on the classic hot toddy. The option to add tea, spices, and herbs of your choice makes for a seemingly endless array of hot toddy flavors. If you're partial to spiced chai, try spiking chai tea or a chai latte.
Irish coffee
Another timeless winter cocktail, the Irish coffee's purpose is threefold. It will warm you up, perk you up, and slowly chip away at your inhibitions. Irish whiskey, sugar, cream, and coffee are all you need to make this crossover beverage. If these simple ingredients sound too basic, alter the flavor by adding mint, chocolate shavings, or amaretto and cardamom.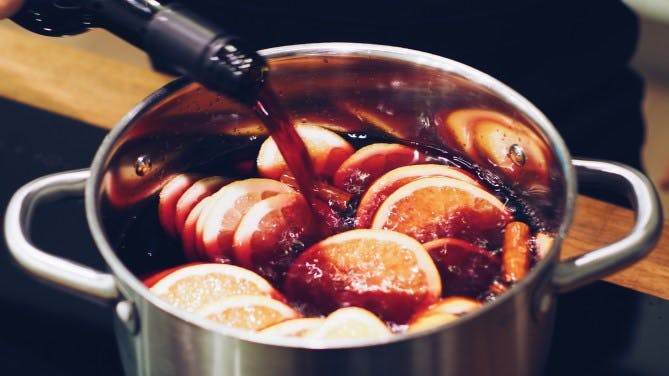 Mulled wine
A holiday market tradition in northern and western Europe, mulled wine can be enjoyed throughout the winter season. Effectively "winter sangria," this is another highly customizable beverage. Classic mulled wine involves slowly heating cinnamon, cloves, and ginger in inexpensive red wine. But you can mull white wine as well, with the spices of your choosing. Apple is often used in mulled white wine, and citrus fruit is a popular addition to both red and white. For a stronger winter cocktail, add a shot of brandy, rum, or whiskey to each glass.
Spiked hot cocoa
What's better than a mug of rich cocoa after a day on the slopes? How about a mug of boozy hot chocolate? If you're feeling lazy or supplies are sparse, just add a shot of liquor to your freshly brewed cocoa. But if your creative juices are flowing, there's plenty of room for experimentation on the spiked cocoa front. Amaro, salted butterscotch, and tequila mint are a few tried-and-true twists on classic boozy cocoa to try.
Winter margarita
It's the only cocktail on our list served with ice, but a winter margarita can warm your. Smoky, spicy flavors makes this twist on a beloved warm weather cocktail appealing in the cold, even if the drink is scarcely warmer than the temperature outside. Ancho chile, horseradish pomegranate, and smoked pear margaritas all make for surprisingly warming winter cocktails.
Hot buttered rum
Sweet, spicy, punchy, and buttery, this warming cocktail is the quintessential fireside accoutrement. Since it's easy to make in large quantities, hot buttered rum is also ideal for entertaining in your apartment.
Spiked cider
A less sinful indulgence than hot buttered rum, spiked cider is easy to make and reliably delicious. Combine cinnamon, cloves, and cider in a slow cooker. Allow the flavors to meld together before spiking with bourbon. For a quicker and simpler alternative, add bourbon to spiced cider. If both hot buttered rum and spiked cider strike your fancy, try this salty maple buttered cider recipe from Serious Eats.
Like what you just read? Why not subscribe to the AMLI Blog so you don't miss another post?