Miami is a fun place to be, as most of you in our luxury South Florida apartments already know. But, we bet that you haven't heard of all these little quirks and fun facts about Miami! Check out these weird laws for Florida and Miami, and then use these fun facts to dominate your next trivia night. 
Enjoy!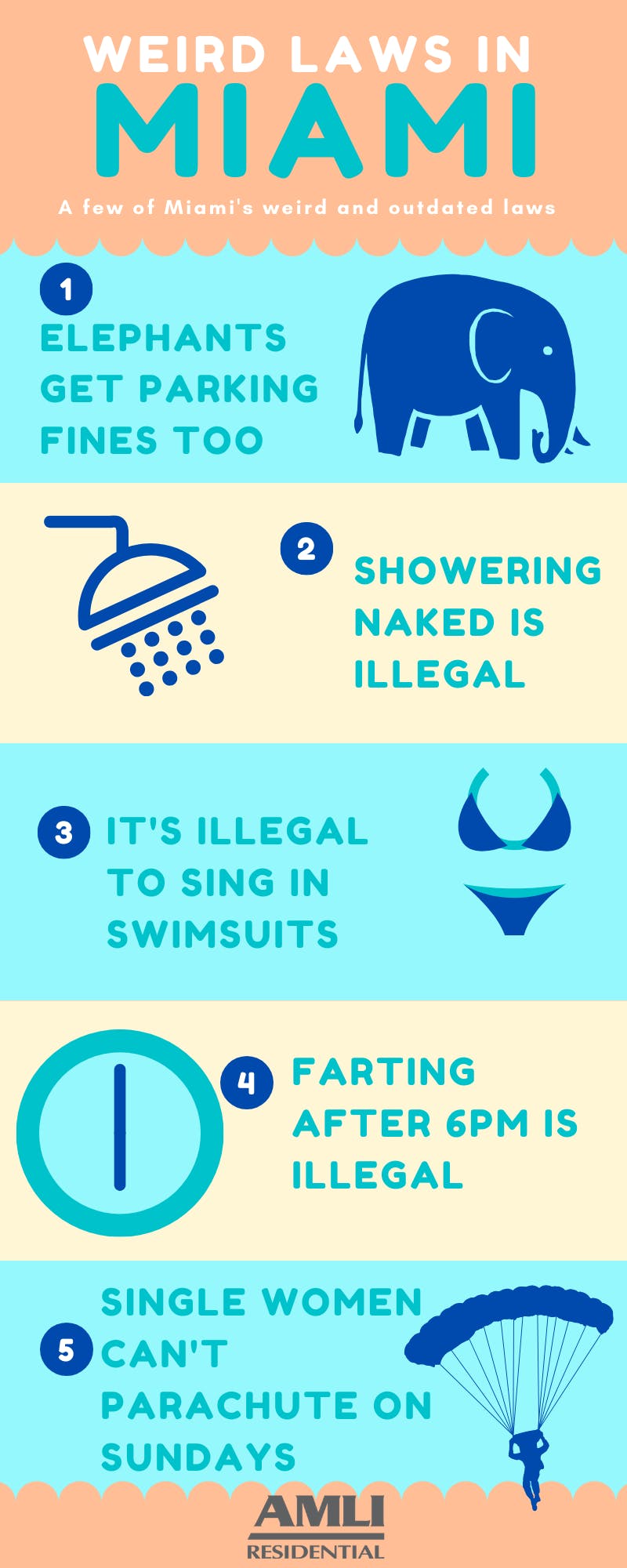 Weird laws in Florida and Miami
Forget about your dreams of spontaneous musical numbers on the beach. In Florida, it's illegal to sing in a public place while you are wearing a swimsuit. 
If you've ever done such a mundane thing as showering naked, you'll have already broken a Florida state law. It's illegal to shower without clothes on!
Parking meters are for more than just cars and bikes. If you tie an elephant, a goat or an alligator to a parking meter, you are required to pay the parking fees just as you would for a car. Wacky!
To all you single ladies out there, take note. Unmarried women are prohibited from parachuting on Sundays! If you get caught doing so, you can risk a fine and/or jail time. It seems as though the rest of the week is okay, though.
Skateboarding is more political than you might think, as you need to have a valid license to ride a skateboard.
And, speaking of skateboards, it's illegal to ride a skateboard at a police station in Miami. 
The fashion police are out again. It's illegal for men to wear a formal strapless dress in public. 
If you go to the salon, don't get too comfortable under the hairdryers! If you fall asleep under a hairdryer, you could find yourself paying a fine! Owners of salons could also have to pay a fine, depending on the situation.
Breaking wind in public is generally looked down upon, but in Florida, farting after 6 p.m. is actually illegal!
Dishwashers, be extra careful in Florida! It's against the law to break more than three dishes per day. 
It's also illegal to chip the edges of more than four saucers each day.
This is a law that's not weird, but the fact that someone had to spell it out for people is! It's illegal to sell your children, in case you were wondering. 
Pregnant pigs cannot be held in cages. It's not a challenge, it's a law.
Flower pots must have a proper drainage system, otherwise they can be counted as public nuisances.
This law is for the residents of Destin, Florida. If a cat chases someone, whether it be a neighbor, a stranger or a friend, outside the cat's house, then the cat is automatically labeled as a "bad cat." 
Ice cream may not be sold in cemeteries. 
Residents of Cape Coral. Florida may not keep a sofa in their garage. If they are found to have broken this law, they can be fined $50.
In Palm Bay, it's against the law to use a bicycle to drag a bobsled. I wonder who caused so much trouble that the city had to write a law prohibiting it!
Chickens are considered "protected species" in Key West, so if anyone harms the birds they can be heavily fined.
It's against the law to sell oranges on the sidewalk in Miami!
It's illegal to hang your clothes on a clothesline in Cape Coral. 
Tampa law states that lap dances may only be given from a distance of six feet away. How? No idea.
In Pensacola, it's illegal to roll a barrel down the street. The amount of the fine depends on the contents of the barrel.
Also in Pensacola, a woman can be fined for getting electrocuted to death in a bathtub with beauty appliances. Yes, a deceased woman may be fined. Try to wrap your head around that one!
The Mayaimi tribes lived in the Miami area in the 16th and 17th centuries. Their area mostly surrounded the Lake Okeechobee region, which was then called Lake Mayaimi, meaning "big water." This is where Miami gets its name!
Miami's famous beaches are man-made. The original beaches were mangrove swamps. The beaches often need to be maintained with extra sand, which is often shipped from the Bahamas or the Caribbean. 
There are over 50 shipwrecks under the water around Miami!
Miami has the most Art Deco architecture in the world.
The average temperature in winter is about 65-75 degrees Fahrenheit, making Miami one of the warmest winter cities in the United States.
There are no basements in Miami, as most of the homes are built just over six feet above sea level! Dig too far down and you'd hit water!
Miami is the only major United States city founded by a woman! Julia Tuttle, a prominent businesswoman in the late 1800s, convinced oil companies to extend their railroads to what is now Miami. The boom in business and population caused the small town to officially become a major city!
Miami is home to the very first Burger King! The fast food chain's first location at 3090 NW 36th St. is now an auto loans business, but it's worth the 20-minute drive from our luxury Doral apartments to take a look.
It's only snowed once in Miami's recorded weather history. On January 19, 1977, a small flurry fell from the sky and promptly melted against the warm ground. 
Miami local Robert Kraft decided to run eight miles along Miami's beach every day. That was in 1975. He's still going today, never having missed a day, and has run over 125,000 miles.
An average of 22,000 New Yorkers move to the Miami area each year. 
There's an ATM in Miami that is specially suited for rollerbladers!
There are more than 800 parks in the Miami area, and it's also the only city to be surrounded by two national parks: The Everglades National Park and the Biscayne National Park.
Pin it!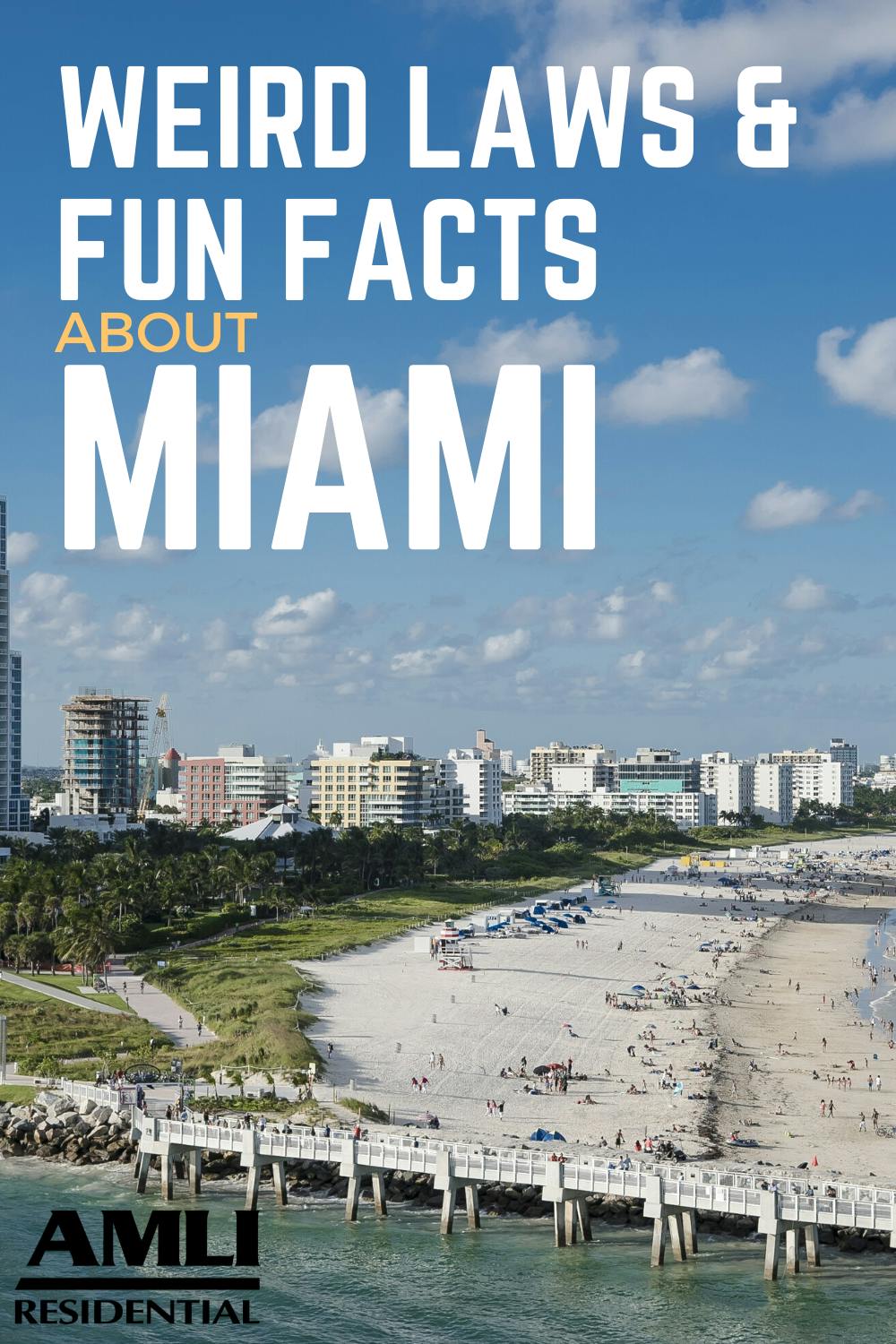 Featured photo courtesy Pixabay/tammon