What do the cities of Lima, Adelaide, Maseru and Oita have in common? They are on opposite ends of the earth, they have vastly different cultures and their histories are completely different. The thing they have in common, though, is that they are all sister cities of Austin, Texas!
If you live in our Austin apartments, you've probably seen signs for sister cities in metropolitan areas before, but what exactly does a relationship between sister cities look like? Well, here's what we've found out.
What is a sister city?
According to Sister Cities International, a sister city relationship is a long-term agreement between two cities, states or counties in two different countries. This partnership can include a range of involvement and activities in areas like trade, business, education and culture, and the amount of volunteers in each city can range from just a few to hundreds. Every city is different, every partnership is different and every project is different.
Sister cities get started when two cities recognize and build upon their existing relationships. This could mean that two mayors have a good relationship, the cities have a history of trade, there is a common religious or cultural population, people have ancestral connections or the area shares a common industry.
Although the sister cities have to be agreed upon and built by municipal government officials, the sister city organizations are run by independent organizations (oftentimes with a municipal representative). These nonprofit organizations can be run by museums, universities, cultural centers or local chambers of commerce, but there is always a close connection to the local government, too.
For example, some of New York City's sister cities are Johannesburg in South Africa, Cairo in Egypt, Beijing in China and Jerusalem in Israel. Some of the sister city programs include international trading opportunities, cultural programs based on shared populations, student events and even direct airline flights!
All in all, sister cities programs are unique for each and every city, and the level of involvement can vary greatly depending on the programs and size of community.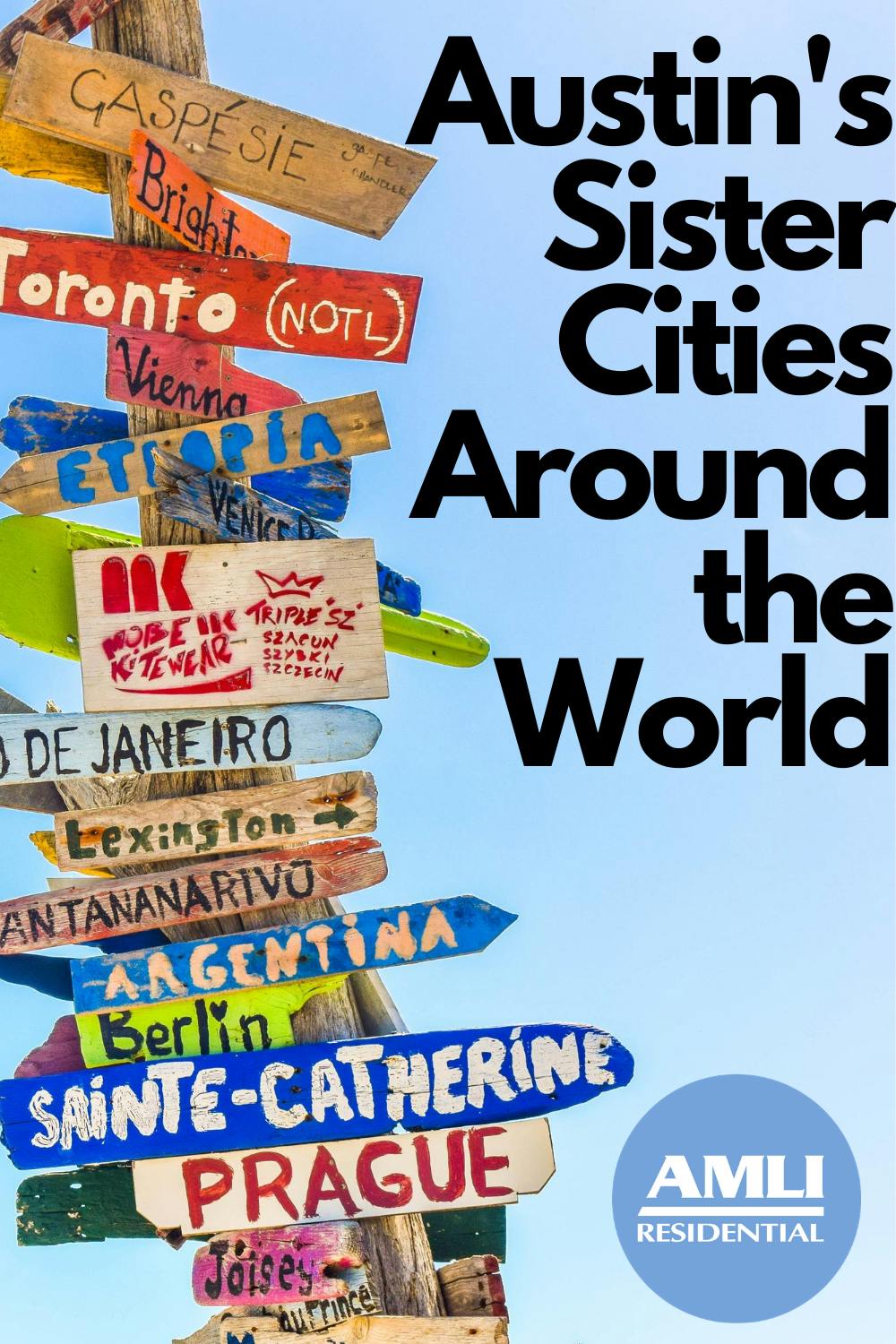 According to AustinTexas.gov, Austin's sister cities program is intended to build and strengthen relationships through shared educational, cultural and economic interests. Here are Austin's sister cities from around the world! 
Adelaide
Australia
Although they are located nearly ten thousand miles apart and are separated by the entirety of the Pacific Ocean, Adelaide and Austin share some common interests. They both have strong artist communities, great manufacturing centers and a love for urban parks. 
Angers
France
Angers is an industrial city in France that is known for its environmentally responsible ethics. The city is a haven for tourists seeking the gorgeous French chateaux and manors, and it's conveniently located just an hour and a half from Paris. 
Antalya
Turkey
According to the website, the partnership between Antalya and Austin is focused on facilitating dialogue between various cultures and faiths. People of Jewish, Christian, Islamic and polytheistic faiths, as well as many more, live together in harmony in Antalya, setting an example for idyllic coexistence for the rest of the world.
Gwangmyeong
South Korea
Musical and other artistic interests are the foundation of this partnership with Gwangmyeong. Bands and musical groups often travel between the cities to perform, as Gwangmyeong is also known as the region's hub for arts, music and culture. 
Koblenz
Germany
Both Koblenz and Austin are focused on education at every level, and many Austin students and scholars have traveled to the German city for internships, apprenticeships and career-building experiences. Koblenz is a gorgeous city with much of its medieval history still visible in the town square, as well as a magnificent display of architecture from Romanesque, gothic and baroque periods in the rest of the city. 
London Borough of Hackney
United Kingdom
This London borough shares a high-tech relationship with Austin, as both cities regularly exchange research and resources within the technology sector. Hackney is the Silicon Valley of London, and most of the technology centers are located within the borders of the borough. As a result, a non-stop flight between Austin and London was established, so you can thank your sister cities organization for making your travel that much easier!
Lima
Peru
The cultural exchange programs established between Lima and Austin have given many students opportunities to study abroad in disciplines like archaeology and anthropology. 
Maseru
Lesotho
Although it is just a small country landlocked by South Africa, Lesotho is home to the largest hydroelectric plant in the entire continent. The partnership between Austin and Maseru aims to provide educational opportunities, foreign hospitality and humanitarian aid between the two countries. 
Oita 
Japan
University exchange programs between Oita and Austin have done plenty to encourage cultural, educational, business and governmental experiences for students from both cities. 
Old Orlu
Nigeria
Old Orlu is surrounded by a huge variety of exotic flora and fauna, and the partnership with Austin aims to discover the best ways to preserve these natural areas for the citizens of Old Orlu. 
Pune
India
Austin's newest sister city is one of India's biggest educational hubs, with research institutions based on information technology, business and management providing ample opportunities for international study and cultural exchanges.
Saltillo
Mexico
Just like Austin, Saltillo also held the title of Texas Capital. Saltillo was Texas' capital when it was owned by Mexico and before Texas became The Republic of Texas. It is Austin's oldest sister city.
Taichung
Taiwan
Home to nine universities, Taichung offers educational experiences in a variety of areas including art, music, culture and culinary. The city is also home to many cultural and historical landmarks, such as temples, markets and statues. 
Xishuangbanna
China
Many cultural exchanges and delegations have traveled between Xishuangbanna and Austin, as the Chinese city is home to a diverse population, vibrant culture and rich ecosystem. The city is located in one of the oldest intact ancient rain forests in the world, and, therefore, is an ideal location to study the environment and human impact on our surroundings.
If you live in one of AMLI's Austin apartments and are interested in learning more about the relationships, programs and partnerships between Austin and all its sister cities, visit Austin Sister Cities International to find out how you can connect with the rest of the world! It's just one way of bringing us all closer, one person at a time.
Enjoy!
Pin it!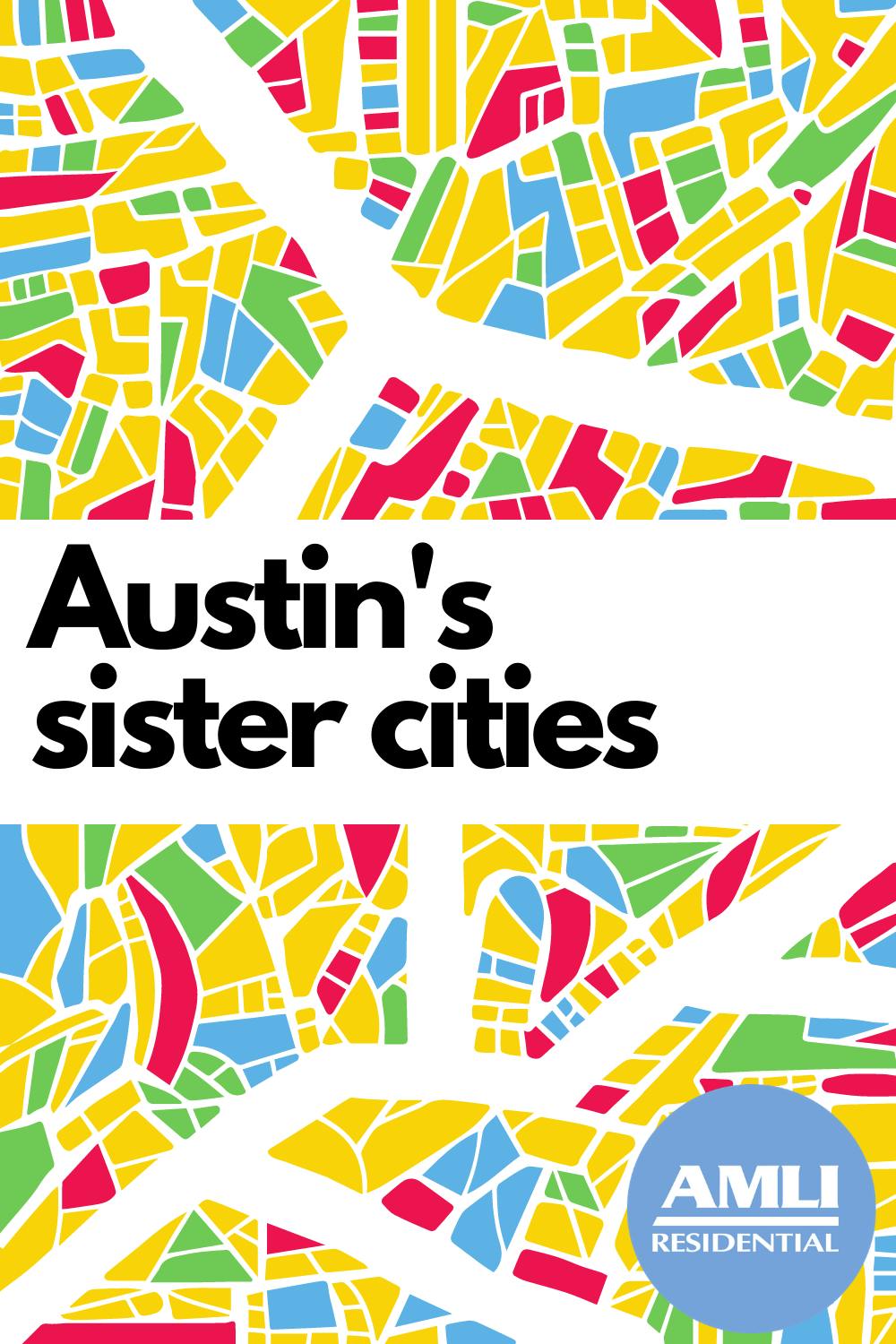 Featured photo courtesy Pixabay/Pexels