Texas is home to a hundred-plus-mile hike through some of the state's most beautiful areas, and it's right under our noses!
Here's all you need to know about Texas' longest trail and the sights you can see along the way.
Hiking Texas' longest trail
Have you ever wanted to try a thru-hike but you aren't sure where to begin? Well, as it turns out, you don't have to look any further than just outside of Houston!
Whether you are looking to try a thru-hike, hoping to spend a few days or a long weekend on trail, or just explore your local forests, we have gathered everything you need to know to hike the Lone Star Hiking Trail.
The Lone Star Hiking Trail — the LSHT — is a hidden gem in east Texas. Trail visitors get to experience the awe and beauty of a variety of trees all in different stages of growth and age, various plants and stunning wildlife. While wandering through the Sam Houston National Forest hikers will come across rivers, creeks, streams, and lakes. 
First some quick facts and stats about the Lone Star Hiking Trail. 
Distance: 128 miles; 96 miles end-to-end plus 28 miles of wonderful loop add-ons so you don't miss a thing.
Elevation gain: 4,531 feet over the entire trail.
Difficulty: Different sources rate this trail in a variety of ways. We've gathered that the trail is rated easy for terrain and moderate to difficult for logistics and navigation.
Time to complete: 7-14 days
Season: it's technically hike-able year round, but winter and spring are ideal given the seasonal climate in the summer and fall.
Location: Sam Houston National Forest
Managed by: The United States Forest Service and volunteers from the Lone Star Hiking Trail Club.
Built: 1966-1972
Fun fact: The LSHT is the longest footpath in the state of Texas!
Trip planning
A hike of this nature can be planned as a thru-hike, which is a single push usually consisting of several days or weeks. It can also be tackled in its entirety as a section hike, meaning completing sections one at a time until the whole trail is complete. And, of course, you can visit only certain sections leaving parts of the trail untouched while still having a wonderful experience in nature. Hike your own hike!
When planning your visit there are a few things to consider. The formal direction of the trail is west to east, beginning outside Richards, TX and finishing northwest of Cleveland, TX. There is a guide book to help you thoroughly and confidently plan your trip. This online guide is a great framework to help plan details of your trip such as water sources and their reliability, camping spots, and road walks. If you are section hiking, most trailhead parking is free but be sure to double check for your specific start point. 
Throughout the year the Forest Service does prescribed burns as part of their land management plan. It is best to avoid planned burn areas when you can and they have created an interactive map to help in your decision making. During hunting season in the fall, only designated campsites should be utilized to keep all visitors safe. Outside of hunting season dispersed camping is allowed everywhere in the national forest. 
One of the most utilized tools in planning a LSHT trip is the Lone Star Hiking Trail Club. This volunteer club provides updated drought information, maps, trail maintenance and organized hikes to enjoy the trail in a community. If you are hoping to find a friend to hike the trail with or you have questions for local members of the trail you can join the Lone Star Hiking Trail Facebook Group.
Stops along the way
There are a few notable stops you don't want to miss. 
First and foremost, we know collecting and treating water every day can become quite the task on a thru-hike. You can forget the daily chore of water treatment when you are passing through the Double Lake and Stubblefield Lake Recreation Areas, as they have potable water available and ready for the taking. The Double Lake Recreation Area even has a shower if you are needing a refresh before continuing on with your hike. 
Huntsville State Park sits on the eastern shores of Lake Raven and is only a few miles off trail. It is conveniently located near highway 45 and makes for a great resupply location to meet up with a friend for an evening of camping, serene lake views, and a good night's sleep before hitting the trail again. 
You can also mail yourself a resupply to the Huntsville Post Office and will either need to hitch a ride to town or coordinate a shuttle. 
Sam Houston National Forest 
The Sam Houston National Forest has a variety of wildlife taking up home in the forest. 
Deer are the most popular wildlife with squirrels coming in second. If you sit still enough, you can spot the quail or doves that also call this forest home. When you are collecting water or taking a snack break near the lake you can likely spot some ducks or fish. 
This national forest is home to at least two animals on the endangered species list: the bald eagle and the red-cockaded woodpecker. The bald eagle calls the Sam Houston National Forest home in the winter months while the red-cockaded woodpecker can be seen year round making its home in the living pine trees. 
In 1934 the state of Texas invited the federal government to establish national forests there by selling them some of the Texas land. At this time the lands were sparse with trees due to wildfire damage or the result of private logging — since then, the U.S.F.S. has worked diligently to mitigate wildfires and help with the regrowth of young timber in the area. Prescribed fires can help reduce the damage of wildfires by lessening the fuel available and can also help improve the habitat with new growth. Private logging and mineral exploration and extraction still exists within the forest boundaries with the proceeds of the sales going back to the local communities. 
Get hiking!
If you live in our Dallas apartments and are willing to drive the 2.5 hours to the trailhead, then this is perfect for a rural, wild vacation that's far away from the city!
Don't wait too long to make your trip to the Sam Houston National Forest and the Lone Star Hiking Trail. It's easy to get lost in the beauty of the forest and enjoy the unique and widely vast plants and animals, so plan your trip and enjoy your Texas-sized adventure!
Good luck and happy hiking!
Pin it!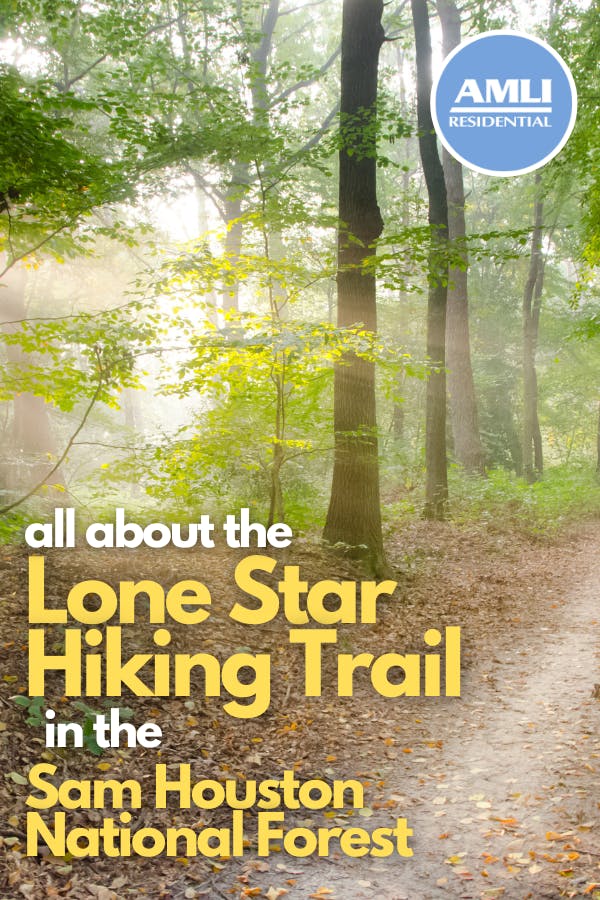 Featured photo courtesy Pixabay/silviarita