Nano-wri-what? The first time someone told me about NaNoWriMo, I know I gave them a blank stare.  I had never heard of National Novel Writing Month or its very weird acronym. I was intrigued, however, and as I learned more about it, I decided to participate in the event.
What do you know about NaNoWriMo?
NaNoWriMo is a nonprofit organization promoting creative writing around the world. They provide the tools and support people need to write a novel. It was started by Chris Baty in 1999 as a challenge to write 50,000 words of a novel in just thirty days. The program began with a group of 21 writers in the San Francisco Bay area. The next year, 140 people joined the group and three ground rules were set up for the competition: 1) the writing project must be new instead of something previously started; 2) it must be written by a single person; and 3) it must be finished by midnight on November 30.
Taking all these things into account, I was excited to begin my first NaNoWriMo journey on November 1 of last year. I wasn't sure what would be involved, but I quickly found out that I am a "pantser" when it comes to writing. A pantser is slang for someone who writes novels "by the seat of their pants," taking things as they come. There is no rule about how to write during NaNoWriMo. If you want to wing it, like I did, or if you want to use an outline to help plot the story and become a "plotter." either way is just fine.  I did try to adhere to the recommendation of writing at least 1,667 words per day so that I wouldn't find myself desperately trying to catch up at the end. 
How to begin
It's pretty simple to get started with NaNoWriMo. First, I logged into the NaNoWriMo website and set up an account. Once there, you can fill in information about yourself and what you plan to write. It is also where you can track your word count each day and collect digital badges for getting your assignments done. Assignments are not required, but they help give you things to shoot for, such as writing consistently for several days in a row. It really helps keep you on track as you progress!
And so, on a cold Sunday morning I began to write. I had a general idea of the story I wanted to tell, and I had actually constructed a very loose timeline with a few characters in mind. So, I suppose I wasn't a complete pantser! I set aside time to write each morning before my day started. And the first week or so went well. I started telling myself things like, "You're pretty good at this." and "Why haven't I written a novel sooner?" Little did I know, I still had a long way to go!
Somewhere around the 14th day or so, however, I hit a brick wall. I found it hard to decide what to write and which direction to go with my story. Some days, I had complete writer's block. I remember just sitting and staring at my computer screen, cursor blinking. That was when I discovered just how hard it is to write a novel. That is also when I started asking myself a different set of questions. Things like, "Whose idea was this anyway?" and "Do you really want to continue with this?"
I found that writing of this magnitude is a huge undertaking. I had never committed to writing on this level before, and I started to wonder if I would be able to finish.
I need help
This is where the support from NaNoWriMo came in handy. They have a page on their website where authors submit pep talks that you can read to help inspire you and cheer you on as you write. Writing can be a lonely business at times, and I felt that no one would probably understand why I had even embarked on such a lofty quest. These pep talks came from people who had been there and done that. Authors who had felt stranded and alone while trying to grind out something at least halfway decent. Reading the pep talks helped me through some of my harder days.
NaNoWriMo also has courses to help develop story ideas, create characters, work on plot lines and manage your time. As well as a whole host of support from their online writing communities and writing events. Additionally, they have a blog here fellow authors share insights and helpful tips as they journey alongside you.
Even more inspiration
Another thing that helped me out was the list of well-established authors who had been successful in completing and selling their manuscripts that they had started on NaNoWriMo. Authors like Sarah Gruen, Water for Elephants, who started her novel as a NaNoWriMo project. It ended up on the bestsellers list for a year and was turned into a major Hollywood movie.
This kind of real-life inspiration was extremely helpful even though it was completely up to me to finish what I had started. Their stories also inspired me to stop trying to write perfectly. They recommended getting the story down first and then work on revisions later. No novel written in 30 days is going to be perfect. It will take a good amount of revision to make it into something worth reading.  And so I plowed ahead. Some days were better than others. Some days I felt as if I were trudging through mud, moving at a snail's pace. Some days I couldn't even remember what I wrote!
Many try, not all succeed
As I approached the end of November, I was worn out but excited at the same time. Although I didn't succeed in reaching the 50,000-word goal my first year, I am proud to say that I made it to just over 25,000 words, which is a novella! And, it is more than I would have ever written had I not participated. I also learned some valuable lessons in the process. I learned a great deal about how I approach my writing, how to work through the rough spots, and how to stay committed to the process. I also learned that there is no giving up, so I plan to reach the 50,000-word mark this year.
So, if you've ever wanted to write a novel, I highly recommend diving into NaNoWriMo this November 1. I will be there toiling away with you! Good luck to all you future authors!
Pin it!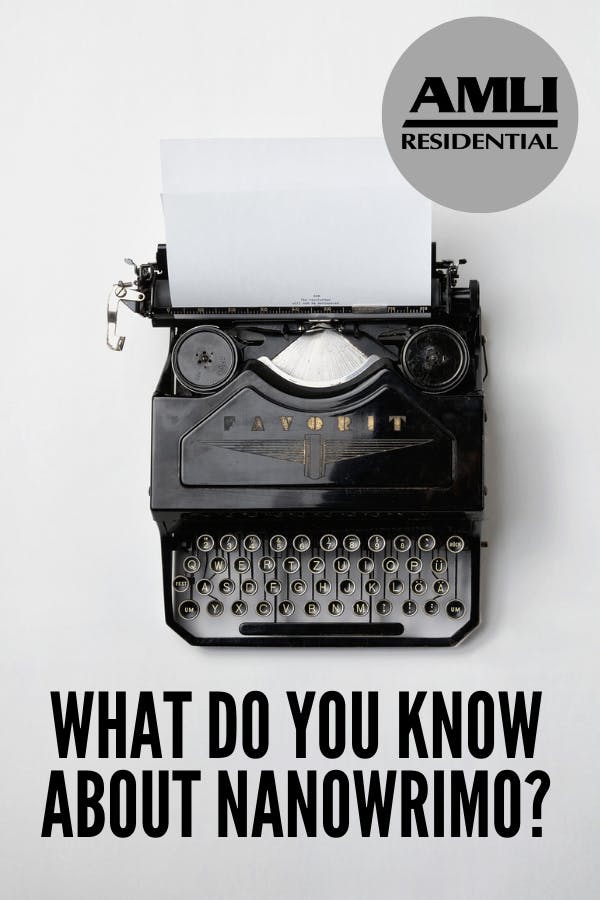 Featured photo courtesy pixabay/StockSnap