There are a million self-help tips, tricks and guides out there that are aimed toward becoming more efficient, less stressed and more productive.
Makes sense, though, right? We are a stressed-out society with a lot to do and not enough time to do it all in. So, we turn to organizational tools to help manage our workload a little better. 
Here's why organizational tools work for our busy brains, as well as a few tools you can use to help add a little more structure to your workday.
How and why do organization tools work?
They can help with memory
What time was that appointment again? Who was I supposed to call today? I know I had something I needed to do this morning, but what was it?
Let's face it, mental calendars aren't always the most reliable. Some of us are better at keeping it organized than others, but ultimately it's a long list of deadlines, appointments, dates and events that we're just stacking up in our heads.
Having an organizational tool to help you manage all those dates, times and places can ultimately help your memory. If you're a visual person, then having a color-coded calendar can make it easier to remember deadlines and schedules. If you're a multitasker, then grouping tasks by similar locations can help you remember all that you need to get done.
Whatever method you use and however you use it is entirely up to you, as no two people necessarily remember and keep track of tasks in the same way. Find a way that works for you and use that one!
They can save time 
Organizing things, whether it be tasks, appointments, errands or information, can help you access them easier in the future. That means less time hunting for the business card you got last month, less time running back and forth to the same store all week long, less time making new appointments and less time waiting for things to happen. 
The time you take to actually work on and complete the task may not necessarily change, but all the time in-between will, which makes all the difference in the world!
They can allow for collaboration and delegation
Organization tools, especially online or digital organizing tools, can make running a household or workplace easier and more efficient. They make it easier to delegate tasks, check on the status of projects, distribute information and plan ahead!
This could mean anything from a simple to-do list on a fridge to a project management software that can organize a months-long project in minutes!
They can help reduce the margin for error
Productivity can be hampered by small mistakes and delays that come about as a result of misinformation, unclear deadlines and poor instructions. 
Planning doesn't always make a project perfect, but it certainly makes it easier to accomplish. A system for organizing your work day, your grocery store run, your weekend to-do list or your annual summer vacation can help you get all the little pieces in order long before you ever have to deal with them — including finding solutions for potential problems.
They can reduce stress
If you're the type of person that can't switch your brain off after the workday has ended — or if you're a homemaker and your workday literally never ends — then trying to keep track of all your tasks can get pretty stressful. 
Allow these organizational tools to carry the burden of keeping track of your tasks, items and projects — so that you don't have to! You worry about accomplishing the tasks when they need to be accomplished, and let the calendar, to-do lists, reminders and filing systems worry about keeping it all in order. 
Without further ado, here are some of the organizational tools that you can use to make your day more efficient and less stressful!
Organizational tools that actually make life easier
Reminders on your phone
Smartphone reminders are incredibly helpful for anything from remembering work meetings to remembering to take out the trash to remembering birthdays, appointments, when to take frozen meat out the freezer to thaw and much, much more. 
Use your smartphone reminders however you'd like them to work for you. Make a new reminder for every errand you have to run each day, or use it to denote a day dedicated to one task in particular. It takes twenty seconds to add a reminder, and you can set it to notify you days, weeks or months beforehand so that you are as prepared as you want to be. 
Here are a few everyday things you can make reminders for in your phone:
Taking the trash out every Tuesday night
Returning library books 
Phoning a friend in another time zone
Dedicating a time to relax and unwind after a long week
Renewing vehicle tabs each year
Brushing your teeth
Applying for a travel visa to another country within the travel window
And anything else you can think of!
Your future self will thank you when they get a handy reminder for something they didn't have to try to keep track of!
Spreadsheets
You don't have to be a spreadsheet genius to use one for organizing!
There are handy spreadsheet organizational tools all over the internet for everything from buying groceries to organizing a monthly budget to planning a vacation and everything in between. Etsy is a great place to find these, and you can usually ask the creator to customize the spreadsheet to fit your specific wants and needs (and to give you a tutorial on how to use it!).
Timers
If you struggle with getting distracted while working (was that a squirrel outside? I'd better check…) then a timer may be the thing for you. 
Set a timer on your phone and challenge yourself to not check your phone or get up from your work station until the timer has run out. You can do this in many short increments or fewer, longer increments — it's up to you. Whatever will help you focus!
Calendars or planners
Calendars and planners are designed to keep you organized, and they've evolved and changed over time to suit many different needs. 
Not all calendars and planners are created equal, though. Finding a calendar that works for you and your individual organizational needs is key to making a planner actually work, so take some time to think about how your brain works and what you need to feel more organized.
Do you like colorful paper planners with motivational quotes, space for stickers and lots of color? Do you prefer a simple digital planner that is quick to edit and easy to share among devices? Do you like a desk calendar that has plenty of space for note-taking and  to-do-lists?
Whatever you like, there are plenty of options!
Here's to a productive and efficient new year!
Pin it!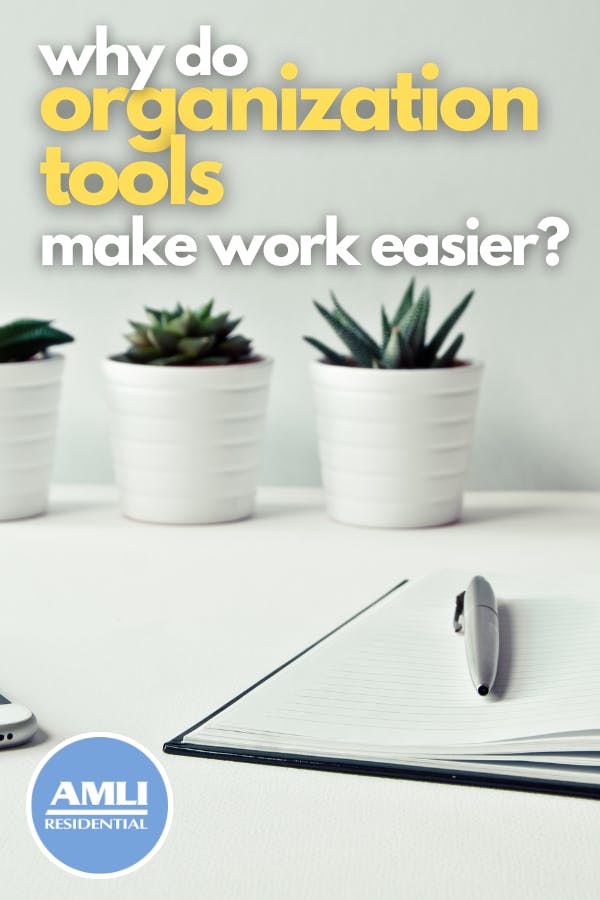 Featured photo courtesy Pixabay/StartupStockPhotos