Recognize any of these state symbols?
From peaches to pecans to prehistoric shark's teeth and more, here are a few of the official symbols that represent the stunning state of Georgia!
21 Georgia state symbols
Amphibian
Found in swamps, forests, parks and creeksides all over Georgia, this small green frog plays a key role in controlling insect populations in urban and rural areas across the state. 
Bird
This large, brown bird is a common sight in backyards and parks east of the Rockies. It's known for its wide vocal range and impressive song repertoire, with many birds known to have upwards of a thousand different songs! Basically, the brown thrasher is the Spotify of the avian world. 
Butterfly
This butterfly is a common pollinator in the Eastern United States, where it spends its spring and summer months before migrating south for the winter. It's recognizable by its yellow and black wings with blue edging on the bottom.
Cold water game fish
These fresh water fish hold state symbol-hood for several East Coast states for several seasons. First, of course, is that the species is a resident of those cold water brooks, creeks, lakes and ponds we love to recreate around. Second, it represents not only the natural beauty of the cold water environments, but it also represents the importance of protecting the environment. 
These trout can only survive in clean, cold water that is unpolluted and uncontaminated. Where there is fresh, clean water, these trout can thrive — if the water is contaminated, the fish will die. Keeping Georgia's waters clean means keeping these trout alive!
Crop
Georgia produces nearly half of all the peanuts grown in the United States! Keep that in mind next time you chow down on your PB&J.
Dog
Who's the goodest boy? An adoptable dog in Georgia, that's who.
Fish
Anglers in freshwater lakes, rivers and ponds all over Georgia know exactly what this prized catch looks like. Chefs and cooks are equally as familiar with the fish, too!
Yum.
Flower
Though native to China, this white rose species was introduced to Georgia in the early 19th century and has since become a staple in gardens all over the state. 
Fossil
If you spend enough time searching the sands of Georgia's coastal plains, you'll probably come across a fossilized shark tooth from way back in prehistoric times! It's a common enough find that the fossil has made its way into official symbol hood!
Fruit
No surprise there! Georgia boasts a wide variety of peach trees and peach species, each of which makes some delicious treats.
Game Bird
Commonly known as the Virginia quail, bobwhite quail or partridge, this small, round, brown game bird is a popular target for hunters all over the East Coast and Midwest. There are around 20 subspecies of the northern bobwhite, but the one most recognizable in Georgia has a light brown body and a dark head with a white throat and eyebrow.
Gem
Amethyst and clear quartz are the most common type of quartz found in Georgia — both of which are used extensively in jewelry making.
Insect
We wouldn't have our flowers, fruits and peaches without the hard work of the honey bee — which is why it has a place on the list of Georgia State symbols!
Marine mammal
Georgia's coastline may not be as long as its neighbors (it's 110 miles long, if you're wondering), but its marine life is no less diverse!
The Northern right whale was so named because 13th century whalers found its surface-level swimming and slow, meandering pace made it an easy to hunt — as in, it was the "right" whale to hunt. 
Now, though, Georgia's waters are calving areas for this critically endangered mammal!
Nut
Pecan
Georgia became the nation's top pecan producer in 2021, prompting Governor Brian Kemp to declare the sweet, buttery treat as Georgia's official nut!
Reptile
This endangered tortoise is native to the state of Georgia where, to the best of experts' knowledge, it may not even exist outside of protected areas. Its population is steadily declining due to habitat loss, so if you see one crossing the road and you're able to stop, pick it up and move it to safety in the direction it was heading in!
Seashell
This sea snail shell is often found on Georgia's seashores, where bare feet and pinky toes have been sadistically attacked by its pointed spiral for generations!
Song
"Georgia on My Mind" was written by Hoagy Carmichael and Stuart Gorrell in 1930, and it has become a beloved anthem for the state. The song is a celebration of Georgia's beauty, its people, and its culture.
Tree
We all know the sight — towering oaks hundreds of years old creating majestic canopies over grounds they've occupied for longer than we could ever hope to. Quite the view, huh?
Vegetable
Vidalia onion
Grown in — you guessed it — Vidalia, GA, this species of onion is considered to be one of the sweetest in the world. It's so popular, in fact, that a four-day festival dedicated to the onion is held in Vidalia each year!
Wildflower 
Native azalea 
These beautiful blooms appear all over the state between March and August. There are many azalea varieties in gardens across the East Coast, but there are a few native varieties in Georgia that appear in every county of the state — those are counted as the official state flowers!
If you live anywhere near our luxury Atlanta apartments and are familiar with Georgia's history, did you recognize any of these symbols? You never know when these will pop up on a local trivia quiz!
Pin it!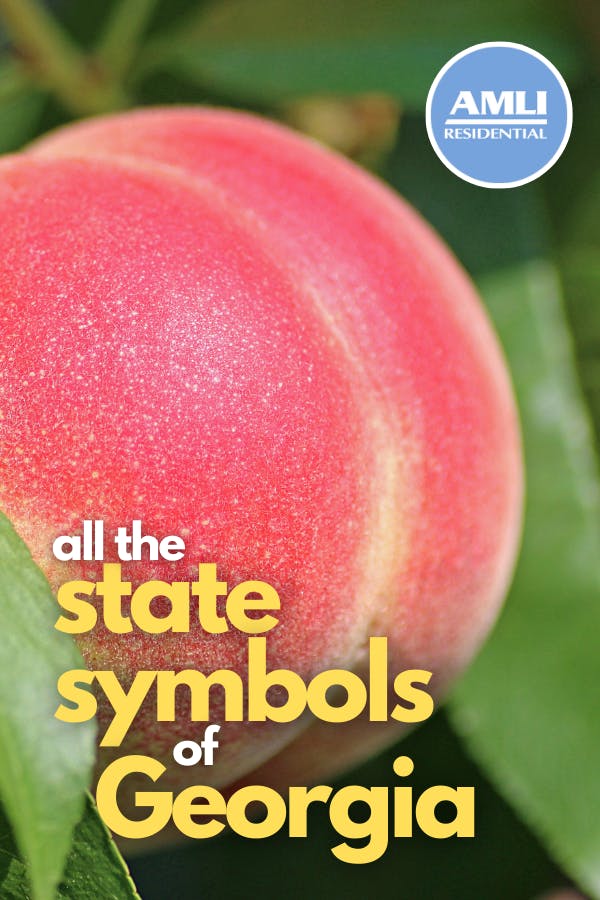 Featured photo courtesy Pixabay/MabelAmber