Kids birthday parties can either be the best time of your life or the most stressful. There are decorations to make, games to organize, party packs to assemble, invitations to send and, most importantly, a fun birthday cake to wrangle!
These tasks might seem daunting to some and exciting to others, but the beauty of kids' parties is that there is no right or wrong way to throw a party! Children's birthday parties can be as easy as you want them to be. If you have younger kids, then they probably won't be nearly as picky about the decorations, cake flavor or color of balloons you choose, so most of the time you don't need to stress out as much as you think you do. 
Birthday cakes are the centerpieces that tie the whole party together — or so they appear to be. Birthday cakes don't even have to be cakes, necessarily, so don't worry about making a picture-perfect cake that has to steal the show. Cakes are often swapped out with cupcakes, fruit platters, donuts or whatever your child likes! Birthday cakes or cupcakes are fun to make, and, most of all, making them can be far easier than you might think.
Here are some fun birthday cake ideas to make that will wow your party guests. They can be customized to fit themed birthday parties, so feel free to use these as guidelines, not rules!
The basics
Cake 
Kids birthday cakes are all about the decor and not so much about the flavor, so feel free to use plain ol' boxed cake mix as the basis for your cake. If you get a vanilla or white cake mix, then you have the option of adding food coloring to the batter to make for some colorful fun inside the cake as well as outside.
Bake the cakes as directed, making as many layers as you need for the amount of people you need to feed.
Frosting
There's no hard rule for frosting at all. The type of frosting you pick really just depends on what you want to do with it!
If you're covering your cake with candy or other decorations, then all you'll need is a can of frosting to hold it all together, and the flavor or color is up to you. If you're wanting to use frosting to color the cake, then you'll have to think about the color of frosting more than the flavor. White frosting is the easiest to color, so stick to that if you're going for a colorful cake covering, like an under-the-ocean blue cake. 
If you want to create texture with frosting, like fur on Elmo or grass in a garden, then you'll have to use buttercream frosting, which has a stronger structure and can be made in larger quantities.
Easy buttercream frosting recipe:
1-2/3 cups butter, softened at room temperature
4-½ cups powdered sugar
1-½ tsp imitation vanilla extract (the clear kind)
6 Tbsp milk
Beat the softened butter with a hand beater until the butter is as light and fluffy as possible. Add vanilla and beat. Add a cup of powdered sugar and beat until blended. Add a tablespoon of milk and beat until blended. Continue alternating the sugar and milk until all of it has been blended together. If needed, add sugar or milk to achieve desired consistency.
Fondant
Fondant isn't necessary for all birthday cakes, but it certainly comes in handy if you want to sculpt little decorations or stamp out shapes for your cake. Think of it as edible play dough. You can buy white fondant and color it yourself with food coloring, or you can buy the pre-mixed colors. 
Three easy kids' birthday cakes
Candy basket cake
I made a cake like this for my younger brother's birthday, and it was a big hit with him and his friends. It's an easy cake to decorate, and it looks super exciting and colorful.
You'll need:
Kit Kats
M&M's 
Ribbon
Regular tin of frosting, whatever flavor or color you'd like
2-layer cake, square or round
Bake your cake in whatever shape and size you like, then let cool completely. Assemble the cakes and cover in frosting.
If the cake is round, then break the Kit Kats in half and place them side-by-side around the cake. If it's square, you can keep the bars intact. Tie the ribbon around the cake to keep the chocolate bars from falling off. Fill the top of the cake with M&M's or whatever candy you'd like. Voila!
Teddy bear cake
You'll need:
Buttercream frosting, colored brown
2-layer round cakes
Piping bag
Grass frosting tip and connector
White fondant
Black fondant
Bake and cool the cakes. Make enough buttercream frosting to layer the cakes and cover them in a decent layer of frosting. Use a grass piping tip to pipe brown fur all over the cake (here's how to pipe frosting). Roll out the white fondant to about ¼ inch thick, and cut out one 4-inch oval for the nose and two small half-circles for the ears. Shape the black fondant to make two eyes, a nose and a thin mouth. Place the white fondant onto the cake, and press down lightly. Add the black frosting on top. And, voila! You made a great teddy cake with bear-ly any effort!
Under-the-sea cake
You'll need:
2-layer round cakes
Buttercream or white frosting, colored blue
Colored fondant
Graham crackers
Bake, cool and assemble the cakes. Cover the cakes in blue frosting and use a knife or spoon to create a wave texture, if desired. Shape seaweed and sea creatures out of the colored fondant, and press into the frosting on the sides and top of the cake. Crumble the graham crackers and sprinkle around the bottom of the cake to imitate the ocean floor. Feel free to use candy, sprinkles or Swedish Fish to add to your ocean scene. The decoration is entirely up to you. 
You can use these cake ideas to create anything! Instead of doing a teddy bear cake, try making a dog, cat, lion or other furry animal. Instead of under-the-sea, you can create a jungle scene or a wild-west scene. These cake ideas should just give you a starting point, and from there, you can go wherever your creativity takes you.
Enjoy!
Pin it!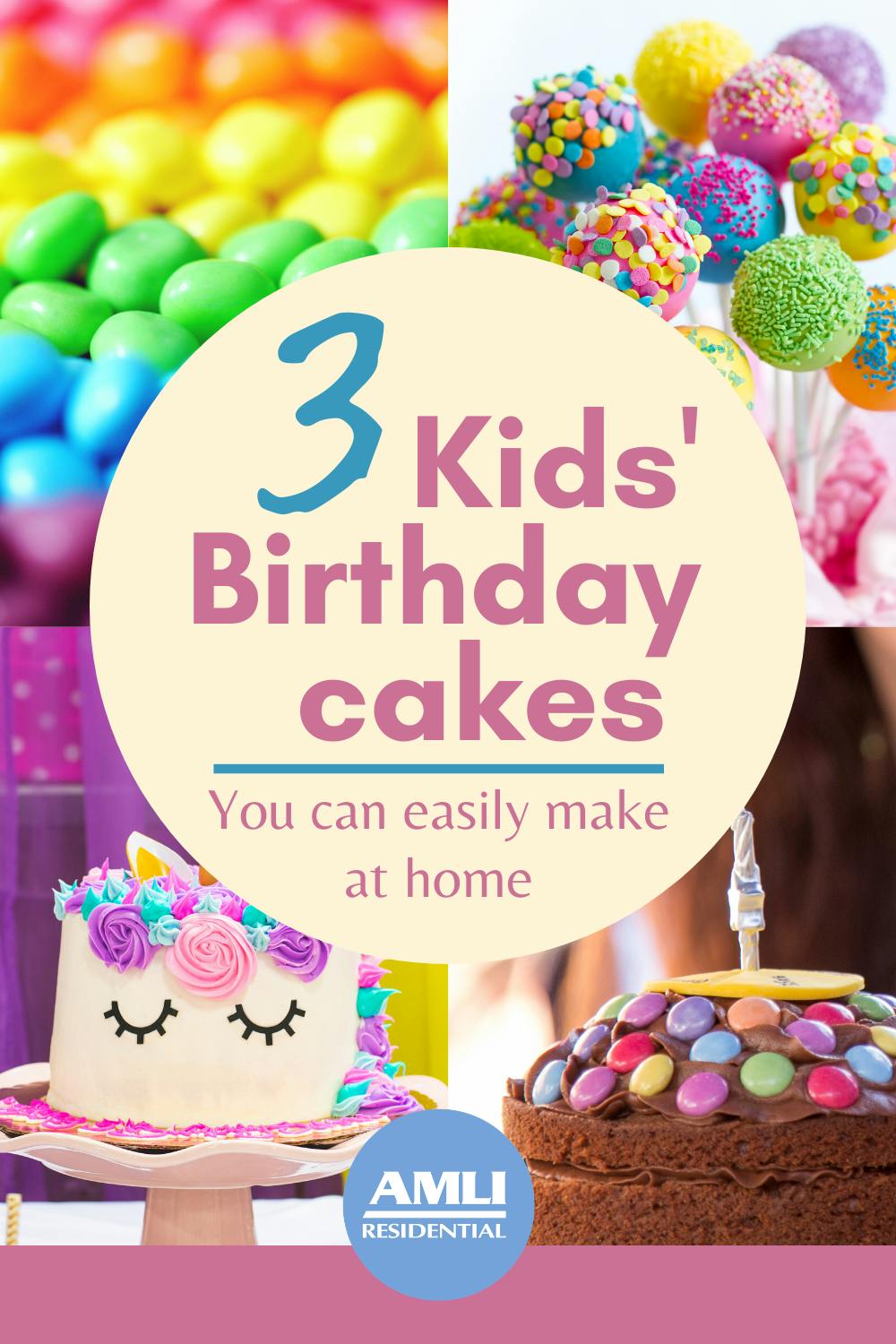 Featured photo courtesy Pixabay/bibabeth