For many of us, the kitchen is one of the busiest rooms in the house. We're constantly unloading groceries, packing away dishes, cooking and cleaning, not to mention the occasional baking experiment and midnight snack concoction. 
With all this activity, there's bound to be a constant stream of some kind of waste, whether it's food waste, recyclable boxes, broken dishes or plain old trash. 
Although there's so much going on in the kitchen, there are still many ways to reduce waste. Whether it's repurposing old containers, finding clever uses for single-use items or finding a way to revive dying plants, these helpful tips and tricks can lead to fewer trips to the garbage can and more sustainable practices!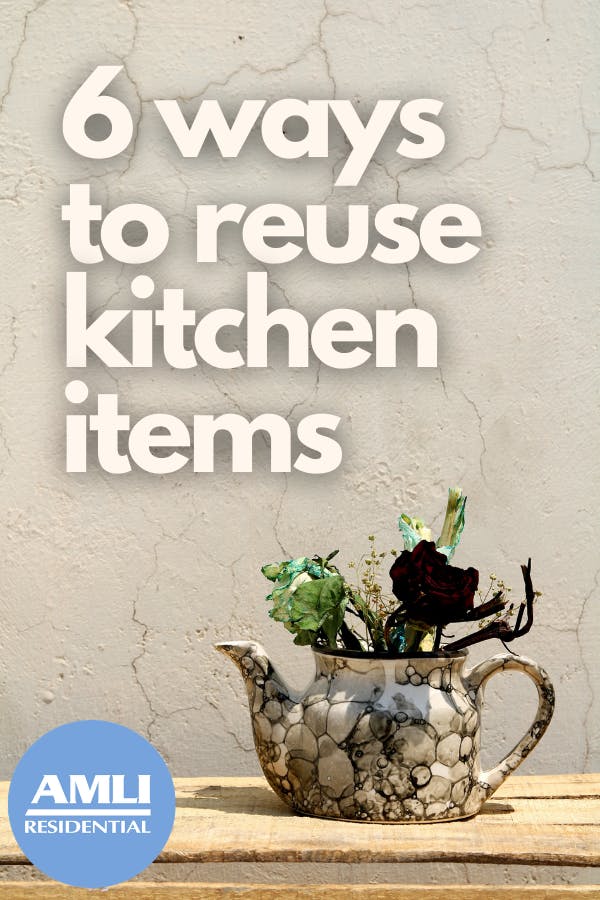 6 Ways to Reuse & Repurpose Kitchen Items
Regrow your veggie scraps
Around 25-50% of waste comes from food, which is why composting and re-growing food scraps is such a great solution!
Do you find yourself buying bunches of spring onions every time you go to the grocery store? They're best fresh, for sure, but did you know that you can grow your own spring onions from scraps right in your own kitchen? Trim the spring onions to about an inch from the base and place the roots in a jar of shallow water. You'll see a fresh sprig of onion in no time, and you can keep trimming those as often as you need.
You can keep trimming and reusing these table scraps like such, or you can pot them and let them grow to full size again. 
Here's a handy guide to growing fruits and veggies from table scraps! Using these techniques, you can regrow things like:
Lettuce
Celery
Leeks
Ginger 
Fennel
Lemongrass
Beets
Turnips
Avocados
Key lime
Remove labels from glass jars
The first "set" of glassware I owned was an assortment of glass jars that I'd collected and washed out. It looked every bit like the trendy, rustic Pinterest images I'd saved, but I ended up getting rid of the jars because I couldn't get those last bits of paper off the jars. 
If only I'd known then that there is a super easy way to really, truly rid glass jars of those pesky, sticky strips of paper. Now that I do, it's easy to reuse all my glass jars as beautiful storage containers for spice, tea, rice and more. 
Here's how you can use dish soap, baking soda and vinegar to give your glass jars the shine they deserve.
Creative houseplant pots!
Got an old teapot, jar or percolator pot? Turn it into a whimsical plant pot!
Any container can be a plant pot, especially if you can put a few drainage holes at the bottom. These make for great gifts, too. 
Here's how you can turn an old teapot into a planter!
Use stiff cardboard boxes for storage
Trying to keep a tea cupboard or spice cupboard organized is a nearly impossible feat, mostly because they're filled with small items that are all roughly the same size. 
An easy solution to this is to use stiff cardboard boxes as shelving units. Cut the flaps off a small cardboard box and place it on its side with the bottom of the box against the back of the cupboard. The sides of the box create a second level of shelving without compromising any of the space below, and you get an extra level of storage in your cupboard! Easy peasy!
Wooden utensil crafts & toys
Wooden spoons are easy to replace but nearly impossible to decompose in the trash. Give these old spoons a second life by making wooden spoon crafts with kids or setting them aside for a toy kitchen.
Use old drying towels as cleaning rags
Those drying towels can show the uglier, messier sides of your kitchen, but that's no reason to throw them out after their looks start to fade. Rather, cut up the towels and use them as cleaning rags for all your more intense cleaning sessions. That way, you're not only avoiding pesky paper towels, but you're also saving an item from the landfill without buying a single replacement!
Spice bottles
Save your empty spice bottles and fill with your own spice mixes! This is especially handy for those of you who enjoy camping and backpacking, because then you can just bring one bottle of seasoning with you that suits your taste and your space. 
Reusing items sometimes means thinking a little out of the box, like using planting onions in teapots or saving all those cardboard boxes for your spice cabinet. No matter what, though, saving just one item from the landfill is always a win! You might even find that you take fewer trips to the garbage chute, or that you need to downsize to a smaller trash can!
Good luck!
Pin it!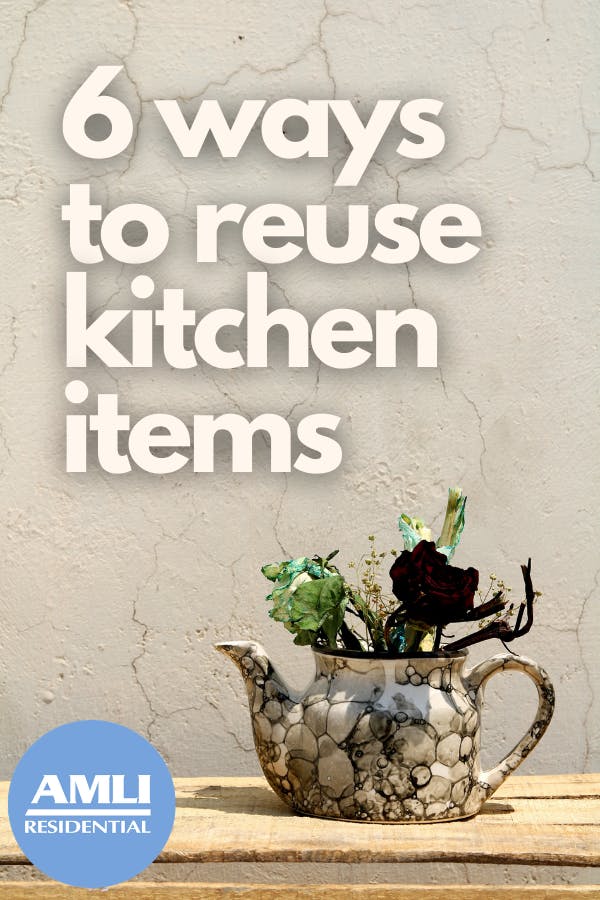 Featured photo courtesy Pixabay/congerdesign