Looking to do some spelunking? You're in luck!
Texas is home to plenty of caves, thanks to its ancient geological history involving underwater volcanoes, shallow seas and ice age activity. 
If you live anywhere in or near our luxury Austin apartments, then be sure to check out these caves in the city and beyond!
8 popular caves near Austin
Airmen's Cave
This cave is just one of a series of caves in the Barton Creek Greenbelt area of Austin, where ancient limestone rock created ideal conditions for cave creation. 
We'll get to the other caves in a bit, but Airmen's Cave is a good one to start with because it's the longest in the county at a whopping 11,300 feet long!
Named for the two United States Air Force airmen who discovered the cavern in 1971, this particular cave is characterized by long winding passages with narrow tunnels and tight corridors. A few rooms are accessible by curious cave goers, but the majority of the cave is only accessible by crawling, squeezing and climbing through small gaps.
The cave used to be open to the public, but after a few too many rescue calls and some unfavorable activities having been reported in the cave, the Austin Parks and Recreation Department installed a gate and closed it off to visitors. Don't lose hope, though, as you can schedule a visit with the cave manager for information about guided tours or supervised visits!
Backdoor Cave
Another cave in the Barton Creek Greenbelt system, Backdoor Cave is named for its neighboring Backdoor Spring just downstream from Sculpture Falls. 
The cave itself isn't nearly as large as Airmen's Cave, but at 15 feet wide and 60 feet long, it's just big enough for curious explorers to climb in and check out the cool rocks nearby. 
Bullet Cave
Okay, we're just hanging out in the Barton Creek Greenbelt area for now, since this popular cave is also just off the popular park.
Bullet Cave is a casual explorer's dream, since it's big enough to experience some proper darkness without really getting into any tight spots. The deepest point of the cave is 100 feet from the entrance, with a 40-foot narrow passageway and a 20-foot crawl space separating some inner rooms and caverns which, though they aren't too big, are still large enough to ogle at rock formations and read scary stories. 
Cascade Caverns
Back in the early 20th century when this cave first opened to the public, visitors had to be lowered into the cavern via a bucket on a rope and pulley. Today there are stairs — though they're arguably not nearly as fun.
Cascade Caverns is just a few miles south of Boerne, Texas, in a limestone formation created back when Texas was covered by a shallow sea around 145-100 million years ago. It differs sharply from previously mentioned caves not in formation or surrounding rocks, but rather in sheer size. 
The cave is known for its Cathedral Room — a 75-foot high cavern half a mile into the cave and 132 feet below the surface. A formation of shimmering stalactites hangs from the center of the ceiling, and a large waterfall spouts out of the back wall and empties into an underground lake below. All in all, it's a magnificent sight. 
Cave Without a Name
No, this isn't a placeholder name — this is really what the cave is called!
Cave Without a Name is considered by many to be the most beautiful cave in Texas, with exceptional examples of limestone stalactites, stalagmites, columns, arches and more throughout the underground cavern. This cave is also unique as it's been used as a concert and show cave for nearly a hundred years, where intimate concerts of 200 people (maximum) enjoy gorgeous acoustics bounding around the cave. 
Inner Space Caverns
Once upon a time in 1963, a group of unassuming Texas Highway Department workers were using a core drill machine on the side of Interstate 35 outside of Georgetown, Texas, when suddenly their drill bit simply… disappeared. 
After sending a worker down through the 30-foot hole they'd already drilled, the crew discovered that the drill bit had fallen into a cave which, up to that point, had been completely sealed from the outside world! 
One particularly interesting feature in Inner Space Caverns is the amount of ice-age fossils present in the caves, suggesting that the cave was partially open to the outside world back then, but that it closed up just afterward. 
Longhorn Cavern State Park
Longhorn Cavern is as much a museum as it is a natural cavern. 
Historical and archaeological evidence places Longhorn Cavern in several important periods of Texas history. The 11-mile long cave in Burnet County has hosted Native Americans from the Comanche tribe, as well as Confederate soldiers who used bat guano to create gunpowder. Later, the underground caverns even hosted speakeasies, dances and bars during the Prohibition Era!
Legend has it that Old West outlaw Sam Bass — who famously robbed a train of $60,000 worth of gold — buried his treasures somewhere in the deep, winding passages.
Natural Bridge Caverns
These huge caverns are some of the largest commercial caverns in the state, with over two miles of tunnels and passageways winding through the limestone. 
One of the more impressive features in this cave is actually above the cave — a 60-foot limestone slab that broke and formed a natural bridge over the entrance to the cave. That limestone cracked after a sinkhole collapsed and exposed the Natural Bridge Cavern entrance to the open air. 
Enjoy!
Pin it!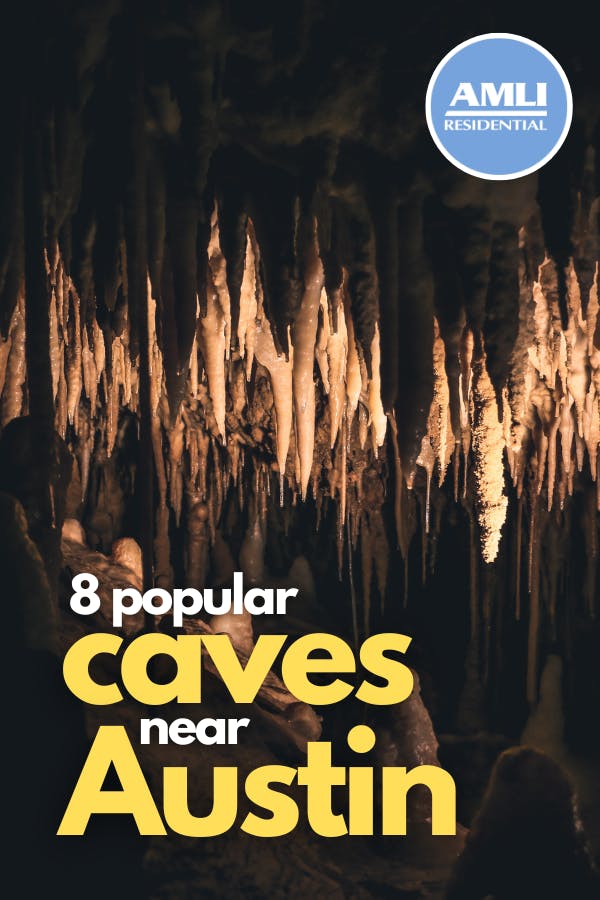 Featured photo courtesy Pixabay/BruceEmmerling