German Christmas cookies are unlike any others! Packed with flavor and diverse in shape, size and texture, these traditional German cookies are a must-make this holiday season. 
Give them a go! 
Best German Christmas cookie recipes
(Ranked out of 🍪🍪🍪)
Emperor's cookies
Flavors: Strawberry (or preferred jam flavor), vanilla
Difficulty: 🍪🍪
Total time: 2.5 hours
Layers of fruit jam sandwiched between buttery cookies and dusted with powdered sugar make these regal-looking cookies the perfect centerpiece for any holiday gathering. 
These simple cookies have few ingredients yet are stunning when assembled, as the top cookie of the sandwich has a hole through which the jam center peeks through. Most recipes call for strawberry jam, but feel free to use any flavor of fruit jam you like! Also play around with different shapes and sizes, like hearts, circles, stars or the traditional Christmas tree!
Spice cookies
Flavors: Gingerbread, lemon
Difficulty: 🍪
Total time: 1.5 hours
These round, spicy cookies are a staple in German homes around Christmas, and the dough can easily be made beforehand and frozen until needed.
The long list of ingredients are simple in essence and provide a rich flavor profile to these crumbly treats. Finish the baked and cooled cookies with a light powdered sugar and lemon glaze to really accentuate the earthy flavors of the gingerbread spice!
Vanilla crescents
Flavors: Vanilla, almond
Difficulty: 🍪
Total time: 1.5 hours
Originating in Austria but now popular all over Germany, these crumbly, crescent-shaped cookies are easy to make, quick to bake and are absolutely perfect for dunking. Dust liberally with powdered sugar for the full snowy effect!
Cinnamon stars
Flavors: Cinnamon, almond
Difficulty: 🍪🍪
Total time: 1 hour
These ultra-simple cookies have no flour in them at all, relying on the ground almonds and egg whites to hold the mixture together. Use a star-shaped cookie cutter to gently cut the shapes out of the delicate dough, then bake on a low heat until the outside is crisp. The cookies will soften slightly as they cool, making for an extremely light and airy cookie that's perfect alongside mulled wine or hot chocolate!
Spritz cookies
Flavors: Vanilla, nuts
Difficulty:🍪
Total time: 1 hour
Spritz cookies gain their characteristic look by using a cookie press to stamp out any number of shapes and patterns. The mixture itself can consist of whatever flavor one likes, but many traditionally use a simple batter of ground nuts, flour, vanilla, sugar and eggs. 
Marzipan potatoes
Flavors: Almond, cocoa
Difficulty: 🍪
Total time: 1.5 hours
Marzipan is essentially an almond paste made from sugar, water and ground almonds, with the texture and elasticity of slightly-crumbly fondant. It's usually added to cookies, cakes and pastries as an added flavor, but these marzipan potatoes feature the dough front and center!
These marzipan potatoes are a no-bake dessert that you can make easily at home. Plus, you can adjust the amount of sugar and liquid you add to the paste, making it as sweet or as strong as you like. Roll the paste balls into cocoa and voila! You have a tasty treat that's perfect for those who enjoy the rich almond flavors of marzipan. 
Traditional gingerbread cookies
Flavors: Gingerbread
Difficulty:🍪🍪🍪
Total time: 1+ hours (depending on how intricate you want them to be)
Gingerbread cookies are commonplace at many western holiday tables today, but the lacy, beautifully-designed gingerbread cookies and gingerbread houses were perfected by German bakers during the 18th and 19th century. 
The spices and fresh orange peel get stronger the longer the dough is allowed to rest, so prepare the dough anywhere from 2-8 days before you're ready to bake them! That way they will not only produce a stronger flavor, but they will also keep their shape better when baking.
Lebkuchen are intended to be intricately designed and decorated with flowers, thin nut slices and even rice paper pictures! They can also be threaded with ribbon and hung as decoration, and gifting lebkuchen to friends and family is a common practice in many households.
Chocolate spice bars
Flavors: Chocolate, rum, almond, cloves
Difficulty: 🍪🍪
Total time: 2 hours
These dark, spicy, chocolatey cookies have just the right kick of cocoa and spices to balance out any sweetness, especially when glazed with a fine layer of sugared frosting. And though the dough is thick, the finished cookies are soft and chewy with a slight brownie-like texture. 
It's the timing that's crucial here, as you'll want to make sure that you pour the melted sugar over the uncut cookies before they cool too much, then cut them immediately before the sugar has a chance to harden. 
Spiced cookies
Flavors: Gingerbread, almond, spices
Difficulty: 🍪
Total time: 1 hour
These gorgeously simple cookies are characterized by the rectangular shapes and embossed designs, which can be done either by hand-stamping the dough or by using an embossed rolling pin. The resulting effect is that of a simple-yet-attractive cookie with a warm, spicy flavor— perfect for giving as gifts or dipping in your morning coffee. 
Now that you're equipped with some of the tastiest cookie recipes out there, why not give these traditional German cookie recipes a go? They're easy, they're flavorful, and they'll make your apartment smell like Christmas all season long! 
Happy baking!
Pin it!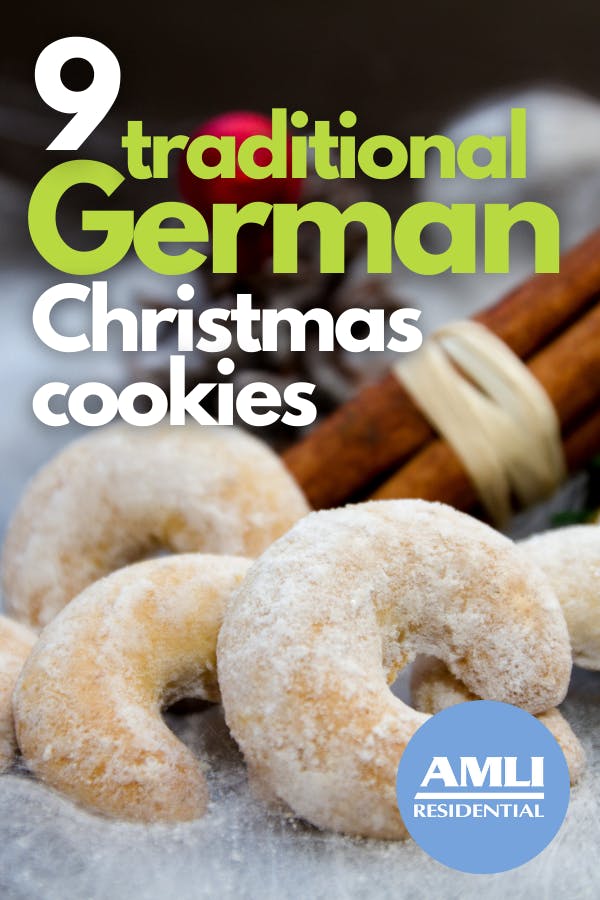 Featured photo courtesy Pixabay/TheUjulala