Let's face it: art classes are more fun as adults! We get to use quality supplies, we're trusted with basic tools and we have more choice over what we want to make and how we want to pursue it. It's all the fun we remember having as kids, but we're way cooler now so it's actually pretty nice.
Whether you're interested in trying your hand at pottery, glassblowing, photography, drawing or whatever catches your eye, Atlanta is chock-full of artists and studios ready to teach you all about it.
Here are some adult art classes around the area that you can try your hand at!
Adult art classes in Atlanta
Painting
Watercolor painting, oil painting, acrylic painting… you name it! Just like good ol' Bob Ross taught us, there's nothing stopping us from trying our hand at learning a new skill and finding joy in the process. All we need is a bit of guidance through it, and that's where all these handy painting classes come in.
The Vinings School of Art offers a 7-week painting course that allows the student to choose between a step-by-step guided composition or a self-chosen and self-paced subject. That way, you can decide on the medium, subject and technique, as well as just how much direction you want during your lessons. It's a win-win!
Glassblowing
Glassblowing is the kind of hobby that one simply cannot do at home (unless your luxury Atlanta apartments double as a fully-functional glassblowing studio!), making it difficult to commit to testing the waters.
Thankfully, The Hotlanta Glassblowing Studio in Doraville is the solution — a self-proclaimed "school for absolute beginners!"
With classes ranging from one-time introductory sessions to five-week classes to ongoing training and more, this is the perfect place to give this intricate and delicate art technique a go in a safe, secure environment surrounded by professionals.
Pottery & clay
Get your hands dirty (both literally and figuratively) with a pottery class that will teach you to make your own pots, bowls, planters, vases, mugs and more, all under the guidance of experienced artisans!
The Atlanta Clay Works in Kirkwood offers a variety of pottery classes, workshops and events catered to adults. Stop in at a hand-building session, or try your hand at throwing clay on the wheel, and if you're looking for something even more hands-on (ha!), then the eight-session courses for beginners through advanced are perfect for honing your skills. 
You can even make a party out of it by booking a private throwing event!
Printing
Screen-printing, block printing and cyanoprinting are the names of the game at the Atlanta Printmakers Studio, where both in-person and virtual classes and workshops cover a wide range of printing methods and techniques. 
Learn how to letterpress or screen print a poster, or maybe try your hand at intaglio printing or rust printing. Wood block engraving workshops and cyanotype (making prints using sunlight!) classes are also popular at the studio, and there is always a steady flow of workshops to keep things interesting.
Jewelry
Being able to make your own jewelry means never struggling with finding the perfect accessory again. It means personalized gifts and meaningful pieces, and it's a craft you can put into use long after you've finished making it!
The Atlanta Art Worx studio offers classes, workshops, private lessons and studio use for jewelry making and fabrication. The talented instructors and artisans will guide you through the planning process, help define your own style and vision and teach you to use the tools and machinery needed to make it happen. 
Group courses cover a wide range of skills in the metalsmithing realm, such as making chain link bracelets, metal-melting and beginner and intermediate metalsmithing technique courses. Their specialty workshops include Red HOT Date Night soldering classes, personal wedding band silversmithing classes, cuff bracelet courses and more!
Then, once you're proficient on your own, you can use the individual studio time to create whatever your heart desires!
Drawing
Drawing in and of itself covers a wide range of styles, materials, techniques and categories.
There are graphite drawing, pen drawing and ink drawing techniques, and within those are distinct styles like quick sketches, architectural studies, figure drawing and fine detailing. One can learn how to draw extremely life-like self portraits with pencil, or maybe minimalist line figures with pen and ink. 
Point is, drawing as an art form covers so many different genres and styles that you're sure to find something that you like! Plus, learning to draw allows artists of any medium to better be able to plan ideas and express their visions. 
If you're looking to dip your toes into the drawing world or are wanting to build upon existing skills, then there's a decent selection of adult drawing classes in Atlanta out there to choose from.
The Spruill Center for the Arts offers six-week drawing classes all year 'round in a variety of drawing techniques. Start with a basic drawing class, try a figure-drawing workshop or maybe focus on refining your work with light and shadow! Whatever your interest, there's something here to choose from.
Photography
For those looking to seriously up their photography game, Emory University's Continuing Education Center offers an in-depth, six-week photography course that covers everything from camera settings to subject composition to post-production editing and more! The hands-on assignments allow students at all levels of experience to hone their skills and refresh their memories with fellow photography enthusiasts, all while having access to group discussions and student critique!
Whatever your passion or interest, there's almost certainly an art class, workshop or course out there for you to try your hand at. In a city like Atlanta that's already so full of art and creativity, this is truly the best place to immerse yourself in some creative flows!
Have fun!
Pin it!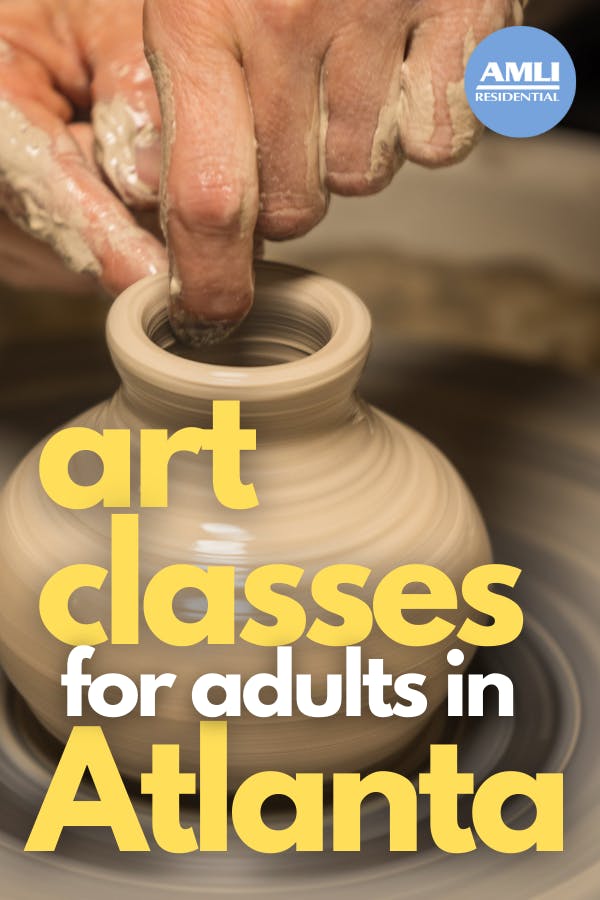 Featured photo courtesy Pixabay/marcelkessler