Seattle is a city filled with museums and attractions of all kinds. There are museums on wooden boats, on the Klondike Gold Rush, on the Underground and much much more, and all of them give a glimpse into the city's rich history through their own unique perspectives.
The Seattle CityPASS allows one to visit the city's top attractions at a fraction of the cost. It's a great way to entertain visitors, spend time with a date, brush up on a hobby or interest or just enjoy some unique exhibitions! 
Here's all you need to know about the Seattle CityPASS and what you can get out of it!
What is the Seattle CityPASS?
Like we said, the Seattle CityPASS allows you to visit five of the city's best attractions using just one ticket. This one ticket is a fraction of the total cost of all the separate admission fees, so it's a massive deal!
The ticket guarantees admission to the Space Needle and the Seattle Aquarium, both of which have hefty admission fees on their own. The ticket also includes admission to your choice of three of the following: Woodland Park Zoo, Chihuly Garden and Glass, Argosy Cruises Harbor Tour or the Museum of Pop Culture (MoPOP). You don't have to choose your three choices when you buy your ticket, so it allows for flexibility if you change your mind! 
How long is the Seattle CityPASS valid?
The Seattle CityPASS is valid for nine days starting on the day you first visit an attraction, though you have just one year to start using your ticket before it expires.
There are no restrictions on how many museums you can visit in a day, but since these museums are some of the most popular in the city, it's a good idea to reserve entry where you can so that you are able to visit all the places you want! You can only visit each attraction once on the CityPASS ticket.
How much is the Seattle CItyPASS?
The Seattle CityPASS costs $115 per adult and $87 per child. It may seem pricey, but you end up paying half of what you would have by paying for each museum's admission. Here are the single admission rates for each of these attractions as of this article's publication date:
Space Needle: $64.05 per adult, $48.30 per child
Seattle Aquarium: $39.00 per adult, $27.00 per child
Argosy Cruises Harbor Tour: $38.59 per adult, $22.05 per child
Museum of Pop Culture (MoPOP): $33.00 per adult, $23.00 per child
Woodland Park Zoo: $26.25 per adult, $16.25 per child
Chihuly Garden and Glass: $36.75 per adult, $22.05 per child
If you paid for an adult ticket at five of these museums separately, you'd end up spending around $215 — whereas the CityPASS ticket is just $115! 
What a bargain!
Where can I go with the Seattle CityPASS?
Head to the Space Needle on a clear day for the absolute best views of Seattle, Mount Rainier, the Cascade Range, the Puget Sound and the Olympic Peninsula. The top level features an open-air deck with glass benches and floors looking out through all-glass walls, providing unobstructed 360° views of the city. The lower floor contains the world's only revolving glass floor, allowing brave visitors to stare down at the city below and around them in a view rarely seen by tourists. 
Seattle CityPASS holders can visit the top twice in a 24-hour period, day or night!
Step into the underwater world of the PNW at the many exhibits at the Seattle Aquarium.
Walk through underwater tunnels surrounded by a whopping 400,000 gallons of fish and marine life native to the Puget Sound. Watch ocean mammals like sea otters and harbor seals splash and dive to their watery hearts' content. There are jellyfish, octopus, fish of all kinds, Pacific creatures and so much more — you'll never want to leave this underwater paradise!
Delve into Seattle's maritime history on a scenic cruise through the Seattle Harbor, offering gorgeous sights of the city's most famous landmarks above the peaceful waters. 
Keep an eye out for seals, fish and sea lions while on your tour and, if you're lucky, you'll catch a crystal-clear view of Mount Rainier towering above the shore!
This astounding collection of props, artifacts and photos brings visitors face-to-face with some of their favorite idols and interests. Stunning displays on music, movies, TV shows and video games bring fandoms to life, like the immersive Nirvana exhibit, the interactive video game lab, astounding light shows and props from all your favorite movies and TV shows. 
Set aside a good chunk of time for this museum to get the full experience!
Who doesn't love a zoo?
The Woodland Park Zoo sits on 92 acres of lush space that offers its 300+ animal species ample space to live and roam. Visitors can experience sustainable exhibits, view natural habitats, learn about conservation efforts and experience interactive educational programs that aim to protect the animals housed in this Seattle zoo.
Walk among towering glass sculptures and stunning colors in this immersive art museum. Delicate glass sculptures are set in an equally stunning garden of bright flowers, lush trees and shimmering plants, creating an environment that's unlike any other.
Where can I get a Seattle CityPASS?
It's very easy to get a Seattle CityPASS at your own convenience. You can either buy mobile tickets online through this website, or you can buy them in-person at many of the museums on this list. 
If you live in any of our Seattle apartments, then the Seattle CityPASS is a must not just for you to experience all your city has to offer, but for your visitors, friends and families to experience it, too!
Enjoy!
Pin it!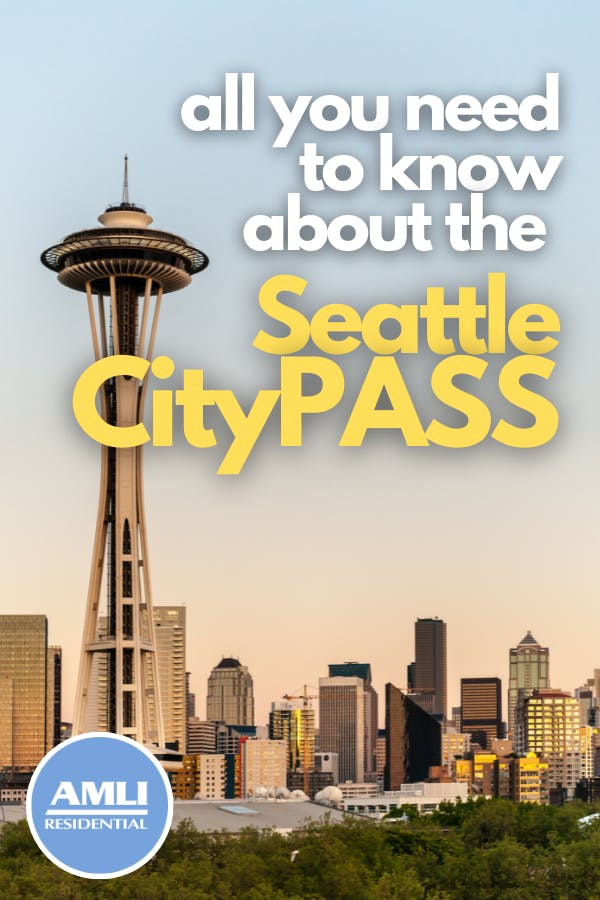 Featured photo courtesy Pixabay/12019