The AMLI PERKS program can go a long way for residents looking to save a few bucks. Not only will the program keep hard-earned cash in the bank, but it also allows residents to get more familiar with the neighborhood. This is especially true for those coming in from out-of-state or moving across town.
AMLI PERKS are discounts that are hand-picked by the staff at every single AMLI community. Many of these deals providing savings at local restaurants, bars, hair salons, fitness studios, hotels, and more are available to AMLI residents only.
Take a look at the AMLI PERKS available at your apartment community.
One of the most successful AMLI PERKS partnerships to-date has been between AMLI River North and Kick@55 Fitness. This downtown River North fitness studio offers boot camp classes and personal training sessions, as well as other workouts. Seeing as the gym is just a short, five-minute walk away, it was a no-brainer to partner up and offer AMLI River North residents steep discounts on fitness classes and memberships. Currently, AMLI River North residents receive exclusive loyalty club pricing in addition to other benefits.
At times, AMLI PERKS partners run specials that enhance or work alongside these deals. Such was the case with Kick@55 Fitness when they offered six free classes to AMLI residents as well as with Highline Bar + Lounge, which gave residents a whopping 40 percent off their brunch bills.
Several AMLI River North residents who took advantage of Kick@55's free classes actually ended up becoming full-time members at the gym. Read selections of their testimonials below.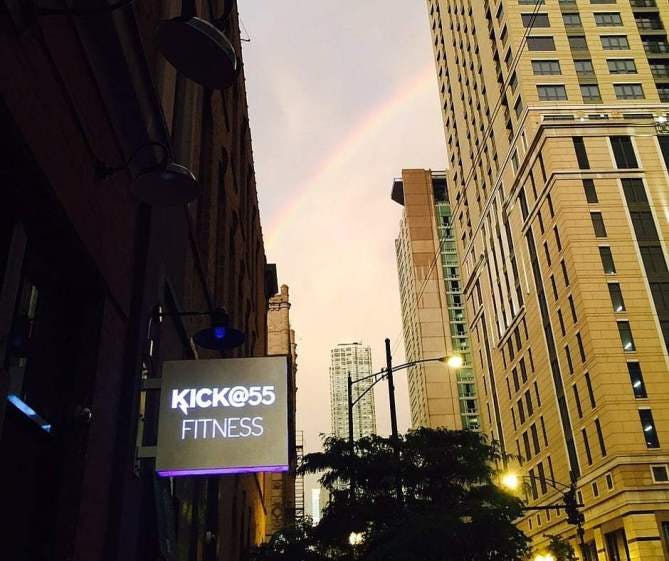 At first, I thought I would go to Kick 1 or 2 days a week and try other workout classes but I was immediately hooked. I started going 4-6 days a week and have never looked back! I immediately appreciated the sense of community and felt at ease with all of the instructors. I've lost over 10lbs and haven't felt this good since playing varsity sports back in high school!
– Sarah L.
I signed up with some hesitation not knowing what to expect. Once I finally tried a class, I found a type of challenge that's tough to get from a traditional gym workout. Before long, I was signing up for almost every class. I've never been a morning workout person, but Kick's convenient location made it easy to get in the habit. Even in the winter, that short walk across the street always feels manageable and helps me to stay motivated!
– Luke S.
I've now been a member of Kick@55 for nine months, and it all began entirely due to the promotion offered in conjunction with AMLI. The high intensity training classes at Kick@55 are the hardest, most effective work out that I've ever experienced. It really helped that the promotion was for more than one class, as the first few classes were really challenging and I wasn't sure about joining. Now, I'm totally addicted. I think I'm in the best shape of my life, and it all started one day in the lobby of AMLI!
– Eric S.
Learn more about the AMLI PERKS program and what discounts are available at your AMLI community.
Check out the bootcamps and other programs offered by Kick@55 Fitness.
Like what you just read? Why not subscribe to the AMLI Blog so you don't miss another post?