Bathrooms are not rooms in which we usually go to relax or spend leisure time. However, that doesn't mean that you can't make it an enjoyable room to be in! Whether you're decorating a full en-suite bathroom or just a small half-bathroom, it's always nice to have some fresh looks and stylish decor. 
While you may not be able to do some serious construction and renovation in your rental bathroom, there's still a lot you can do to turn your regular bathroom into a boho bathroom, rustic bathroom, minimalist bathroom or whatever kind of bathroom you want!
When it comes to decorating apartment bathrooms, there are a few things you should think about before you start buying and shuffling.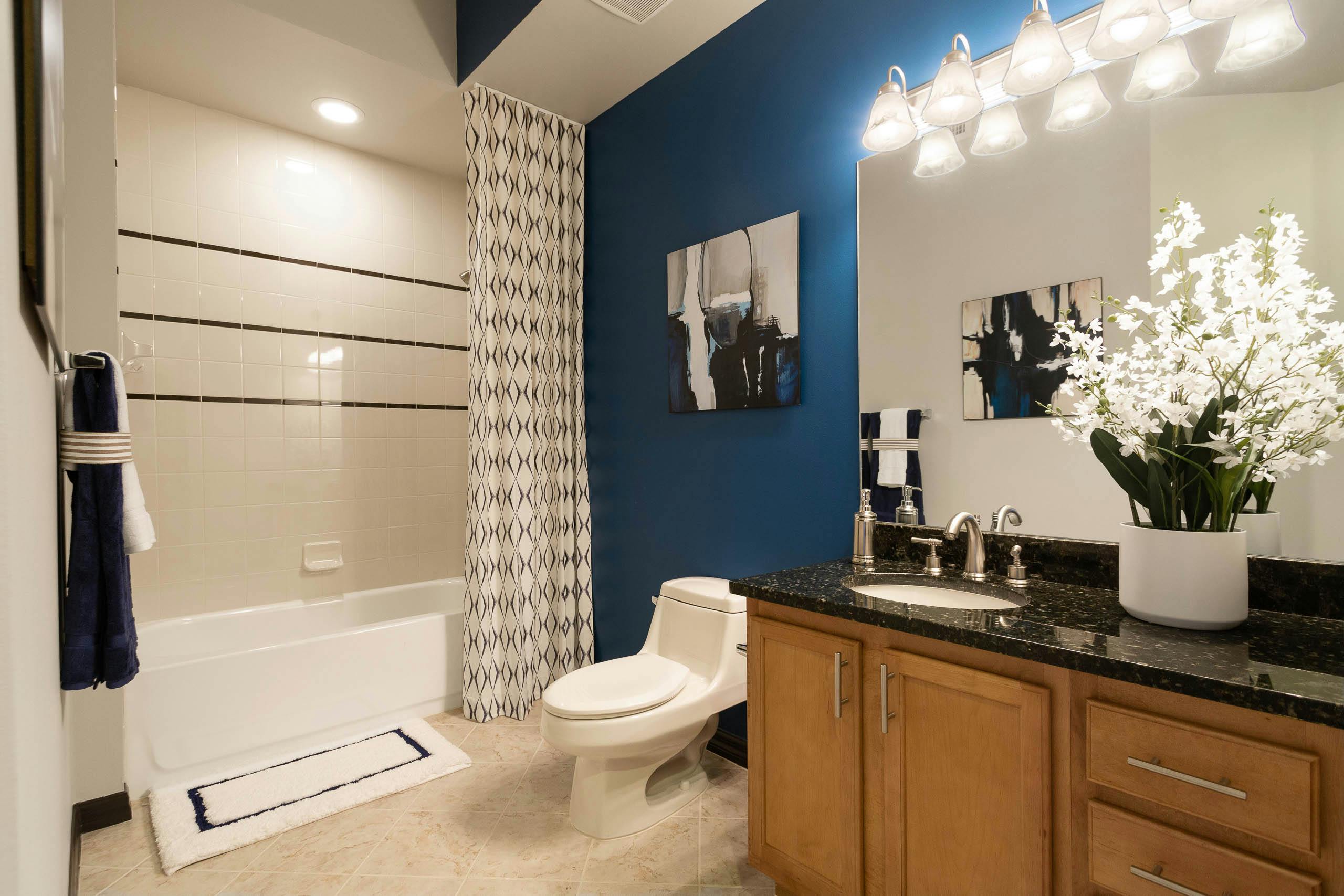 Space
You could have all the best intentions and ideas in the world, but if your bathroom doesn't have space for that multi-tiered storage shelf, then you're going to have to change your plans. Instead, before you start decorating, evaluate your space and think about how much you can realistically add to the room. 
Storage
Bathroom storage is essential, as bathroom items can quickly become cluttered and messy. It's always a good idea to go through your bathroom drawers regularly so that you can clear out the products you aren't using anymore, such as old makeup, empty shampoo bottles, old toothpaste tubes and the like. 
The key to a clean bathroom is to not have a messy counter. If there are toothbrushes, medicine bottles or soap dispensaries everywhere, it will feel like your bathroom is never clean. Store all your odds and ends in organized drawers or shelves so that you never have a messy bathroom again! Keep this all in mind as you evaluate your bathroom's redecoration potential.
Lighting
How much light does your bathroom get? If you feel like your bathroom is too dark, then keep that in mind when you pick out the colors and decor so that you can add as much light as possible. For example, if you've got a small, windowless, dark bathroom, then maybe look for decor that is brighter and more minimal instead of dark, bulky decor.
Color scheme
This concept goes along with the lighting concept. Pick color schemes that will make your bathroom feel fresh, clean and decluttered, such as white and turquoise, white and blue, light grey and coral or baby blue and tan.  If you've got a large, bright bathroom, then you can probably afford to add in a few more plants and patterns than you could in a smaller bathroom.
Now that you know what to look out for, here are some fun apartment bathroom decor ideas that you can implement in your home.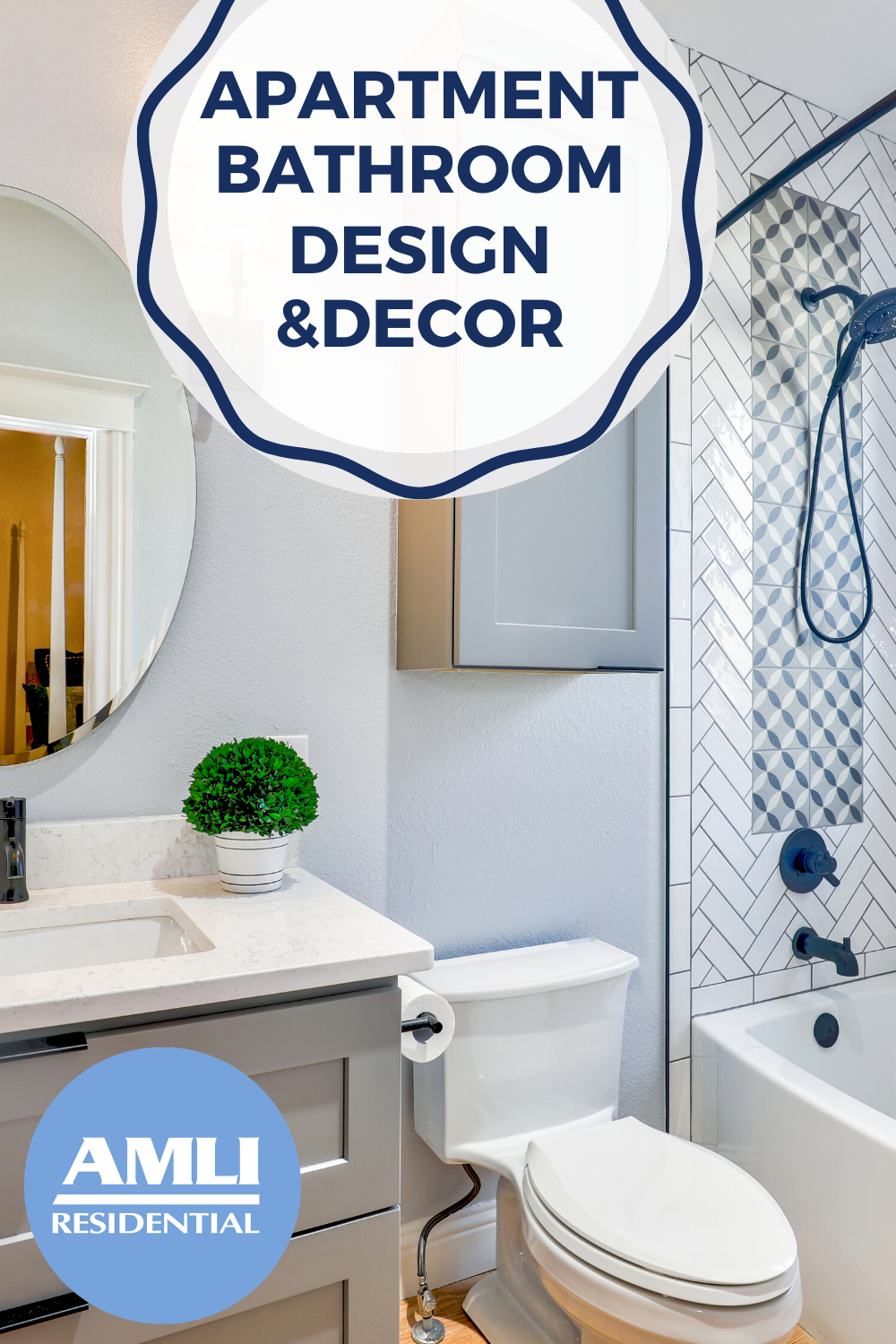 Apartment bathroom decor ideas
Bathroom wallpaper
One of the best-kept secrets in the rental community is the existence of removable, rental-friendly wallpaper. Removable wallpaper is a peel-and-stick wallpaper that can be used for walls, cupboards, floors and ceilings, so there's nothing stopping you from having that tropical-style bathroom with leafy wallpaper and Terracotta style floors!
Here's an example of how you can use removable wallpaper to give your medicine cabinet a makeover, and here's a link to a wallpaper you can use on the floor or wall! Plus, check out our article on all things removable wallpaper!
Bathroom shower curtain 
A bathroom shower curtain is a big statement, and luckily it's a very easy bathroom element to personalize! Go for bold colors, colorful patterns, subtle gradients or a solid monochrome that will match your color scheme. If you've got brightly-colored or patterned walls or wallpapers, then you may want to go for a more neutral shower curtain so that the colors and patterns don't clash.
Pro tip: if you have a slide-door, then you could always get a tension shower rod that extends to fit the space above your door. That way, you can turn your shower door into a shower curtain!
Bathroom plants
A splash of bright green leaves can make a bathroom look fresh, light and clean, no matter the size! 
The humidity in bathrooms can be great for some tropical plants but maybe not so great for others, so it's important to know what plants are good for bathrooms and which ones aren't. Check out this guide for great bathroom plants, and if you're not too eager on having a live plant, you could always get some stylish fake plants, too! 
Bathroom storage
As we've said, bathroom storage is super important! It's pretty easy to do well, though, so don't feel intimidated. 
First, make sure that your bathroom storage is not see-through. No one should be able to see the cluttered medicine cabinet contents through a plastic shelf, and your jar of hair ties, bobby pins or jewelry can be neatly shoved into a ceramic jug that no one can see through. It's impossible to have a completely organized bathroom, we know, so that's why making your containers, jars and baskets appear organized is key! No one will ever know how messy your makeup collection is, and no one ever has to. 
Second, if your storage is also your decoration, then that's a win-win! Get some jars, baskets and shelving that match each other, and you get both efficiency and style all in one. 
Bathroom artwork
Artwork belongs everywhere, even in the bathroom! Don't be afraid to hang up some artwork (make sure it's okay with your landlord first!) to add some extra style to your bathroom space. Be careful with delicate artwork or paper products, though, as the humidity of the shower may damage the art. It's probably best to stick with something you can easily replace, or something that is practically indestructible. 
Whatever you decide to do to decorate your apartment bathroom, just remember to have fun and make the space your own! For more ideas and tips on styling up your bathroom, check out our articles on keeping your bathroom organized, easy ways to transform your apartment bathroom and ways to luxe up your bathroom with accessories.
Enjoy!
Pin it!