Your living space reflects your personality, and a few rolls of removable wallpaper for renters can turn a simple surface into a more personalized pop of décor. There are a few different types of apartment-friendly wallpapers out there these days, but peel-and-stick wallpaper is the number one choice for renters. It is almost ridiculously easy to install and remove without damaging the surface in any way. These types of easy self stick wallpaper represent a fast-growing market in the interior design world, so the sky (or the wall) is the limit when it comes to crafting adhesive accent walls.
What to look for in a temporary wallpaper
Water-based ink
Not all wallpaper manufacturers use water-based ink on their products, but it's a big plus if they do. Water-based ink is much more environmentally-friendly than the usual chemical inks, as the ink runoff during production is not nearly as toxic.
Material
Many wallpaper suppliers are heading toward using sustainable materials for their products. Look for wallpaper made with recycled paper, as it often contains fewer toxins than the regular vinyl options. If you want to be even greener, find a Forest Stewardship Council (FSC)-certified paper.
Chemical compounds
Many wallpapers contain PVC which can leak volatile organic compounds (VOCs). When doing research into wallpapers, keep an eye out for the materials and chemicals used in each one. Steer clear of VOCs which can be harmful to breathe in, and instead search for low-VOC wallpaper. Hint: if the paper has a Greenguard certification, there are little to no VOCs.
Installation type
The best part about finding a rental-friendly wallpaper is the ease with which you can install and remove it. Peel-and-stick wallpapers don't require any wallpaper paste or liquid to install. Just peel, stick and enjoy. It's as easy as it sounds. It's just as easy to remove, too, so you never have to worry about losing that deposit when you move out of your rental.
Intimidated? Don't be. Learn a little about the history of wallpaper, and check a few online stores below where you can buy your own.
Wallpaper in the home: a brief history
Don't think that wallpaper has to look like your grandma's kitchen. Although wallpaper has been around for millennia, it has (thankfully) evolved with the times. In fact, the Chinese were gluing rice paper to their walls as early as 200 B.C., so today's wallpaper technology has had quite some time to perfect itself.
As the use of wallpaper began spreading west toward the Middle East in the eighth century, the use of linens started phasing out and giving way to woods and bamboos. Thus, wallpaper makers started featuring thinner products closer to the wallpaper we know today.
Before the printing press was invented, colored wallpaper was created by hand-painting large rolls of paper. King Louis IX of France, for example, commissioned an artist to paint some rolls of paper for him to travel with and install at his palaces.
Modern advancements
By the time the printing press rolled around, wallpaper was all over the western world. Special wallpaper printers could print large rolls of paper, printing blocks were used to make intricate designs, and silkscreen printing had made its way over from China and Japan.
When plastics and resins became popular after World War II, wallpapers became more durable and stain resistant which, in turn, led them to last longer. At the same time, however, tastes among westerners evolved and changed, with many seeking to discard the embellished decorative styles of their ancestors. This led to a drop in wallpaper popularity for a few decades.
It appears tastes have shifted again. Technological advancements in design and printing have sent a breath of fresh air into the wallpaper world, where one can print virtually any design on any surface. The ease that removable wallpapers provide give users the freedom to decorate and design without the permanence and investment that old-fashioned wallpapers once required.
If you are interested in the finer details of wallpaper's rich history, check out this article.
Whether you're looking for borders, murals or a simple texture, Wallpaper Warehouse has probably got what you are looking for. It offers free shipping for all domestic orders and some great deals on high-quality designs, so you can spend more time (and money) on the aesthetic you are building.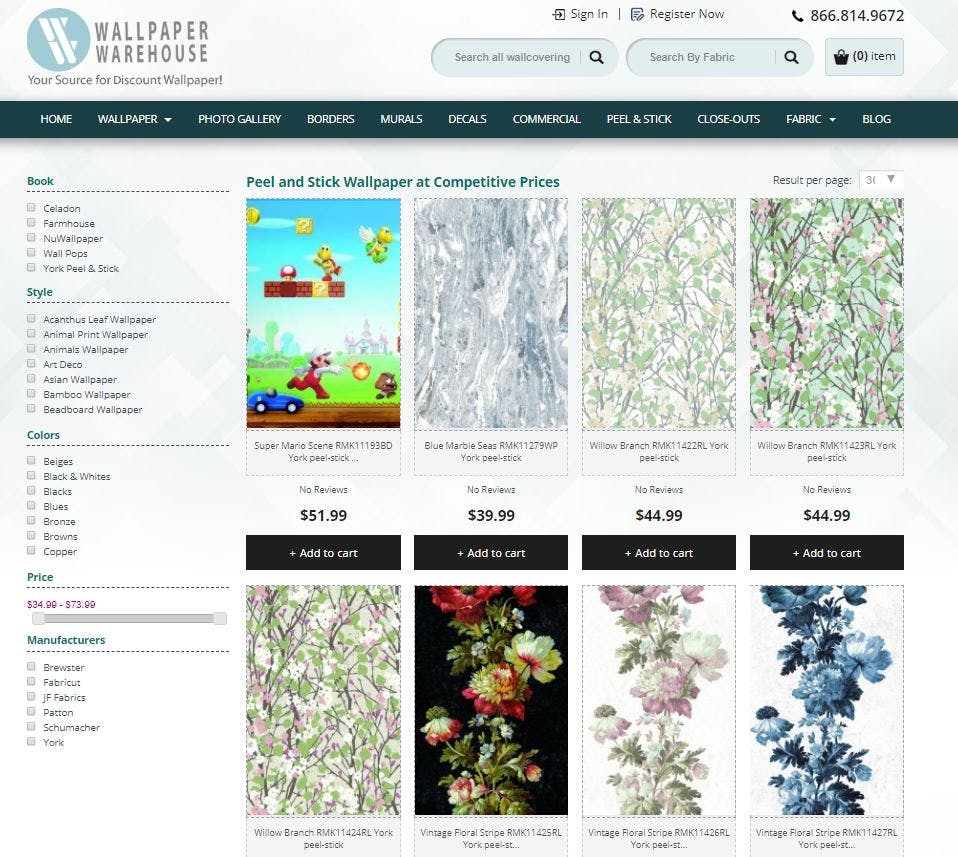 This online store works hard to support entrepreneurs and eco-friendly printing. With thousands of designs in its database, Spoonflower can turn the pattern of your choice into a wallpaper or fabric. There's also an option of submitting your own design for printing, which you can also sell. These wallpapers are easy to install, remove and reposition, so feel free to exercise your creativity without fear. With no minimum orders and plenty of discounts, Spoonflower is a great place to start a creative foray into the world of interior design.
You can't go wrong with your local big box hardware store. Home Depot's online collection of wallpaper for renters offers almost five thousand removable patterns to choose from. With easy application guides and free delivery, surely the hardest part of your next wallpaper adventure will be choosing the pattern.
Support small businesses and artists by browsing the tens of thousands of wallpaper options on Etsy. Filter by art style, pattern or room to narrow down the results until you find exactly what you're looking for. And, while you're there, order some unique art pieces to bring an extra sense of style to your new accent wall.
There's a style for everyone in the RoomMates database of temporary wallpaper for renters. From bold stripes to soft floral patterns and everything in between, RoomMates makes it easy to remove and reuse its products on walls, furniture and statement art pieces. Check out the video below for an easy how-to guide to installing and removing their peel-off wallpaper.
No matter your style, new peel-and-stick technology eliminates the need for messy glues and allows wallpaper for renters to be available almost anywhere. However, always check your AMLI community's guidelines to make sure your building allows wallpaper installation before moving forward. Happy decorating!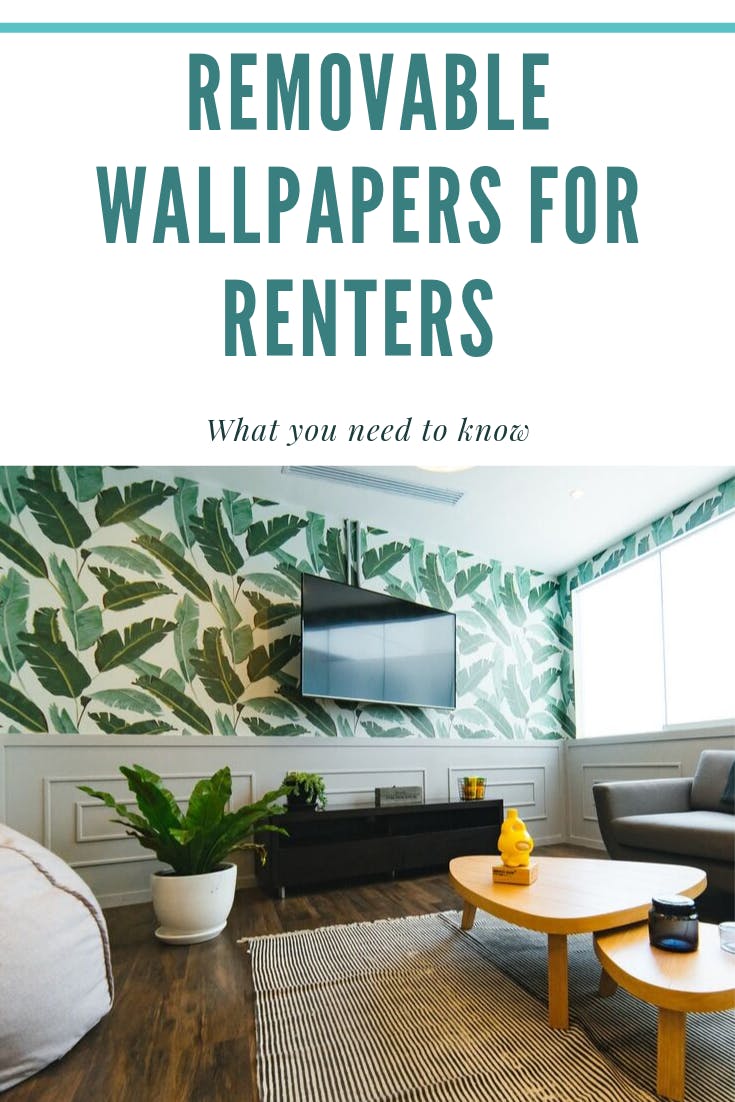 ***
Main photo courtesy Unsplash/Dan Gold