If you live anywhere near our luxury Chicago apartments, then you'll have surely passed by some of the grand churches and cathedrals scattered throughout the city.
With rich histories centered around immigrant communities and cultural centers, Chicago's many churches have played a large part in creating the city as we know and love it today. And, true to Chicago's love for great architecture, some of them are absolutely stunning!
Here are a few of the beautiful churches around Chicago that you can visit!
6 architecturally significant churches in Chicago
Year built: 1904
Location: 1650 W. Foster Ave.
Interesting features: Neo-Gothic-style architecture, stained glass windows, murals
The congregation of Ebenezer Lutheran first gathered as far back as the 19th century and, after moving and rebuilding a few times, settled in its current home in 1904. 
Ebenezer Lutheran was founded by Swedish immigrants to the Andersonville neighborhood, and it was a pillar of the quickly-growing Swedish community in the decades that followed. The church itself was founded in 1892, but the stunning building we see today was first used in 1904. The Swedish connection remained strong over the years, and you can still attend services in Swedish. 
Year built: 1875
Location: 730 N. Wabash Ave.
Interesting features: Gothic-revival architecture, tower, pinnacles, pointed arches, wooden tracery indoors
Chicago's one and only cathedral is certainly a spectacle, what with the towering Gothic revival exterior, crystalline stained glass windows, stunning interior and a rich history of perseverance through Chicago's greatest struggles.
The Parish Of Holy Name Cathedral first formed in 1843, and a few years after that the Chapel of Holy Name was established. After the Chicago Fire destroyed the old building, a new one was built and it became the official seat of the Archdiocese of Chicago, which has become one of the largest and most influential dioceses in the nation. 
Year built: 1856
Location: 700 W. Adams St.
Interesting features: stained glass, Romanesque architecture, towers
This church is aptly named, as it was lucky enough to avoid any damage from the Great Chicago Fire in 1871. It's also one of the oldest churches in the city, making it a central piece of Chicago's history.
Old St. Pat's, as the locals call it, is a pillar of the Chicago Loop community and regularly organizes events and block parties in the area. 
Year built: 1891
Location: 2401 S. Wabash Ave.
Interesting features: Gothic architecture
This Near Southside place of worship is home to Chicago's oldest African-American Church (established in 1844!) and holds great historical significance for not just the city, but for the nation as a whole. 
Quinn Chapel's small congregation first met in the present-day Monadnock Building in Chicago back in 1847. Many attendees were former slaves and were active members in the abolitionist movement, and it wasn't long before the church as a whole became involved in the abolitionist movement. Quinn Chapel became a station on the Underground Railroad, and four of the church's women became key figures in aiding escapees once they reached Chicago. These four women were known as the Big Four, and they acted as conductors for the weary travelers and gave them food, water and shelter to anyone coming off the Underground Railroad. 
Later, once the church moved to its current location in 1891, Quinn Chapel continued its activism by acting as host for many famous activists and speakers. Abolitionist Frederick Douglass spoke to a crowd of 1,500 there in 1893. Dr. Martin Luther King Jr. visited the church and spoke there in 1965, Susan B. Anthony spoke there in 1894 and W.E.B. Dubois in the 1930s. More recently, President Barack Obama addressed the church back when he was still a senator. 
Year built: 1898
Location: 825 N. Carpenter St.
Interesting features: Polish cathedral style architecture, Baroque interior, gold details, painted ceilings
This church overlooking the Kennedy Expressway is a must-see if you are a fan of architecture. 
The stone exterior is built in the High Renaissance Style, which features Corinthian and Ionic columns, arches and other classical elements. The smooth limestone supports two towers topped with copper gilding, designed to imitate the iconic towers of St. Mary's Basilica in Krakow, Poland. 
The church's Baroque interior, however, can make one forget the gorgeous exterior altogether. Ornate columns draw visitors' eyes up to the tall, vaulted ceilings where gilded arches and supports meet high above the altar below. Stained glass windows illuminate the sparkling interior, shining gentle light on the Biblical murals lining the walls. Floors created from hardwood from all over the world are inlaid with golden medallions depicting Biblical scenes and stories — a design only found in this church out of all in the nation!
It's certainly worthwhile visiting this Chicago church that has been dubbed "America's Most Beautiful Church". Not just for its immense beauty, but for the significance this church has held in the Polish community that has gathered here since the late 19th century.
Year built: 1899
Location: 1850 N. Hermitage Ave.
Interesting features: Roman Renaissance architecture, murals, gold (like, everywhere!), grand organs
Touted as one of the finest examples of Roman Renaissance architecture in the nation, St. Mary of the Angels Parish is one of Chicago's most beloved structures. 
The interior and exterior was designed to imitate the iconic St. Peter's Basilica in Rome, Italy. It shares the same brick exterior highlighted with white terracotta, towers and bells, as well as a large dome above the nave. Inside, rounded arches gilded with gold and ornate décor lead to a massive central atrium lit by stained glass windows surrounding the altar. A massive organ — a one-of-a-kind piece in Chicago — sits underneath grandiose murals and detailed sculptures. 
Next time you're driving through Chicago and pass one of these churches, stop for a tour and witness the stunning architecture and cultural significance these Chicago buildings have had on the history of the city and its people for over a century!
Pin it!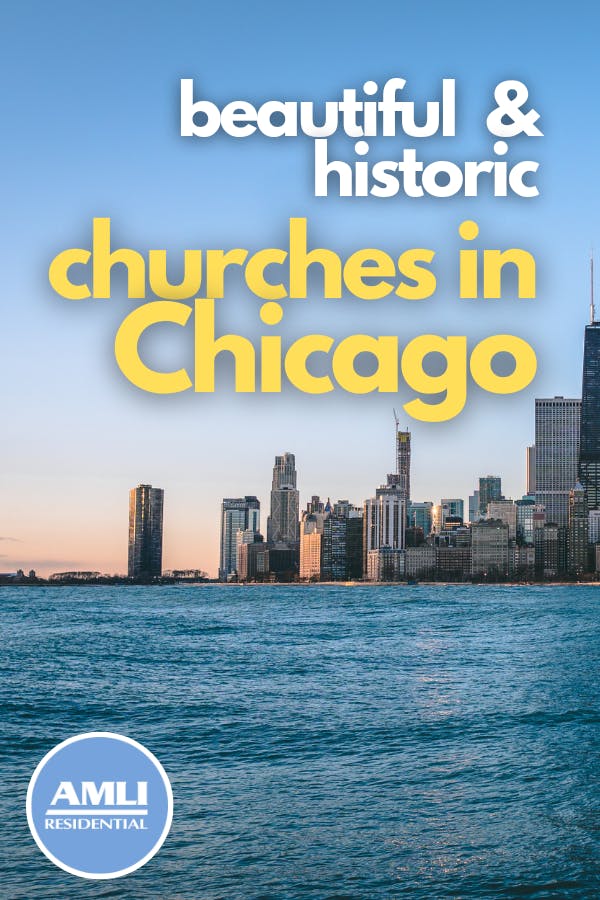 Featured photo courtesy Unsplash/Karl Frederickson