In most of the country, camping is primarily a summer activity. But in Southeast Texas, the outdoorsy pastime is especially pleasant during fall, winter, and spring. If you're craving some time in nature or a night under the stars, now's a great time of year to for weekend camping in the region's state and national parklands. Dig up your camping gear, pack supplies, and head for one of these stunning camping spots near Houston.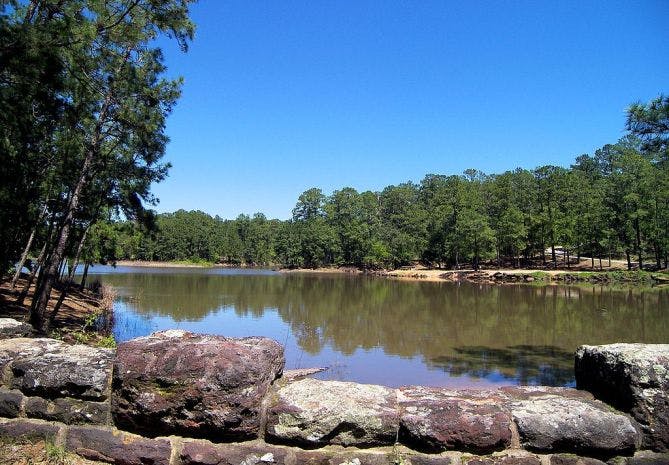 A wildfire devastated Bastrop State Park's scenic Lost Pines in 2011. But the forest, lush and verdant just a few years into recovery, is well on the way to regaining its former splendor. Bastrop State Park's 76 campsites include full hook-up, standard (water and electricity) basic, and walk-in only options. 14 historic cabins are also available for rent. The park offers seven miles of hiking trail, 12 miles of scenic road cycling and mountain biking trail, fishing, and swimming for recreation. If you desire a break from nature, nearby Bastrop is home to worthwhile museums, restaurants, and shopping. Bastrop State Park is 130 miles from downtown Houston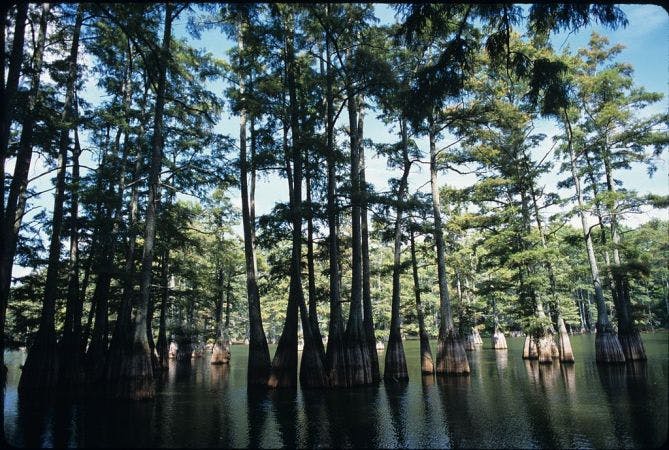 Texas's biologically diverse Big Thicket National Preserve is an outdoor enthusiast's dream. Nine distinct ecosystems thrive in the 112,000-acre park, which is home to dozens of rare species of plant and wildlife. Big Thicket's camping is of the backcountry variety, which definitely limits its accessibility. But if you have backcountry camping experience or the bare-bones experience appeals to you, Big Thicket is a gem. There are no designated campgrounds, but you can pitch your tent in suitable areas where camping is permitted. If you have a canoe or kayak, you can also camp on a sandbar along the Neches River or Valley Creek. A camping permit is required, and may be obtained for free at the visitor center. Big Thicket National Preserve is 100 miles from downtown Houston.
Just 45 miles from Houston, this expansive state park is home to 37 miles of hiking, biking, and horseback trail. Other popular activities include fishing, birding, geocaching, and alligator watching. Brazos Bend State Park has 112 campsites, including equestrian and youth group camping spots. One cabin and 13 screened shelters are also available for rent.
Spend a weekend like the king of the wild frontier by camping in his namesake 160,000-acre East Texas woodlands preserve. Park highlights include the Four C National Recreation Trail, which traverses 20 miles of forest and swampland, and the 45-acre Ratcliffe Lake. The Ratcliffe Lake Recreation Area boasts 65 year-round campsites. The campsites are relatively primitive, but the bathrooms are equipped with flush toilets and hot water showers. Davy Crockett National Forest is 130 miles from Houston.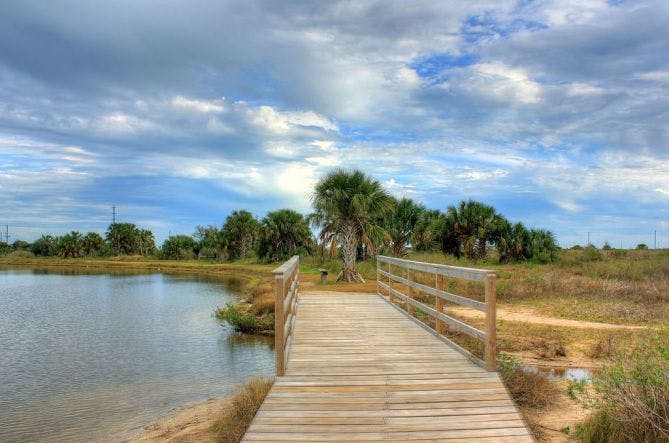 Just south of the City of Galveston, this nature refuge is known for fishing, paddling, geocaching, birding, and spectacular sunsets. The park has four miles of scenic trail, 66 bay- and beach-side campsites, and two amenable cabins for rent. Galveston Island State Park is just an hour's drive from AMLI Memorial Heights.
Huntsville State Park is a 2,000-acre wooded recreational area in the Sam Houston National Forest. 21 miles of trails, playgrounds, and the 210-acre Lake Raven make possible an endless array of activities. Bike, hike, fish, swim, paddle, and ogle at the park's alligators, birds, and other wildlife. This family-friendly camping destination, 70 miles north of Houston, is home to more than 160 campsites. It also has an on-site supply store, convenient for campers who discover they've left essentials behind.
Just 30 miles north of downtown Houston, Lake Houston Wilderness Park's campgrounds feel more remote than they are. This is thanks to the park's nearly 5,000 acres of forest and 33 miles of hiking, biking, and equestrian trail. Lake Houston Wilderness Park has group, walk-in, and backpacking campsites, as well as cabins, A-frames, and screen shelter rentals.
Does a campground with views of Texas's fifth largest lake sound ideal to you? 22 of Lake Livingston's 137 camping spots look out onto the lake. Reserve a site on the Piney Shores Loop, and prepare for a weekend of good views and outdoor adventure. Lake Livingston State Park is 90 miles north of downtown Houston.
Located 50 miles north of Houston, this 163,000-acre preserve offers an array of hiking, fishing, swimming, and wildlife-spotting opportunities. The forest is populated by deer, frogs, hogs, rabbits, squirrels, and dozens of bird species. In addition to Huntsville State Park, Sam Houston National Forest has several developed camping areas with hundreds of units. A favorite is the scenic Double Lake Campground, home to 42 campsites, including several ADA-accessible and family camping units.
Just south of Port Arthur, Sea Rim State Park's bucolic atmosphere induces relaxation. If you can handle primitive camping, your blood pressure is sure to drop almost as soon as you arrive. Pitch your tent on one of the park's 23 beach or beach-adjacent campsites, and enjoy the peace, quiet, and starry nights. If you need your creature comforts, reserve the park's lone cabin, an air-conditioned abode that sleeps six. Sea Rim State Park also has one camping raft, an inflatable fishing boat you can pitch your tent on. Most of Sea Rim's campgrounds reopened in late October. However, the park's East Beach Entrance and camping raft were still closed at the time of writing. Sea Rim State Park is 120 miles from downtown Houston.
The Brazos riverside location of Texas' first colony makes for a scenic getaway just about 45 miles west of AMLI Uptown. Stephen F. Austin State Park, known for its abundant white-tailed deer population, is also an underrated birding destination. The park's 165 campsites and limited-use cabin facilitate exploration of the park's six miles of hiking and biking trail.
Like what you just read? Why not subscribe to the AMLI Blog so you don't miss another post?