With all the breweries, brewpubs and craft beer here in Denver, one would think that distilleries would have had a foothold in Colorado's alcohol scene for decades, right? Especially with so many world-renowned distilleries and international-award-winning blends.
That's what we thought, too. But it turns out that Colorado's first distillery only opened in 2004! Yet despite the relatively recent arrival to the liquor scene, Colorado's distilleries have skyrocketed to the top of the industry and are recognized all over the world.
Here are just a few of the best distilleries in and around Denver that have placed Colorado on the world whiskey map.
Best whiskey distilleries around Denver, Colorado
Location: 200 South Kalamath St, Denver, CO
Types of whiskey: Single Malt American Whiskey
Distillery tours: yes
Colorado's whiskey industry is fairly young (at least, the legal industry is!), having only officially started in 2004 with this very distillery itself. 
It started back when Jess Graber, a firefighter, met liquor connoisseur George Stranahan while putting out a fire in his building. They bonded over their love of Colorado and fine whiskey, and soon the two went into business together to create not just the first craft distillery in Colorado, but one of the first in the nation! It was the first distillery to open in the state since the Prohibition, and its classic Single Malt spirit has since kicked off a craze of microdistillation all over the nation. 
Stranahan's essentially invented the Rocky Mountain Whiskey designation, so you know it's one of the best distilleries you could find in the city, the state and in the nation!
Location: Indiana
Types of whiskey: Rye, American Whiskey 
Distillery tours: no
Tincup whiskey is all about Colorado and the state's early history. It's so named for the tin cups that Gold Rush-era miners would drink their own locally-brewed spirits from, and the whiskey's entire brand is dedicated to the Rocky Mountains which inspired the drink in the first place. 
Though the brand is Colorado to its core, the whisky itself is actually distilled in Indiana from grains grown in the Midwest. It's then shipped to Denver, cut with water straight from Rocky Mountain streams and bottled in the same facility as Stranahan's whiskey is. 
Why the Colorado theme, then? The fact that the whiskey is cut with the crystal-clear waters of Colorado's freshest and cleanest rivers is quite a big deal, as the state's water is known for its clarity and freshness. Plus, whiskey is cheaper to distill in the Midwest, so you're getting a high-quality drink for half the price of, say, Stranahan's.
Location: 1925 Airport Road, Breckenridge, CO
Types of whiskey: Single barrel, Cask, Bourbon, Rye
Distillery tours: yes
There's not much better than a smooth whiskey to warm you up after a day on the slopes, and Breckenridge Distillery has certainly made a name for itself as one of the best in the biz. 
Its most popular spirit is its blended bourbon whiskey, which has won international awards at least four times for its superior craftsmanship. And, just to cement it as one of the most unique distilleries in the state, it's also the highest distillery in the nation, sitting at a 9,600-foot elevation. How cool!
Location: 4242 N Nevada Ave, Colorado Springs, CO
Types of whiskey: Small Batch, American Whiskey, Colorado Rye, Colorado Bourbon
Distillery tours: yes
This fairly new distillery has been making waves in the whiskey world, thanks to its careful use of Colorado ingredients and expert craftsmanship.
The distillery's owner, Michael Myers (no, not THAT one — a different one), wanted to replicate the Wild West and the Rocky Mountains in his creations, and in 2011 his first bottle was pulled off the still. It contained grains from the eastern Colorado plains, water from Pike's Peak reservoirs and was finished with toasted aspen sprigs, giving it a unique taste and structure that stays true to Colorado and its rugged beauty. 
Location: 412 Violet St., Golden, CO
Types of whiskey: Rye, Single Malt, Bourbon
Distillery tours: yes
This small distillery is already world-renowned for its artisan whiskeys and liquors, despite only being in business for 14 years. Its pièce de résistance is almost certainly its Gun Fighter American Rye Whiskey, which is processed and aged using equipment dating back to the mid-1800s, an era of exquisite whiskey-making.
But it's not just the whiskey that sets this distillery apart from its peers. Co-owner Stephen Gould has a research library full of world-class materials all related to distilling, including its history, technique, chemistry and more. The distillery is also moving toward reusing its distilling byproduct waste in compost and feed for the local farms from which they buy the grain, as well as finding solutions for reusing packaging and moving toward a more sustainable cycle of life. 
While you're there checking them out, be sure to try their gin, absinthe and specialty liquors, too!
If you think this is all we've got to show you, think again! We've got another five great distilleries to tell you about, so keep an eye out for more great distilleries around our luxury Denver apartments for rent!
Cheers!
Pin it!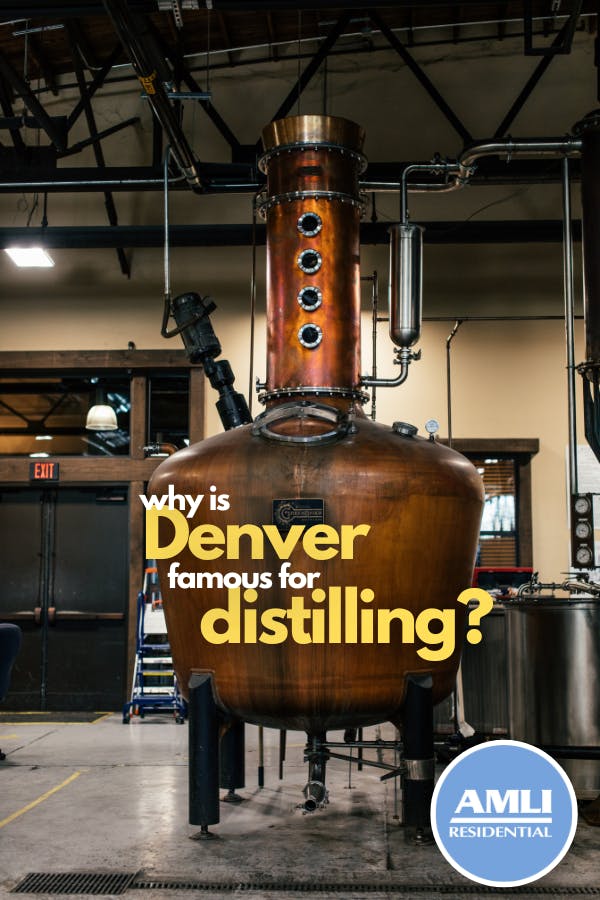 Featured photo courtesy Pixabay/felix_w