Chicago summers have a lot of great selling points. For home chefs and health nuts, the quality and quantity of farmers markets in the Windy City is definitely one of them. From the northern suburb of Arlington Heights to Aurora out west, Chicagoland is home to more than 50 regular farmers markets. Here's a list of some of the most distinguished.
The Daley plaza market has the distinction of being the Chicago's longest-running farmers market. If you live or work downtown, it's a convenient place to grab flavorful tamales and other bites for lunch. Daley Plaza Market, a ten-minute walk from AMLI River North, also offers exceptional produce, Amish baked goods, and other fresh bread.
Thursdays, May 11-Oct. 26, 7am – 3pm
For 42 years, this market has been a reliable place to shop for fresh and local produce, meats, cheeses, flowers, baked goods, and more. Regular vendors include Henry's Farm, known for its heirloom vegetables, and the Great American Cheese Collection. The Downtown Evanston Farmers Market is a 10-minute drive or 15-minute Purple Line ride from AMLI Evanston.
Saturdays. May 6-Nov. 4, 7:30am-1pm
Less than 15 minutes' walk from AMLI 900 and AMLI Lofts, the Federal Plaza Farmers Market is known for its gargantuan mushrooms and spicy radishes.
Tuesdays, May 16-Oct. 31, 7am-3pm
This Chicago farmers market, popular with highly-regarded chefs throughout Chicagoland, is one of the city's biggest. Green City operates three outdoor markets, two within 10 minutes' drive of AMLI River North. It also runs an indoor winter market out of the Peggy Notebaert Nature Museum in Lincoln Park.
Lincoln Park: Wednesdays and Saturdays, May-Oct., 7am-1pm
West Loop: Saturdays, June-Oct., 8am-1pm
Wrigley Field: Most Thursdays, June-Oct., 4-8pm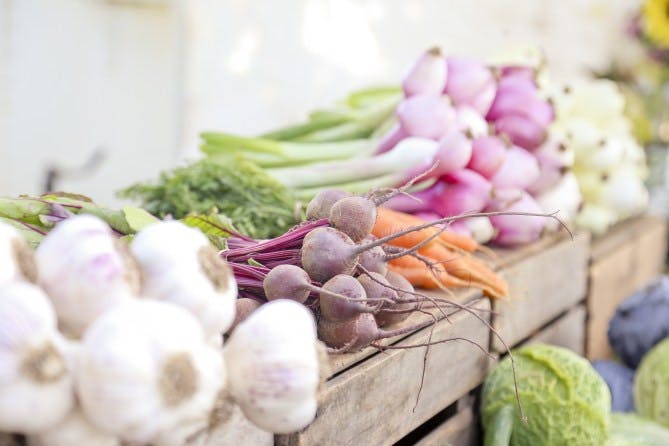 Now in its seventh season, this is a "producers only" farmers market. This means all fruit and vegetable vendors working the market grew the produce they're selling themselves. The market, held at the Loyola Plaza in Rogers Park, is a five-minute drive from AMLI's Evanston apartments.
Mondays, June 5-Oct. 16, 3-7pm (thru Sept. 18), 2:30-6:30pm (Sept. 25-Oct. 16)
This weekly South Loop event is a farmers, flea, and craft market rolled into one. It's also known for its good Latin street eats, live music, and other entertainment. The Maxwell Street Market is a five-minute bike ride from AMLI 900.
Sundays, Year-round, 7am-3pm
This bustling farmers market is only in its fourth year of operation, but already feels quite established. Its impressive list of vendors includes Beurrage Baker, Dia De Los Tamales, Spice!, and Urban Canopy. In addition to produce, you can get body art or practice yoga for free. The Pilsen Community Market is a five-minute drive from AMLI 900's South Loop apartments.
Sundays, May 28-Oct. 9, 9am-2pm
This dog-friendly farmers market, held weekly at Printers Row Park, is relatively small-scale. But just because it is small does not mean it's lacking in quality. Access some of the freshest and finest produce in the area, just five minutes' walk from your AMLI 900 or AMLI Lofts apartment.
Saturdays, June 17-Oct. 28, 7am-1pm
Twenty-one vendors convene weekly to sell locally farmed produce, fresh baked goods, and artisan delicacies in Streeterville. This downtown Chicago farmers market, a seven-minute bike ride from AMLI River North, is also known for its chef demonstrations.
Tuesdays, June 6-Oct. 31, 7am-2pm

Like what you just read? Why not subscribe to the AMLI Blog so you don't miss another post?