The holidays are a great time to experiment with some adventurous baking, especially since countries celebrate Christmas so differently. 
From the classic British Christmas cake to India's decadent Allahabadi cake to Chile's Pan de Pascua, these Christmas cakes from around the world are sure to make for a memorable holiday treat!
Christmas cakes from around the world
Christmas Cake
United Kingdom
The British version of the European fruitcake is traditionally made and left to soak in brandy at least two months before Christmas! This process allows the fruit and nuts in the cake to retain as much of their flavor while also keeping the structure soft and moist.
You don't need two months to make it, though, as there are plenty of recipes out there that you can make closer to the time. Here's a good one to start with!
Bolo Rei
Portugal
This fruit-filled, bead-like cake is shaped into a ring and topped with candied fruit, a reference to the Biblical story of the three kings. The cake is usually enjoyed from Christmas Day to the Day of the Kings on January 6. 
Rosca de Reyes
Mexico
Both Spain and Mexico enjoy this version of Portugal's bolo rei cake, although Mexican tradition has a small figurine of Jesus baked into the cake. Whoever finds the figurine in their slice gets to make tamales for Candelaria Day the following year!
Makowiec
Poland
Think of a Swiss roll with a yeasted dough and rich filling, and you've got Poland's favorite Christmas treat! Filled with either poppyseed, cheese, almonds, apples or jam and flavored with orange peel, Makoweic delivers a delicate balance of texture, sweet and savory.
Kurisumasu keki
Japan
Probably one of the only cakes in this list to deviate from the traditional, alcohol-soaked fruit cakes of Europe, Japanese Christmas cakes are truly works of art that are more a part of Japanese culture than Christmas itself. 
Made with an airy sponge, whipped cream and fresh strawberries, this sweet, light cake can be seen decorating store windows all December long.
You can make the cake with this recipe!
Rum Cake
Jamaica
Rum cake, also known as black cake around the Caribbean, is the richer and more mature version of traditional British Christmas cake, featuring dark cane molasses, brown sugar and rum, as well as a mashed paste made of dried fruits. The result is a rich, dark, strong cake that's not for the faint of heart!
Panettone
Italy
This tall, fruity cake is lighter than most fruit cakes, with more of a bread-like texture and technique to it than most other cakes. 
The traditional recipe dates back to the 15th century when (allegedly) a kitchen boy used leftover fruit pieces to make a last-minute sweet loaf for the Duke of Milan. The boy's name was Toni, so the bread became known as "Tony's bread" or, as we know it, "Panettone." 
Here's a recipe for panettone you can make at home!
Allahabadi Cake
India
Allahabadi cake is named after the Northern Indian city from which it originated. 
The recipe itself has roots in the similar English fruitcake— probably because of the large Anglo-Indian Christian community in the city of Allahabadi— but with distinct tweaks and additions that make it very much a new creation. In fact, it was Shah Jahan (the king who commissioned the Taj Mahal) who commissioned the treat and who made it so incredibly famous in India. 
The cake features traditional British elements such as rum-soaked fruits and almonds, but replace the butter with ghee and add ginger, nutmeg, fennel seeds, mace and and marmalade for an aromatic and flavorful cake that ticks all the right boxes.
Christstollen
Germany
This traditional German fruit cake dates back to the 15th century when it was baked during Medieval fasting periods. The original recipe still exists today and is considered the true stollen, although the cake is now popular all over Europe. 
The dense cake is filled to the brim with candied citrus peel, almonds, spices, dried fruit and dusted with powdered sugar. Because of how much filling is inside the cake, it requires multiple periods of rising and resting to create the perfect texture— a process that can take up to four days!
Check out an easy recipe for stollen here!
Galette des Rois
France
Translated to "king's cake" or "three kings' cake," the Galette des Rois is a flaky pastry-like cake filled with almond frangipane and served around Christmas. Historically, a bean was baked into the cake so that whoever found it would be crowned king or queen for the meal, but today anything from plastic trinkets to small ceramic sculptures make the surprise more unpredictable.
Here's the recipe for Galette des Rois here!
Pan de Pascua
Chile
Although the name translates to "Easter bread," Chile's pan de Pascua is a popular treat around Christmas time, with many similarities to German stollen cakes. 
This dense, fruit-packed cake is rich with rum and, like both stollen and panettone, lightly glazed with a sugar frosting. Pan de Pascua is usually served with a spicy, boozy coffee called cola de mono (monkey's tail!), which is another local holiday tradition. 
Here's a recipe for Pan de Pascua here!
Sri Lankan Christmas Cake
Sri Lanka
Though similar to the Allahabadi cakes of India, Sri Lankan Christmas cakes have captured the hearts, minds and stomachs of Christmas cake enthusiasts around the world. The myriad of cultural influences from Dutch, Portuguese, British, Indian and local Sri Lankan flavors and cuisine combine to create a unique texture and flavor profile that you're not likely to find anywhere else. 
Have fun, and happy baking!
Pin it!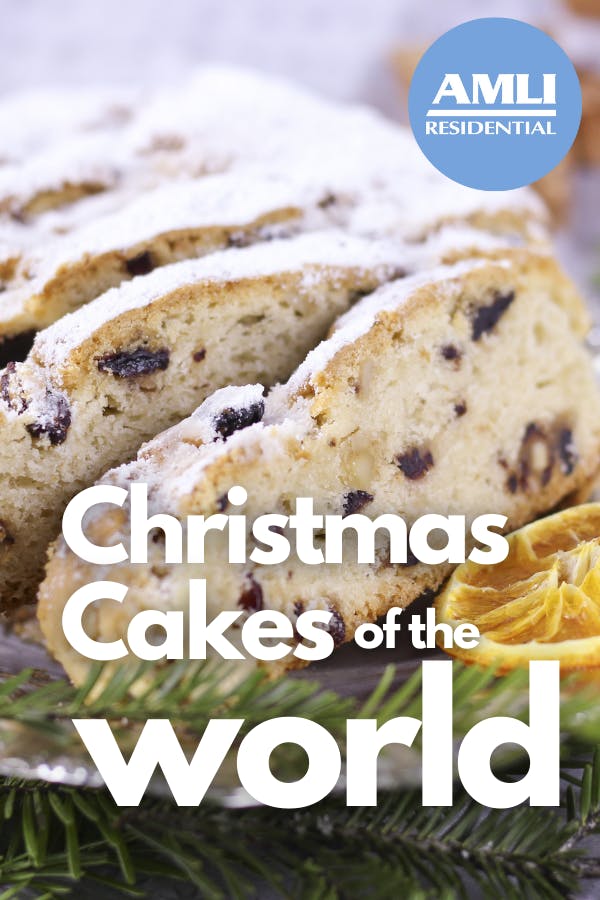 Featured photo courtesy Pixabay/Couleur